This 4-part series will offer readers a short take on 4 "All-American" stocks. Investors subscribing to the view the U.S. has entered upon a period of sustained economic recovery, these names may offer a head start for further evaluation and a place in long-term equity portfolios.
For purposes of these articles, I define "All-American" to mean a company that isn't just based in the States, but one that generates the vast majority of its revenue and net income here. These businesses are located and firmly operate upon American soil.
I've selected mainstream large-cap stocks that are not quite as "popular" as some other peer names. This is intentional: to provide my readers with good American companies just "a half a bubble off" many of the otherwise most prominent and highly-covered stocks.
First up and the subject for today is U.S. Bancorp (NYSE:USB).
What They Do and How They Do It
U.S. Bancorp is a Minneapolis-based commercial banking organization. It is the fifth largest in the United States; behind JP Morgan Chase & Co (NYSE:JPM), Wells Fargo & Company (NYSE:WFC), Citigroup (NYSE:C) and Bank of America (NYSE:BAC).
USB is a "Main Street" institution. The business model is simple: take in customer deposits, underwrite sound mortgage and community loans, then generate a margin on the difference. I-banking, trading desks, and overseas operations aren't part of the core business.
The model is steady, reliable, and frankly, somewhat boring. However, through this approach, bank management has created a remarkable shareholder value. The chart below illustrates long-term share price appreciation for the top 5 U.S. banks. U.S. Bancorp is the blue line.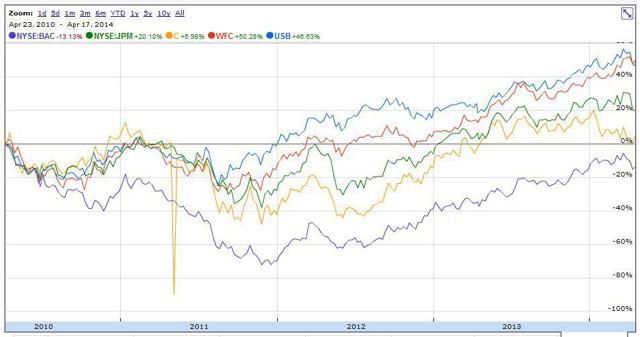 Click to enlarge courtesy of google.com/finance
With the exception of Wells Fargo (my favorite Banking industry stock that just recently managed to edge them out) we find that USB leads the pack, logging a 47% gain over 4 years. Adding dividends to the total return, U.S. Bancorp and Wells Fargo would put even more air between themselves and the others.
Gauging Success
Evaluating bank stocks properly requires investors to select the right measures. In addition to routine metrics like earnings, it's important to review return functions, expense efficiency, credit quality, capitalization, common equity growth and shares outstanding. Let's break this down.
Earnings
Solid earnings growth underpin a healthy bank. U.S. Bancorp EPS has fared well since 2010; registering a 13% annualized growth rate.
An estimated apportionment of EPS can be used as a proxy for shareholder return-of-capital plans, meaning dividends and share repurchases. USB management spells this out explicitly: targeting 30 to 40% of earnings for dividends and share buybacks, respectively. The bank returned 67% of its earnings to shareholders in the first quarter 2014.
Returns and Expense Efficiency
Return-on-equity and return-on-assets are 2 key measures of a bank's management effectiveness. Expense Efficiency (non-interest expense as a function of total revenues) indicates how well senior leadership drives the cost side of the house. U.S. Bancorp leads all competitors in these key categories. The following chart highlights just how well USB has performed: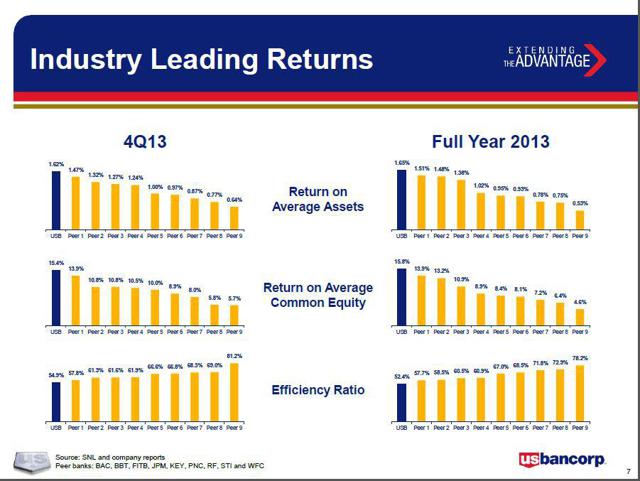 Click to enlarge
source: U.S. Bancorp at Credit Suisse Financial Services Forum
Through 1Q 2014, U.S. Bancorp saw these 3 metric ease slightly. Nonetheless, USB retained its edge. Please note that J.P. Morgan, Wells Fargo, and Bank of America are listed as peer banks.
Credit Quality
Historically, U.S. Bancorp has been recognized for prudent loan underwriting standards. As a result, the bank's credit quality deteriorated far less during the depths of the financial crisis than others. Since 2010, charge-offs and credit losses has been relatively modest. On a relative basis, USB has released significantly less from loan loss reserves than peers; notably, the reserves were smaller to begin with. Here are a few 2014 1Q earnings CC remarks from CEO Richard Davis on the subject of credit quality:
Total net charge-offs declined 21.2% on a year-over-year basis......The ratio of net charge-offs to average loans outstanding was 0.59% in the first quarter. Non-performing assets excluding covered assets decreased by...11.6% from the first quarter of 2013. During the first quarter we released $35 million of reserves, equal to the reserve released in the previous quarter.
Here's a chart from the same earnings conference call presentation that captured USB's recent credit quality trajectory: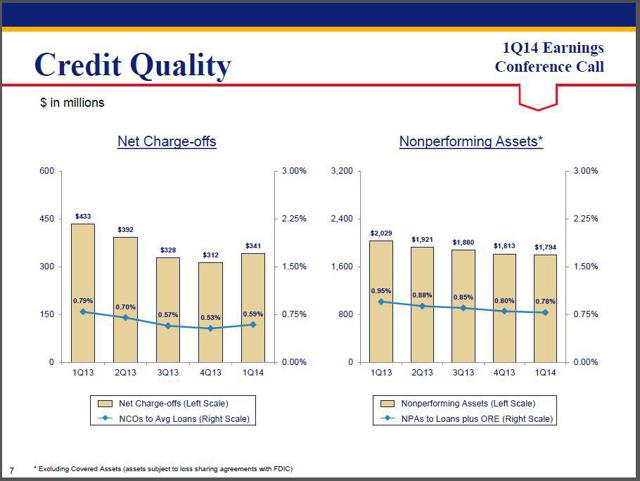 Click to enlargeU.S. Bancorp saw its net-charge off rate settle at 0.59%. Peers Wells Fargo, Bank of America, and J.P. Morgan Chase stood at 0.41%, 0.62% and 1.58%, respectively.
Capital Position
Post-financial crisis, regulators have pressured banks to beef up capital positions. Common equity Tier 1 capital ratio is a prime measure by which to gauge financial strength. U.S. Bancorp has demonstrated consistent improvement, having long exceeded the 6% threshold; by which regulators designate a bank, "well capitalized."
Indeed, the Feds have provided USB management "No objection" to their recent shareholder return-of-capital plans. The 2014 2Q dividend is anticipated to receive a 6.5% uplift, boosting the current yield to 2.4% based upon a closing price of $40.25.
Other major banking institutions, namely Citigroup and Bank of America, have not been as fortunate. While passing the 2014 bank "stress test," BoA notably registered a hiccup, and Citigroup's return-of-capital plan was rejected outright.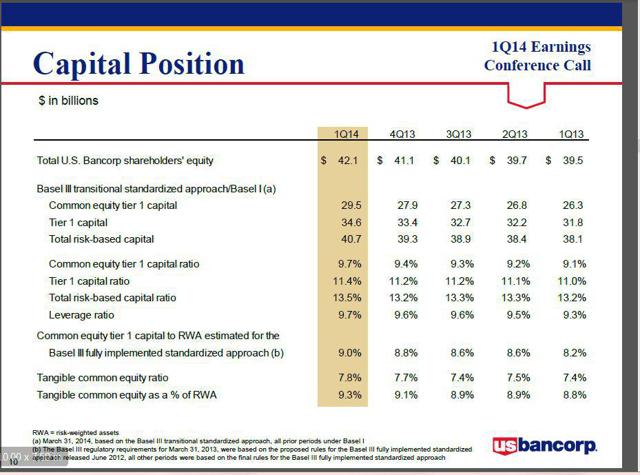 Click to enlarge source: USB 1Q 2014 earnings presentation
Book Value and Shares Outstanding
Increasing shareholder equity (also known as book value) is the hall mark of a well-run banking institution. On the other hand, a decreasing share count indicates an effective stock repurchase plan. U.S. Bancorp has both metrics heading in the right directions. Common equity per share and common shares outstanding are highlighted on the respective charts below.
Click to enlarge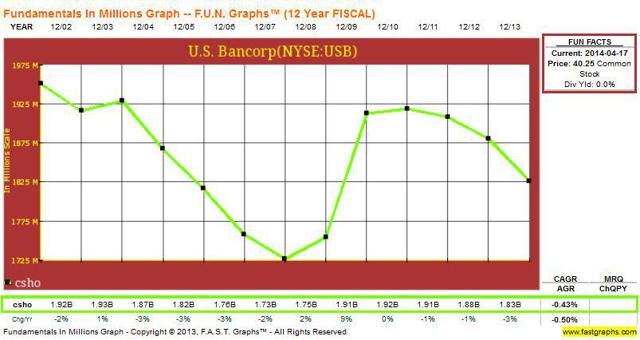 Click to enlarge graphs courtesy of fastgraphs.com
What's on the News Wires?
Almost nothing. U.S. Bancorp remains notably out of the news: just the way investors like it. Government investigations, class action suits, or shareholder activism isn't part of the schtick.
Valuation
Currently, U.S. Bancorp shares appear near fair value. Financial sector stocks tend to shine during the early phase of the economic business cycle. USB stock ran up smartly over the past few years. There's likely some gas left in the tank, though. Historically, bank stocks perform acceptably during the mid-cycle phase, particularly at such time long interest rates move up.
Over the past 15 years, USB has logged a 13.6x normalized average P/E. The current trailing twelve month P/E is 13.4x. Therefore, the historic data indicates investors may not expect much multiple expansion. Going forward, Wall Street analyst consensus forecasts U.S. Bancorp will grow EPS ~6%. Adding the expected dividend yield suggests a total return of about 8.5% is a reasonable expectation.
The current Price-to-Book is 2.0. This figure is aligned with USB's long-term P/B ratio.
Summary and Conclusion
Investors seeking a solid, no-nonsense banking stocks cannot do much better than U.S. Bancorp. The simple business model, conservative management, strong capitalization, and shareholder-friendly actions offer a stable portfolio selection. While the shares may have experienced U.S. economic cycle "sweet spot" price appreciation for now, a core position may remain appealing for investors seeking safety and dividend growth.
Did I mention that U.S. Bancorp stock is Warren Buffett's eighth-largest holding? Certain shareholders can be an retail investor's best friend. I believe that this may just one of those cases.
On Deck Next: Premier mini-mill steelmaker Nucor Corporation (NYSE:NUE)
Please do you own careful due diligence before making any investment. This article is not a recommendation to buy or sell any stock. Good luck on all your 2014 investments.
Disclosure: I am long USB. I wrote this article myself, and it expresses my own opinions. I am not receiving compensation for it (other than from Seeking Alpha). I have no business relationship with any company whose stock is mentioned in this article.