Momentum is beginning to build for Solazyme (SZYM). Solazyme uses proprietary heterotrophic algae strains that convert low-cost carbohydrates into high-value tailored oils. Beyond merely replicating the oil profiles of commonly used oils, Solazyme's technology can control carbon chain length, saturation, and structure when it comes to oil design. This allows for the creation of novel oils with unique properties that far exceed the capabilities of natural oils.
Solazyme has seen several noteworthy advances in recent weeks despite the lack of press releases pertaining to such progress. In my last article found here, I highlighted the unfolding relationship Solazyme now has with Ecover as the two businesses strive to reduce the environmental impact of palm oil production. Yet beyond this, the company has begun to fortify its foundation in numerous ways as it initiates commercial production at its first large-scale production facilities.
Relationship With Hitachi Construction Machinery
Although biofuels will largely take a backseat for Solazyme as the company strives to efficiently allocate limited production capacity for higher margin products, the ongoing development of this future market remains a present-day endeavor. Thus far the company's fuels have been tested in a large variety of vehicles including marine vessels, commercial aircraft, and road vehicles. However, in early April another vehicle type was explored.
On April 11, Hitachi Construction Machinery (HTCMY) announced the operation of a hydraulic excavator running on Solazyme's fuel brand of Soladiesel RD. As a subsidiary of a $35 billion conglomerate, Hitachi Construction Machinery is also well-established with a $4 billion market capitalization of its own.
According to the company's English-translated announcement found here, the high cetane number and lack of sulfur or aromatics in Solazyme's fuel were well-received as positive attributes. A cetane number is a measure of the fuel's ignition delay, or the time period between the start of injection and the first pressure increase following fuel combustion. For diesel fuel, the cetane number often represents the most important factor for determining fuel quality.
Additionally, it is also an worth considering that the fuel was tested on a ZH500 hybrid excavator. Hitachi's hybrid system is largely targeted for a environmentally-aware customer base. According to the vehicle description found here, numerous subsidies and tax credits are available to clients of this particular system. Such an existing market for environmental awareness could prove valuable in the adoption of biofuel use in construction machinery.
The new relationship with Hitachi Construction Machinery again raises the speculation of whether Solazyme will soon be addressing an Asian market, particularly in Japan. One year ago, Solazyme inked a multi-year agreement with another Japanese company found in Mitsui & Co., Ltd. In my interview with Solazyme's Director of Business Development found here, it was made apparent that a future expansion into Asia is clearly on the mind of Solazyme's management team.
Encapso Expands Solazyme's Addressable Markets
Although still a fresh product name for Solazyme's investors, "Encapso" is being positioned to become a significant catalyst for Solazyme. Encapso is the world's first targeted friction inhibitor used in drilling oil and gas wells. Less than a month ago, Solazyme announced the launch of the encapsulated oil product line. In an ironic twist, the green solutions company intends to market this customized product line to meet the needs of the oil & gas drilling industry. It is also clear that Solazyme has displayed a significant amount of attention towards Encapso.
Earlier in the month, the company created a promotional video that included testimonies from multiple clients. This clearly involved several partner companies at multiple well locations after many months of market development and field trials. Additionally, the company recently launched an exclusive website for Encapso. Above all, Solazyme even separated out and created a product division revolving around Encapso according to the graphic found here. With gross margins expected to top 50%, oil field services stand to be Solazyme's second most profitable business segment.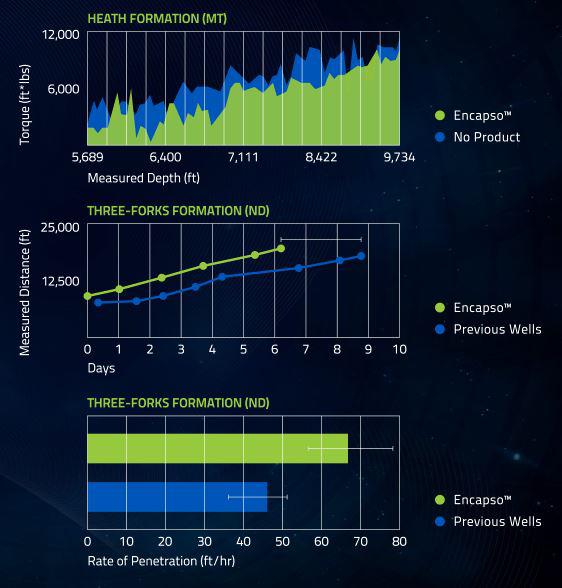 (Image Source)
Goldman Sachs Highlights Solazyme For Wall Street
Apart from operational advances, Solazyme has also garnished increased attention from Wall Street. The Goldman Sachs Group (GS) recently highlighted Solazyme as a key case study of "progress." Shown in the graphic below taken on April 19, Solazyme's journey was displayed on the front page of the large investment bank's website. The accompanying video highlighted Solazyme's relationship with Goldman Sachs and can be found here.
Such high level exposure helps to improve the company's image to the investment audience. As portrayed in the video, Goldman Sachs has proven its confidence in Solazyme's technology. By helping Solazyme complete several large offerings, Goldman Sachs has played a part in defining the Solazyme's leadership in a challenging market space. Whereas many clean technology companies have fallen on hard times in light of dwindling cash reserves, Solazyme has been able to significantly strengthen its balance sheet and allow for steady growth.
Fortifying The Balance Sheet
Solazyme closed a dual public offering of common stock and convertible senior notes on April 1. Altogether, Solazyme raised an impressive $202.8 million for the cost of immediate dilution to existing shareholders by 5.75 million shares. Therefore, with less than 9% dilution today, Solazyme was able to increase its amount of capital on hand by 121%. In so doing, Solazyme has secured enough capital to further increase its manufacturing capacity going forward.
As of December 31, Solazyme had $167.52 million in cash and short-term investments. The infusion of an additional $202.8 million brings this total up to roughly $370 million. Solazyme now trades with a market capitalization of roughly $840 million based on approximately 75 million outstanding shares.
Prior to launching large-scale commercial operations, Solazyme saw increasing net losses. While these losses are expected to continue, the increased manufacturing capacity should help in reducing these losses over time. In 2013, Solazyme saw a net loss of $116.4 million based on revenue of $39.8 million. As the company's first two facilities come online, the new capacity will be able to support in excess of $240 million of revenue. This is based on Solazyme's original expectation of an average selling price in the range of $2000/MT.
Is now the time to buy Solazyme?
Over the last month, Solazyme has seen its price decline for two reasons. In March, the company announced a public offering to raise capital. This prompted a significant rise in the company's short interest and provoked investors to sell prior to the set offering price. Over this time period, the company's short interest rose 27% from 10,078,772 to 12,759,509.
This amount equated to roughly 46% of the shares actually being offered. Such artificial selling pressure serves as a temporary weight on the current share price. These shares must eventually be covered when short sellers cover their positions. With approximately 75 million shares now outstanding, more than 1 out of every 6 shares is now being borrowed.
Over the same time, biotechnology companies have struggled in light of a general market pullback. This can be seen when we compare Solazyme against a broad market index such as that which is represented by the iShares Nasdaq Biotechnology Index ETF (IBB). Over the last year, premiums for biotechnology companies have significantly risen. The market downturn experienced over the last few weeks had the effect of pulling down many of the companies related to biotechnology.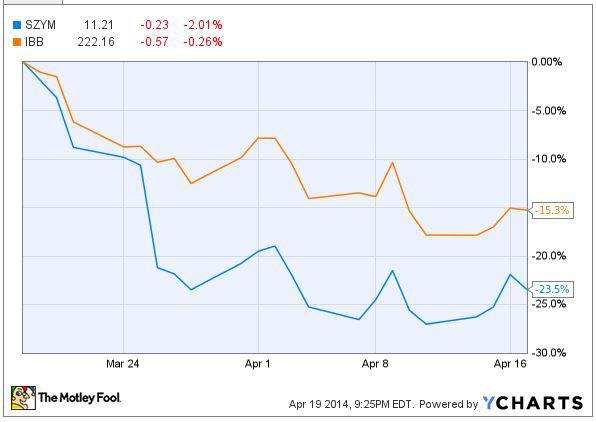 Now at this junction it is ideal to consider what could move Solazyme's stock going forward. As of April 19, Solazyme has still not announced the opening of the 100,000 MT facility in Brazil. While this could suggest that delays are in order, there should be few concerns for shareholders. It is important to consider that the company now has enough capital to endure nearly any catastrophic delay that could possibly happen to the Moema facility. At the same time, the fact that Solazyme fully detailed the construction progress ongoing at the facility suggests that Moema is very near to completion.
For investors, Solazyme's management was smart enough to implement some redundancy when it comes to manufacturing capacity. The 20,000 MT facility in Iowa is already operational and currently producing small quantities of commercial product. This has largely de-risked Solazyme's technology concerns, leaving little room when it comes to downside potential. Likewise, the near-term fear of dilution has been struck due to the completion of the company's latest offering. There appears to be little that could derail the company's progress in the present.
As a result of this, Solazyme appears to be in a good stance for investors to average back into their positions. The company has upside potential with the possibility of additional upstream agreements with partner companies. This is especially the case when we consider that the company raised a significant amount of capital with little word as to what it's intended use will be.
As I mentioned in the beginning, Solazyme has been strengthening its foundation even if little has been heard about such efforts. The market demand for the company's products is clearly there, and new partner names have begun to emerge from behind the scenes. This can be seen with the use of Solazyme's oils from companies like Ecover and Hitachi Construction Machinery, two names that have not been announced by Solazyme itself.
Additionally, Solazyme has broadened its product mix with another business segment altogether. Penetration into the high-margin industry of oil field services could prove to be both extensive and lucrative considering the rapid growth now found in the drilling industry.
Last of all, Solazyme has begun to garnish free advertising from a reputable Wall Street leader which could encourage additional institutional investor interest into Solazyme. For a company with limited media coverage, the endorsement of Goldman Sachs remains a rather promising opportunity for Solazyme. Investors with a long-term focus might want to consider adding to their positions at these current price levels.
Disclosure: I am long SZYM. I wrote this article myself, and it expresses my own opinions. I am not receiving compensation for it (other than from Seeking Alpha). I have no business relationship with any company whose stock is mentioned in this article.