With its first quarter earnings report, Kinder Morgan Energy Partners LP (NYSE:KMP) declared a $1.38 distribution for the quarter, up 6% from the year earlier payout and 2 cents higher than the 2013 fourth quarter distribution. Kinder revealed that 1/3 of all US natural gas consumed was delivered through their network, peaking at an average January rate of 53 Bcf per day, with Wood Mackenzie estimating 50% volume growth in the next by 2019. Despite other positive macro drivers, such as Mexico, Exports and Marcellus production to the Northeast, KMP's future total return performance is overshadowed by the impact of the progressive Incentive Distribution Agreement in place between Kinder Morgan (NYSE:KMI) and KMP. The market continued to focus on this concern after the Q1 release, which was followed by a Morgan Stanley reiteration of Underweight [and equal weight reiteration for Kinder Morgan Management (NYSE:KMR) and KMI] based upon the factors below: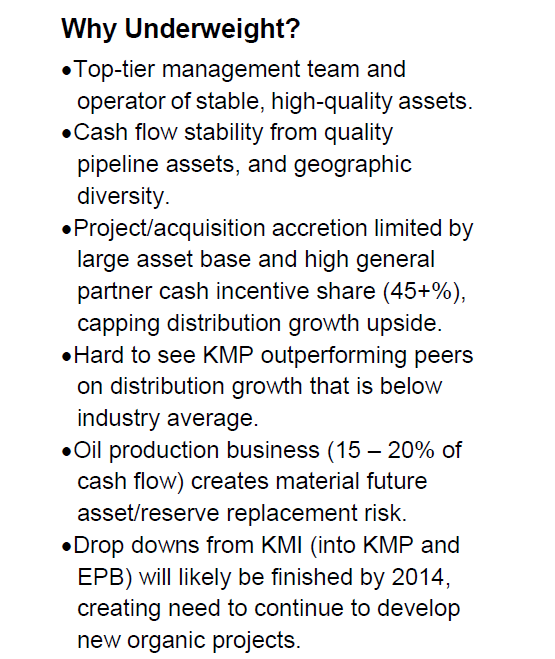 * Above List from Morgan Stanley report 4/16/14
While it is difficult to predict upside of future volumes and commodity contango/backwardation impacts on Distributable Cash Flows, the market at the moment has reached a conclusion about the DCF growth rate, excluding acquisitions. We will focus on the potential total return upside to KMP if Management exceeds their conservative distribution guidance which could propel the unit price towards a yield similar to that of the peer group.
The Distribution Numbers
KMP distributions for 2013 totaled $5.33. The 2014 guidance of $5.58 would be a 4.7% increase over last year's distributions. The first quarter distribution of $1.38 is $5.54 annualized, leaving the KMP full-year distribution just 4 cents short of the guidance.

2014 first quarter distributable cash flow was $1.55 per unit, providing 1.12 times coverage. During the earnings conference call management noted that Kinder Morgan expects to have positive DCF coverage for Q1 and Q4, less than one times coverage for Q2 and Q3, and greater than one times DCF coverage for the full year.
Peer Yield vs. CAGR Comparison
This chart plots the current yield against 3-year distribution CAGR forecasts for the MLPs with expected distribution growth in the 4% to 10% range. KMP plots at CAGR of 4.7% and a 7.15% yield.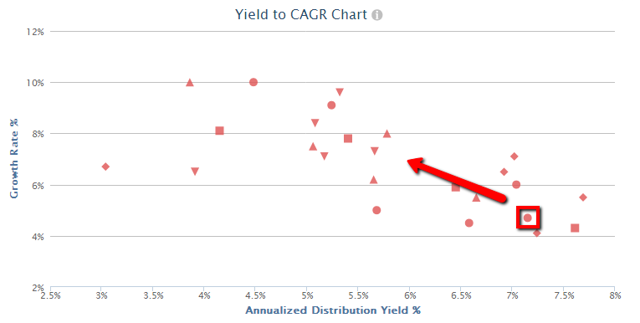 The chart shows that greater expectations in KMP growth (6%+) could compress yield to ~ 6.0%, which would provide a revised price target of $93.
Total Return Potential
The total return for KMP over the next year depends on the actual distribution growth and the resulting unit price from the yield the market thinks KMP is worth at the end of the year. The chart below plots the mathematical return potential of a range of distribution growth and yield scenarios. The Q4 distribution rates cover three possibilities: Meeting guidance (up a penny each quarter), 5% growth (2 cents for Q3, a penny for Q2 and Q4), and 2 cents per quarter increases which would be 5.8% distribution growth for the year. The shaded box shows the total return if KMP yields one of the percentages listed across the top of the table. Total return would be unit price gain plus earned distributions.

The potential for a lower yield and higher unit price are greater if KMP exceeds sustainable guidance and expectations when distributions are declared for the next three quarters. A total return in the mid-to high teens by the time the Q4 distribution is declared is very possible.
Conclusion
KMP offers an attractive yield with a downside range of $68 to $70 from yield expansion due to lower growth. Systemic changes in credit and cost of capital would have further impact on KMP. At present, the 3 year period total return is forecast to be 33.5%. The upside case offers investors 54.27% total return range if distribution growth were to exceed the moderate guidance provided by management. Total return investing, which has proven to be the most effective wealth expansion strategy for investing in this sector over the past 3 years, benefits from assessing the upside and downside scenarios to help assess acceptable risk and entry points.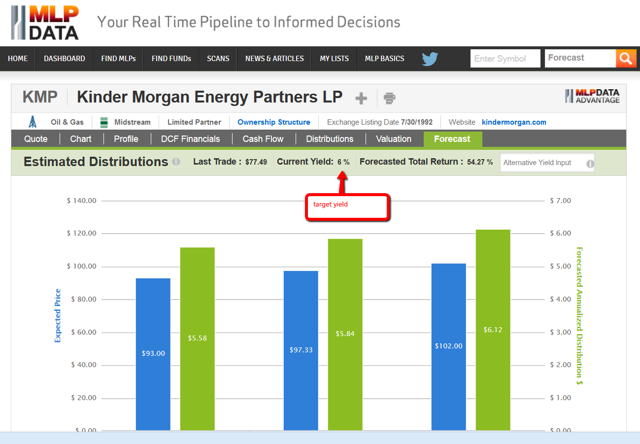 Unless noted, all Data and Tables provided by MLPData
Disclosure: I have no positions in any stocks mentioned, and no plans to initiate any positions within the next 72 hours. I wrote this article myself, and it expresses my own opinions. I am not receiving compensation for it (other than from Seeking Alpha). I have no business relationship with any company whose stock is mentioned in this article.