Vodafone's (NASDAQ:VOD) fundamentals as a business have changed a lot since last year. The much-anticipated special dividend and distribution of Verizon shares to shareholders have come and passed. Vodafone no longer holds a 45% position in Verizon Wireless. The Verizon stake was one of Vodafone's only growing sources of revenue in an otherwise challenged, shrinking business. The company now faces a new set of challenges. A new chapter, if you will.
Personally, I started investing in Vodafone back in late 2012. My first article on Vodafone was in January of 2013. I bought into Vodafone for a few reasons: A dividend yield of about six percent, a global customer base with hard-to-get emerging markets exposure, and most importantly of all, a slowly-growing revenue base when the company's Verizon Wireless (NYSE:VZ) stake was included.
Fast forward to today. The dividend yield has dropped to about 4.4% (see later notes on how to calculate Vodafone's yield) due entirely to price appreciation. The Verizon Wireless stake has been sold (for a great price) and Vodafone's revenue and earnings are both being dragged down by a Europe-centered business.
I personally sold all my shares not too long after the special dividend was paid out. While speculation of a possible AT&T (NYSE:T) buyout kept Vodafone stock high for a while, that speculation alone, for me, just wasn't enough reason to hold on.
This article will look at Vodafone with fundamentals, valuation and the dividend in mind. This is not meant to be a "negative" article on Vodafone. In fact, I think CEO Vittorio Colao and his management team has done a great job in rewarding shareholders over the last 18 months. The Verizon transaction was a terrific deal and the company is better off for it. This article instead intends to look at Vodafone from the vantage point of a "new chapter" in the company's operations.
Revenue and earnings prospects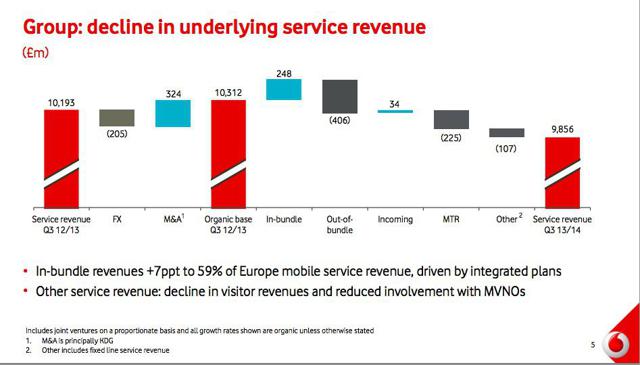 Courtesy of Investor Relations
This is Vodafone's service revenue chart, classed by impact on revenue. In the last half year, revenue declined by 4.8% year over year. Declines, once again, were led by double-digit drops in most of southern Europe, but even economically stronger northern Europe declined. This is because Vodafone faces not only macroeconomic pressure but also a challenge to the company's business model.
Vodafone's old business model was that of a "no frills" voice and SMS carrier in Europe. But in the era of smartphones and other mobile platforms, European consumers want not only data options but also "one-stop shopping" for cable, data, voice and Internet.
In order to meet the demands of a new reality, Vodafone has been acquiring cable and Internet providers throughout Europe, and has been doing so with proceeds from the Verizon Wireless sale. Business turnarounds are never a certainty, but Vodafone does certainly have the experience and the war chest to transform itself into a more relevant communications company. Still, the best thing to do is remain cautiously optimistic and note that service revenue has been dropping for a while now.
Dividend
Vodafone's current dividend can be calculated by adding this fiscal year's interim dividend payment with the expected final dividend payment. After the surcharge, I expect a total payout of $1.61 in 2014. This assumes no increase in this year's final payment versus that of last year. Typically, Vodafone does pay a progressive dividend, so the company should pay out slightly more than $1.61, but not too much more.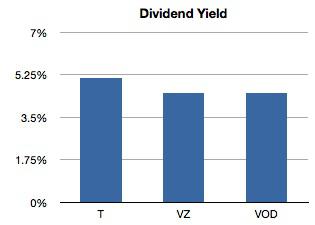 Data by Morningstar
That said, we can see that Vodafone's yield is even with Verizon's and well below AT&T's. Consider for a moment the growth prospects between the three: Verizon should grow top line by low-to-mid single digits, AT&T should be low-to-flat, and Vodafone will be flat at best in 2014.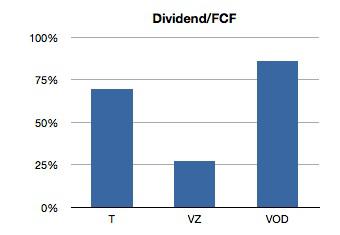 Consider also payout to free cash flow ratios. Vodafone's is a cramped 86%, but AT&T's a comfy 69%. Yes, an apples-to-apples comparison is tough because Vodafone is spending big capital on its fiber optic network buildout, dubbed Project Spring. However, AT&T has a similar "project" of its own, project VIP, and the company still has a much safer payout ratio. When it comes to financial flexibility, Vodafone is again the least attractive choice.
Closing thoughts
For someone who wants to invest for dividends right now, AT&T is the best choice, provided that that company doesn't do anything dumb such as acquire Vodafone. For its part, Verizon is a fine choice for low-risk, steady growth. As for Vodafone, I am cautiously optimistic about the company's prospects but just feel that the current valuation more reflects a stellar past than it does a challenging future. Given a challenging earnings picture and a high payout ratio, I would like to see a little more margin for error baked into Vodafone's price. Shares should be worth buying again at a yield of 5.25% or more. At this payout level, that means a price of $30 or less. Right now Vodafone is at $36.
Vodafone may never drop to $30 again. And if it doesn't, that's fine. After all, there are other good values out there. If Vodafone is successful at returning to growth within the next twelve months, shares may then be worth another look. Until then, stay cautious.
Disclosure: I am long T, VZ. I wrote this article myself, and it expresses my own opinions. I am not receiving compensation for it (other than from Seeking Alpha). I have no business relationship with any company whose stock is mentioned in this article.