In a recent article on a smaller triple net REIT, I wrote:
The triple net REIT sector is a sector in flux. The big keep getting bigger, making it harder to move the needle on acquisitions (which is why we have seen portfolio/public peer acquisitions) while the smaller NNN REITs fall by the wayside. As an investor, I have found that those companies that have fallen by the wayside often have decent value and should therefore be sought out.
Today I decided to take a look at a REIT that is bigger than the one that was the subject of the last article, but has some of the same characteristics - under followed and value potential. Let's get started.
Chambers Street Properties (NYSE:CSG) is a net lease REIT focused on the acquisition, ownership and management of income-producing industrial and office properties. As of December 31, 2013, the portfolio of net leased industrial (primarily warehouse / distribution) and office properties spans 20 U.S. states, France, Germany and the United Kingdom, and includes 233 tenants in 24 industries, encompassing approximately 35.3 million rentable square feet.
As has been said time and again, the key to investing in REITs is finding those that exhibit stability, consistency and safety. Does Chambers Street have these qualities?
Business:
Let's start with this triple net REIT's tenants: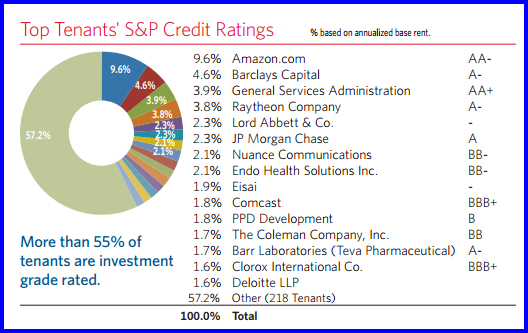 A majority of big tenants is nice, but the space has to be occupied. A look at the portfolio occupancy shows us that as of Dec. 31, 2013, 96.5% of the portfolio is leased. While this occupancy rate is off the REIT's highs, it has been pretty consistent: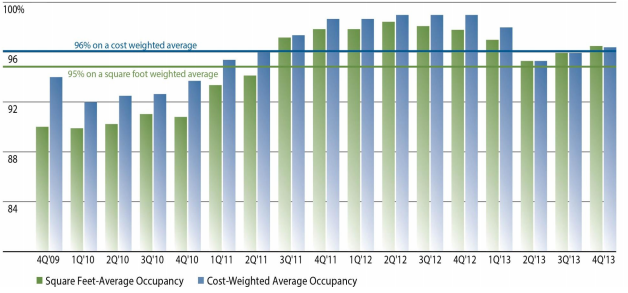 As shown earlier, the majority of the REIT's tenants are large, investment grade companies, adding to the stability and consistency of cash flows. That they are spread across various industries further mitigates tenant/industry risk: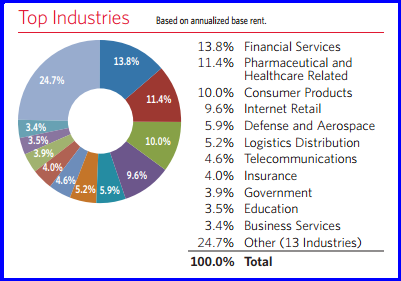 Finally, their geographic diversification helps mitigate their "regional" risk: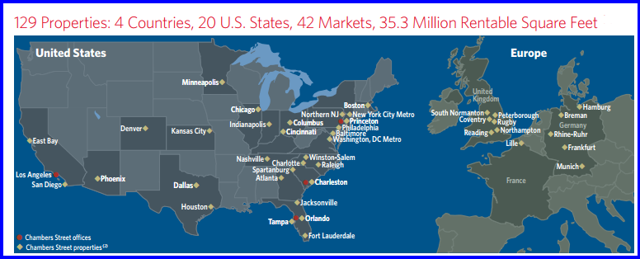 Click to enlarge
Thus far, we have established that the REIT has managed their tenant, industry and geographic risks - all essential to creating a stable, consistent and safe stream of income to the REIT and, therefore, the investor.
Business Summary:
Chambers Street has strong tenants and a managed industry and geographic exposure. These facts create a solid business profile that should be able to be managed across cycles.
Now we have to dig deeper in order to determine whether their risk management carries over into the financials of Chambers Street.
Financials:
First, a look at lease expirations. The more evenly distributed, the easier it is to work on increasing rents and maintaining occupancy.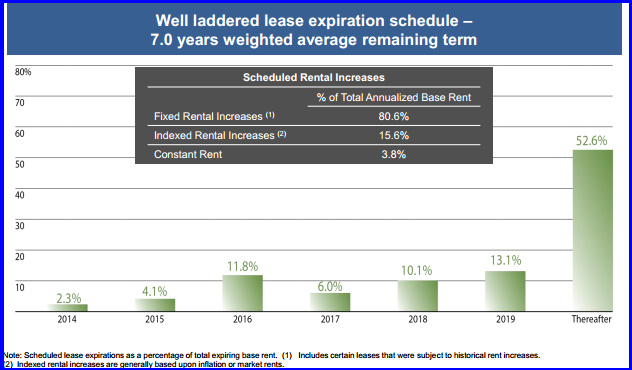 While the chart might imply that there are significant lease expirations in 2020, a deeper look shows no more than 10% of square feet or 16% of base rent expire after this period. Lease expirations are manageable and well distributed.
Debt is also well distributed as well, which helps manage financial risks as well. The last thing an investor wants is to have significant lease maturities, or income falling off when sizable debt is due.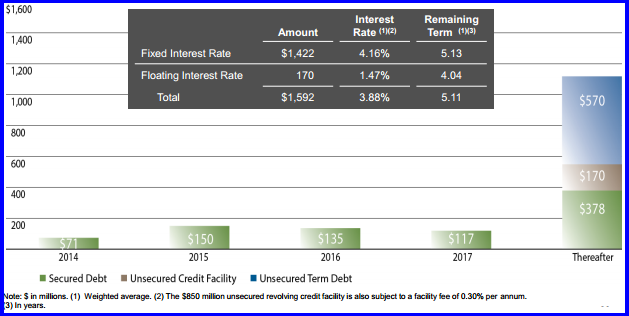 Within the capital structure debt is moderate, with a decent balance between debt and equity: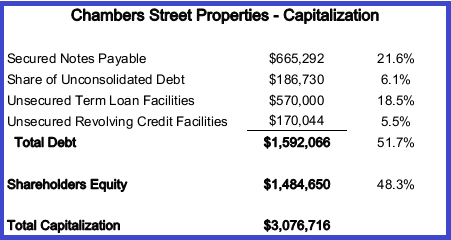 Debt, at 52% of capitalization, allows the REIT some flexibility to increase leverage. As the REIT is investment grade, should they begin tapping the unsecured debt market (which I would like to see them do), they would normally be maxed at 60% of capitalization and 40% secured - leaving a decent amount of headroom under typical covenants. Personally, I would like to see them issue unsecured debt and possibly preferred stock to extend maturities further and diversify funding sources.
The problem, when the rubber hits the road, is that funds from operations has not consistently covered distributions. In fact, more often than not, it did not cover the distributions required to maintain REIT status. Starting in the third quarter of 2013, however, FFO has begun to cover distributions. This is partially due to a cut in the distribution from $0.15/q to $0.042/m - a cut in the amount and an increase in the frequency.
Financial Summary:
Chambers Street has a moderate financial profile which has warranted investment grade ratings. That said, the inability of funds from operations to cover the REIT required distributions historically is a concern, but the change in the dividend amount and frequency might make it more manageable.
Now that we have looked at the business and financial profile of Chambers Street Properties, let's see how it stacks up against peers One Liberty Properties (NYSE:OLP), Corporate Office Properties Trust (NYSE:OFC), Mack-Cali Realty (NYSE:CLI), DCT Industrial (NYSE:DCT) and Stag Industrial (NYSE:STAG) [which is listed as GI Partners] in a valuation context:

Click to enlarge
Chambers Street trades at a discount to industrial peers and a premium to office peers on a P/FFO basis and a discount on a book basis. The dividend yield that can be had at current prices is compelling for an investment grade triple net REIT. All in all, I believe that the REIT is marginally undervalued.
On a price basis, Chambers Street has underperformed all peers but Mack-Cali (I have written about the issues confronting CLI numerous times). While not reassuring, the shift in dividend policy and recent covering of the dividend could support prices and help the REIT perform more in line with peers - or outperform as metrics catch up and a sustainable payout ratio emerges.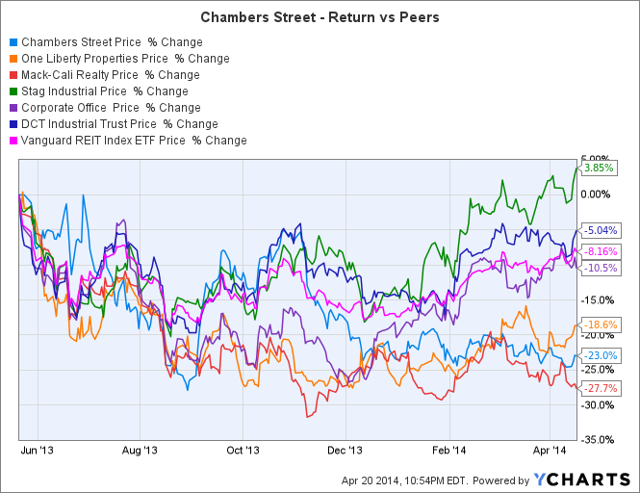 Click to enlarge
Bottom Line: I like the diversification that Chambers Street brings to a triple net portfolio and the moderate financial profile of the REIT. The yield is attractive relative to its peers (both triple net and sector) which makes this REIT compelling. As the REIT's FFO/AFFO catches up with its "REIT required" payout, shares could outperform peers. Until we get a feel for the sustainability of the dividend, however, I would hold the position at/near 2% of a portfolio. Hopefully soon the REIT will take advantage of its investment grade ratings and issue unsecured debt and/or preferreds to diversify its funding and further diversify its maturities.
........
Sources used:
2013 10k
3Q 2013 10Q
4Q 2013 investor presentation
4Q 2013 factsheet
Historical financials compiled by the author
Current data compiled by the author
Disclosure: I am long OLP. I wrote this article myself, and it expresses my own opinions. I am not receiving compensation for it (other than from Seeking Alpha). I have no business relationship with any company whose stock is mentioned in this article.
Additional disclosure: This article is for informational purposes only, it is not a recommendation to buy or sell any security and is strictly the opinion of Rubicon Associates LLC. Every investor is strongly encouraged to do their own research prior to investing.