Realty Income (NYSE:O) is one of the best income vehicles in the entire stock market -- in my opinion. The Real Estate Investment Trust has an outstanding remuneration record (just last week the REIT announced its 526th consecutive common stock monthly dividend), an impressive property acquisition record and a skilled and competent management.
Morgan Stanley, however, does see things differently. Just recently the Wall Street institution issued an "Underweight" rating on the stock of Realty Income and a price target of $38.00 per share. Since Realty Income now trades at $41.89, Morgan Stanley's price target represents hypothetical downside potential of approximately 9%.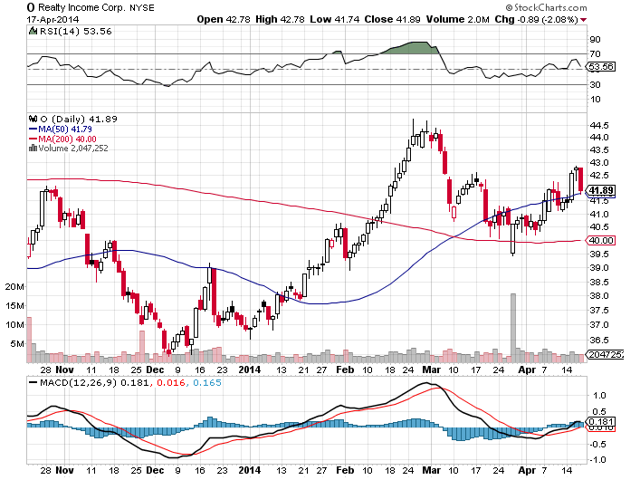 Click to enlarge
(Source: StockCharts.com)
Don't listen to Wall Street (if you want to make money)
Investors that follow my articles know, that I am always on the lookout for contrarian investment opportunities that have a lot of long-term potential. I don't think that Realty Income is particularly a contrarian investment of any sort, but Wall Street's short-term thinking certainly can lead to bargain opportunities.
In a related article about a smartphone company, I have asserted that investors (both retail and institutional) get very bad advice from Wall Street -- for a variety of reasons. First, unfortunately, we live in a world where people are not only increasingly selfish and narcissistic, but also "entitled" to instant gratification. Secondly, Wall Street's short-term focus is helping banks more than investors. Relating to the article above, I wrote:
One of the key challenges when it comes to investing is reflected by Wall Street analysts and their portrayed herding behavior. Analysts bounce their ideas back and forth with other analysts and are mostly surrounded by individuals who work and think with one goal in mind: To stimulate investors to act, to trade, to sell, to engage in transactions.

They usually know their industry and the businesses in it, but they are surprisingly poor in forecasting inflection points. Consequently, their target prices for stocks are continually revised upward in bull markets and continually revised downward in bear markets. Investors, listening to mainstream Wall Street analysts, are unlikely to get good investment advice. The bottom line is: Investors should not want to be part of the herd and constantly trade in and out of positions which benefits the broker and rarely the investor.
Think about it: Could Wall Street institutions run profitable enterprises if they told investors to merely buy quality businesses for the long-term, Warren Buffett-style? Quite the opposite is true: Banks like Morgan Stanley and others feel compelled to present investors with a constant stream of updated research to justify constant activity/trading. Advising clients to buy businesses at discounted prices and then holding on to them, does not necessarily help the bank's bottom line. Consequently, short-term thinking and the perceived need to be busy are rarely contributing to superior long-term returns. In fact, I believe investors often underestimate the importance of the cash flow yield, particularly in times of volatility and uncertainty.
What could contribute to solid, recurring returns, however, is buying Realty Income on pullbacks. The company has an extraordinary record in growing its property portfolio (throughout the financial crisis as well) and in increasing distributions. With 526 consecutive dividend payments, Realty Income presents investors with a high-quality dividend stream which carries the implicit promise of further dividend increases down the road.
Dividend yield limiting downside risk
Realty Income is going to pay investors a dividend of $0.1824792 per share next month or approximately $2.19 per share annually. This translates into an annualized forward dividend yield of 5.22%.
I believe pullbacks in Realty Income's share price will be used by investors (many of them retirees who rely on dependable monthly income) to purchase more of a high-quality, high-yield stock. I know I will. Falling stock prices only make Realty Income more attractive as investor's entry yields rise meaningfully. As such, I am always looking forward to mindless sell-offs, either in the market or in the stock of Realty Income, to buy opportunistically as part of a long-term wealth building plan.
Conclusion
Realty Income is a first choice for investors seeking retail REIT exposure. While I am also invested in American Realty Capital Properties (ARCP), I still believe that Realty Income's dividend stream is of extraordinary value and clearly sets the REIT apart in a competitive industry. Investors seeking a highly diversified, competently managed REIT with industry-leading occupancy rates and a convincing portfolio and distribution growth record, should consider Realty Income -- especially on setbacks.
Contrary to what Wall Street institutions believe, I think pullbacks are a good thing and allow investors to purchase a quality REIT opportunistically. The financial crisis has shown that short-term thinking does not lead to sustainable, long-term investment results. Should Realty Income indeed fall below the $40 level or even hit Morgan Stanley's $38 price target, you better be sure that I will be a buyer once again.
Disclosure: I am long O, ARCP. I wrote this article myself, and it expresses my own opinions. I am not receiving compensation for it (other than from Seeking Alpha). I have no business relationship with any company whose stock is mentioned in this article.