A couple weeks ago I wrote Is The Pendulum Swinging From Oil Back To Natural Gas? The article discussed whether the price outlook for domestic natural gas might now be more bullish than that of domestic oil for the first time in many years. The EIA has released two more inventory reports since that article. If anything the bullish trend for natural gas that began in earnest this winter has continued into Spring.
Weekly Natural Gas Storage Report
The EIA's April 17th storage report (for the week ending April 11th) revealed a small rise of 24 Bcf from the prior week to 850 Bcf. Total storage is now exactly half of this time last year and is 1 Tcf below the 5-year average of 1,860 Bcf: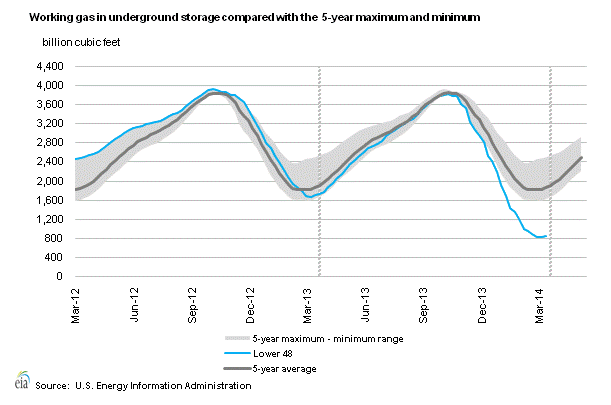 Gas supplies are coming off an 11-year low reached this winter. And it's not just the East region - storage levels are more than 50% lower in all monitored regions except the West (-44%). Only the West region posted a larger than average build. Storage levels for all three regions remain below their year-ago, 5-year average levels, and their 5-year minimums. Not surprisingly, we saw a strong move in natural gas prices. Nat gas prices jumped higher and ended up over 4.5% on the day of the report: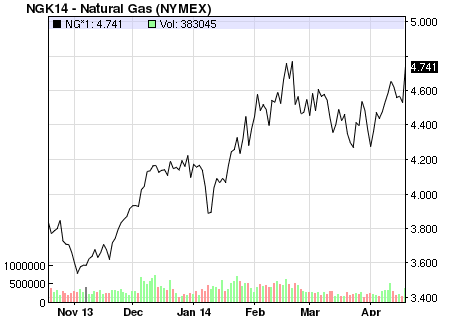 As for supply, of course the Marcellus continues to do all the heavy lifting. Elsewhere, domestic dry gas production is actually contracting in most shale plays other than the associated natural gas coming from liquids drilling in the Eagle Ford and to a much lessor extent the Bakken: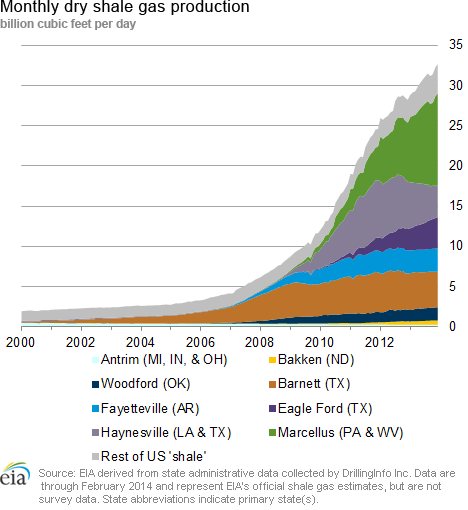 An interesting article by Liam Denning in the WSJ, Life After TXU for Private-Equity Gas Buys, reports how PE firms are snapping up natural gas assets. One quarter into 2014, private equity acquisition volume of gas weighted onshore North American assets is already ahead of last years total.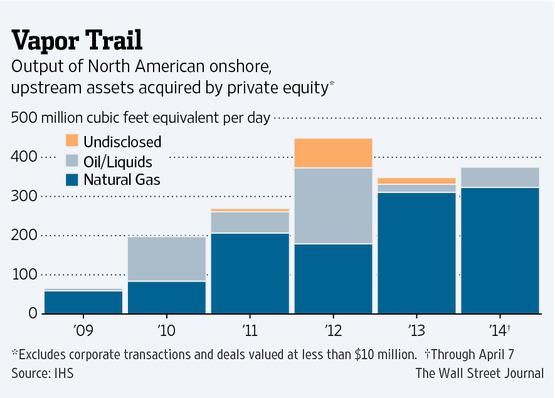 The PE firms might be onto something. With hydro-electric generation expected to be down significantly in the Western US due to drought conditions, and nat gas storage at levels merely half of last year at this time, it would appear all we need is a nice hot summer and it may be very difficult to replenish natural gas storage levels by next fall without a significant rise in price to spur additional dry gas drilling. And of course the 1,000 pound gorilla in the room is looming LNG exports which will start-up in late 2015 at the Cheniere Energy (NYSEMKT:LNG) Sabine Pass terminal in Cameron Parish, Louisiana.
Oil Inventories
On the other side of the coin, Gulf Coast oil inventories reached 207.2 million barrels on April 11, a record high. Since March 2012, In the 106 weeks since March 2012, US Gulf Coast inventories have been above the previous five-year average in all but seven of the 106 weeks of reported data. Interestingly enough, the price of WTI has remained strong and has closed the gap with Brent prices while domestic inventories have continued to build ever higher.
Barring one of the following:
Significantly higher domestic gasoline demand resulting from a strengthening US economy.
An escalation of the conflict in Ukraine resulting in meaningful sanctions that would result in an actual reduction in Russian oil exports.
An easing of the US crude oil export ban.
it would appear WTI prices may have trouble maintaining the $100 level. Indeed, if production out of the Bakken surges this spring and summer as I expect, $90 WTI may be a challenge.
Investment Plays
One way to profit from the trend in firmer natural gas prices might be to invest in some of the biggest domestic natural gas producers (as of Q4 2013):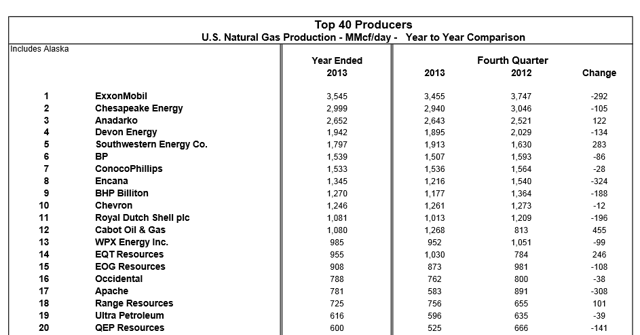 It is interesting to browse the "change" column to the far right. For the most part, YOY dry gas production is down for the biggest producers as emphasis shifted to liquids production years ago. There are some notable exceptions:
Generally, these firms are increasing production because they have prolific wells in the Marcellus shale which are quite profitable at current nat gas pricing.
Natural gas prices are nicely higher in Canada as well - up 27% YOY: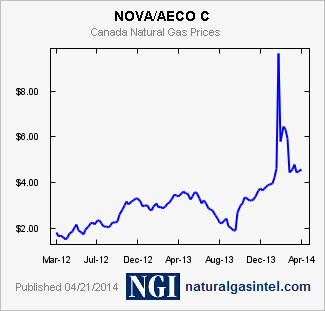 This is very bullish for low-cost Canadian gas producer Peyto Exploration (OTCPK:PEYUF). As I pointed out in a previous article, Peyto looks set for a run-up on higher production, higher prices, and cash margin expansion. Should the US approach winter with significantly less gas in storage than necessary to satisfy heating demand, it is not out of the question that natural gas imports from Canada could actually increase after years of steady decline:

Peyto's Advantage: Low Cost Production
The key to Peyto's success is being the low-cost producer in Alberta's Deep Basin: profit margins in 2013 were ~25%. The advantages of owning, operating, and processing your production is why Peyto's motto is "Build it for less, then we sell it". Check out the company's 2013 cost structure (slide 10):
Peyto's Profit Engine (2013)

FD&A ($/Mcfe)

$2.35/Mcfe

Cash Costs ($/Mcfe)

$1.06/Mcfe

Total Costs

$3.41/Mcfe

Sales Price*

$4.43/Mcfe

Profit/Mcfe

$1.02/Mcfe
*Sales price = ($3.01/GJ AECO daily X 144%) + $0.11/Mcfe (hedging) = $4.43. The 144% comes from uplift for NGLS and Peyto's gas heat content.
2014 Guidance
The company is guiding for 2014 production to steadily increase to a year-end rate of 78,500-81,500 boe/d. The midpoint of that range (80,000 boe/d) would be ~7% above 2013's exit rate. A 2014 average production rate of ~77,500 boe/d would be a 15% increase over Q4's average daily production of 67,296 boe/d as reported in the company's 2013 Annual Report, and a whopping 30% increase over 2013's full year average daily production rate of 59,313 boe.
Shareholder Friendly
Better yet for investors is that out of the $1.02/Mcfe of profits in 2013, the company paid out C$1.01 in dividends. For US investors, the latest monthly dividend for shares of PEYUF was USD$0.0728. Current dividend based on the recent currency translation of:
1 USD = 1.1024 Canadian Dollar
PEYUF shares closed Friday at $36.44 for an annualized yield of 2.4%.
In my first article on the company, I suggested a 40% upside. Shares are up 4.1% since then, so there is still 35% left to go.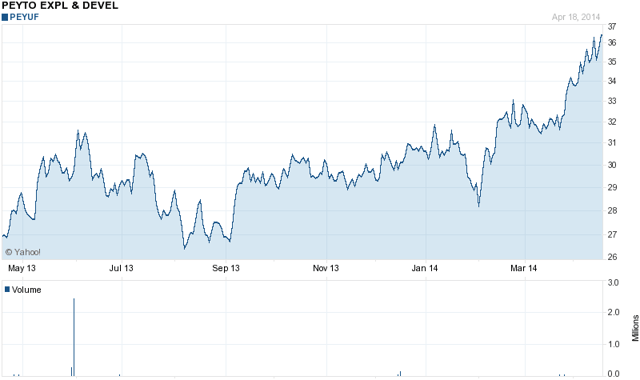 | | |
| --- | --- |
| Market Cap: | $5.42B |
| P/E ((ttm)): | 37.30 |
| EPS ((ttm)): | 0.98 |
| Div & Yield:* | $0.87 (2.4%) |
*Dividend & Yield based on current month USD dividend.
Summary & Conclusion
Domestic natural gas storage levels are at 11-year lows. The price is responding upward. Ironically enough, one of the best ways to profit on this trend may well be north of the border in Canadian company Peyto Exploration. PEYUF is a STRONG BUY and I expect shares to reach $50 by year end.
Disclosure: I am long PEYUF. I wrote this article myself, and it expresses my own opinions. I am not receiving compensation for it (other than from Seeking Alpha). I have no business relationship with any company whose stock is mentioned in this article.
Additional disclosure: I am an engineer, not a CFA. The information and data presented in this article was obtained from company documents and/or sources believed to be reliable, but has not been independently verified. Therefore, the author cannot guarantee its accuracy. Please do your own research and contact a qualified investment advisor. I am not responsible for investment decisions you make. Thanks for reading and good luck!NOTE: I may buy shares in Peyto Exploration over the next 48 hours.