Google's Negative Q1 Results
Google (NASDAQ:GOOG) announced its first quarter earnings recently and missed analyst expectations due to declining prices on tablets and smartphones. The company stated it had realized $6.27 per share before costs on gross revenue of $15.4 billion and net revenue of $12.19 billion after backing out commissions paid to certain partners for obtaining Web traffic. Many analysts had expected the company to report $6.33 per share on gross revenue of $15.6 billion and $12.3 billion in net revenue. Google's stock fell approximately 6 percent after the Q1 results were reported.
Adversity With Ads
Google's ad revenues followed a common pattern seen over the last year, with the quantity of clicks on ads increasing by 26 percent, but the cost per click falling by 9 percent. While the revenue stream remains fundamentally sound, this performance may indicate that ads flashed on desktop computers are losing ground to mobile ads.
The concerns profits comes as Google has expanded its ad business to reach beyond search functions. The revenue stream has begun to shift from high margin self-service searches towards full service advertising and tech support. Each subsequent business, while integrating together, has the potential to dilute the profit margin.
In addition, Google may be overextending itself in acquisitions and R&D as it expands into hardware and other complementary businesses.
Additional Analyst Concerns
Analysts who follow Google have stated concerns over many issues, including lower prices per clicks driven down by the growth in mobile ads, the performance of skippable video ads on YouTube, the dilution of profit margins from new businesses such as smoke alarm and thermostat maker Nest, cloud computing, Google glass, drones, self-driving cars and robots. These expansions into new areas are proving to be less lucrative that its core business in search ads.
Cloudy Skies Ahead?
In addition, Google has set its sights on being the leader in cloud computing. Recently, the company launched a price war against Amazon (NASDAQ:AMZN), the current leader in cloud services, by cutting its prices. Concurrently, Google orchestrated an explosion of media coverage of its own cloud computing.
However, Google is significantly behind Amazon in this sector. While Google has the largest cloud computing capability in the world, it has put its capacity to different use than renting out space by the hour, as does Amazon. The ensuing battle between these two technological giants should prove to be epic, and may in fact influence who controls the internet.
What Is In The Cloud, Exactly?
The cloud, rather than being some mysterious ether in space, is a vast collection of massive servers connected to the Internet, from which companies or individuals can rent data storage or processing power as needed. Amazon Web Services has dominated this field for many years, even though this fact is not well known outside of technology circles.
An Enormous Space For Competition
The potential market that Google and Amazon are battling for is staggering. All of the servers that make up the Internet, all of the software used worldwide, and all of the IT services for hire or provided internally could amount to $1.4 trillion in revenue in 2014. This is more than six times Amazon and Google's annual revenues combined. Both companies have indicated that their future revenue stream from cloud services has the potential to overshadow all other current income sources.
Today, the cloud services sector has a multitude of providers. However, Amazon's entire cloud services business amounts to five times more capability and power than the next 14 competitors, Google included, combined.
Each day, one-third of the visitors on the Internet access a site that utilizes Amazon Web Services.
If Google can compete, its profits may bounce back to meet analyst expectations. However, the battle for lead position will be immense.
A Clearer Way Forward For Investors
Investors should be concerned that Google is behind Amazon in the critical cloud-computing sector. While Google once prized itself on an unbeatable R&D team, falling behind in the race for this next frontier could prove costly to the engineering company in the future, particularly if Amazon continues to grow in this regard.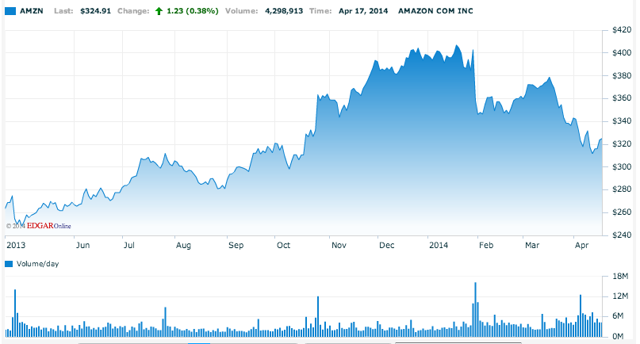 (Nasdaq.com)
Both Google and Amazon should be wary of the impending IPO of Alibaba (ABABA), the giant Chinese e-commerce site-and simultaneous move into US markets-as a forceful competitor both domestically and internationally.
With Alibaba's IPO, Yahoo (NASDAQ:YHOO), which has a 24% stake in the behemoth, could also skyrocket at the expense of GOOG.
Investors might consider taking some profits in GOOG in 2014, freeing up capital to invest in AMZN, and play the ABABA IPO in the coming months.
Disclosure: I am long YHOO. I wrote this article myself, and it expresses my own opinions. I am not receiving compensation for it (other than from Seeking Alpha). I have no business relationship with any company whose stock is mentioned in this article.