From time to time, we receive feedback that quotes Zero Hedge as a reputable source of economic insight. We have been skeptical of Zero Hedge's analyses, and its latest piece on the Fed fabricating loan data shows why.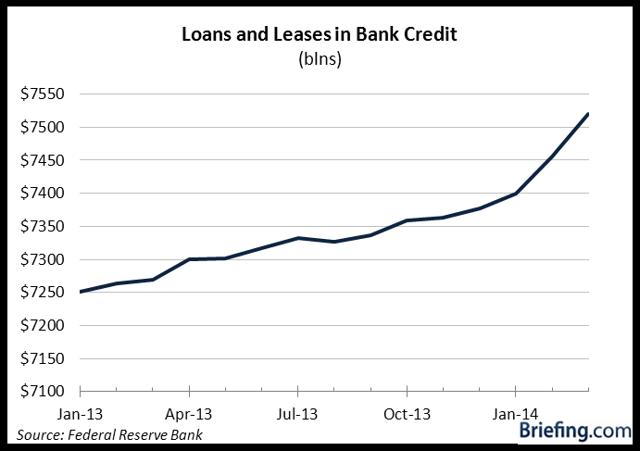 Since the beginning of 2014, the Federal Reserve Bank, in the H.8 data release, showed a distinct acceleration in loans and leases. If this data is correct, then demand for loans has strengthened, lending conditions have eased, or a combination of the two has occurred. In any case, this is a net positive for economic growth.
Zero Hedge claims that the acceleration has not occurred. More importantly, its analysis suggests the Fed may have completely made up the data.
Zero Hedge is wrong.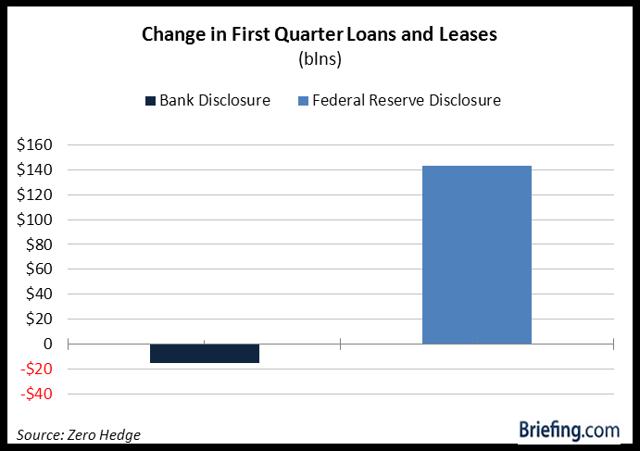 For proof, Zero Hedge delved into the balance sheets of JPMorgan (NYSE:JPM), Bank of America (NYSE:BAC), Citigroup (NYSE:C), and Wells Fargo (NYSE:WFC), and determined that loans and leases have declined by $14.8 bln in the first quarter at these banks. Meanwhile, the H.8 statement by the Federal Reserve reported a $143.0 bln (corrected from Zero Hedge's calculation of $135 bln) increase during the same period.
According to Zero Hedge, these banks accounted for 42% of all loans outstanding. Therefore, it believes it would be improbable that credit expanded by $157.8 bln from the remaining 58% (which include all community, regional, and foreign banks) to make up the difference.
As such, Zero Hedge concludes that the Fed must have fabricated the data in the H.8 report in order to show growth that is not actually occurring.
While the above chart is impressive and scary, Zero Hedge used incompatible data to make its analysis. In other words, Zero Hedge's conclusions are based on statistically and mathematically unsound methods.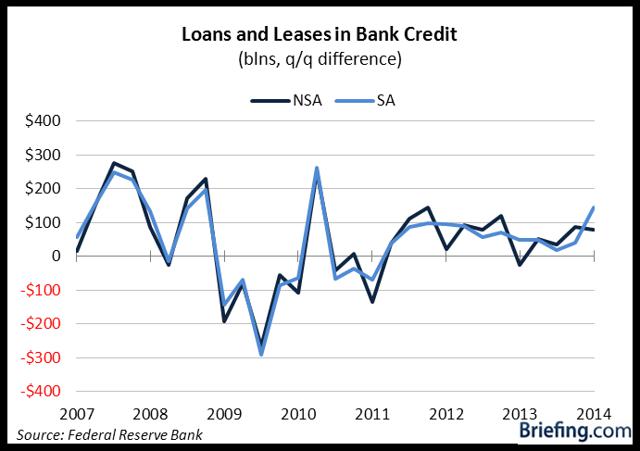 The Fed data is seasonally adjusted while the bank data is not. Seasonally adjusted and nonseasonally adjusted data cannot be compared with each other.
Loans and leases normally accelerate in the fourth quarter as consumers take on more credit card debt for holiday spending and decelerate in the first quarter as consumer spending slows. The Federal Reserve adjusts the data for these seasonal variations so that monthly and quarterly trends can be discovered.
Excluding the seasonal adjustments, the Fed shows that loans and leases increased by $77.8 bln in the first quarter, a little less than half of Zero Hedge's claim.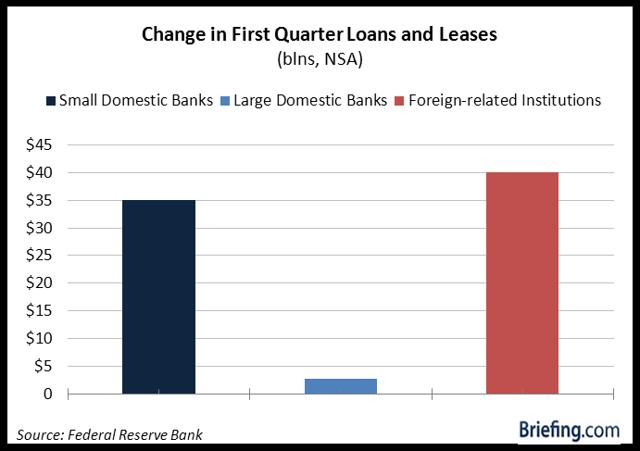 The Fed's loans and leases data is split among large domestically charted commercial banks (the top 25 domestic banks by assets), small domestically chartered commercial banks (the remaining domestic banks), and foreign-related institutions. As of December 2009, the Fed collected loan and lease information from roughly 815 domestically charted banks and 60 foreign banks.
The Zero Hedge analysis looks at only four of the 25 banks categorized in the large category, and it mistakenly compares those banks' first quarter results with the entire banking industry. A more apt evaluation would look specifically at loans and leases issued by large domestic banks.
The Fed data show that loans and leases at large domestic banks increased by $2.7 bln in the first quarter. That may seem like a big difference from the reported $14.8 bln decline in the Zero Hedge data, but 84% of large banks are not included in the sample.
To date, many large banks have not reported first quarter earnings. Those that have include: U.S. Bank Corp (NYSE:USB) (5th largest bank, +$3.1 bln), PNC Bank (NYSE:PNC) (6, +$2.6 bln), KeyCorp (NYSE:KEY) (25, +1.0 bln), Fifth Third Bank (NASDAQ:FITB) (15, +$0.9 bln), Northern Trust (NASDAQ:NTRS) (20, +$0.8 bln), and BB&T (NYSE:BBT) (12, +$0.5 bln).
Combining these two still incomplete samples, loans and leases for large banks fell by $5.9 bln in the first quarter. It is definitely not inconceivable that the remaining large banks make up the difference from what the Fed reported.
As for the small banks, the data is also not complete, but they also follow with the Fed's reports of increasing loan activity. Earnings have been released for Huntington Bank (NASDAQ:HBAN) (33rd largest bank, +$1.2 bln), Comerica Bank (NYSE:CMA) (32, +$1.0 bln), First Republic Bank (NYSE:FRC) (35, +$0.6 bln), and M&T Bank (NYSE:MTB) (26, +$0.1 bln) and all reported positive lending growth. None of the other small banks in the top 40 have reported earnings.
In the end, Zero Hedge cherry-picked the loss leaders, compared those data points with an incorrect aggregate, and then had the audacity to claim the Fed fabricated its data.
A larger sample clearly shows that the Fed's lending report and the underlying banks' earnings results are trending in the same direction. Loans and leases are accelerating, which is good for future economic growth.
Disclosure: I have no positions in any stocks mentioned, and no plans to initiate any positions within the next 72 hours. I wrote this article myself, and it expresses my own opinions. I am not receiving compensation for it. I have no business relationship with any company whose stock is mentioned in this article.