General Electric (NYSE:GE) remains my favorite equity investment in the industrial sector. The conglomerate presented first quarter results last week which received a positive reception of investors. General Electric reported an operating EPS of $0.33 in the first quarter of 2014, down approximately 15% from last year's $0.39. General Electric's adjusted operating EPS (accounting for restructuring charges and other non-recurring items) came in at $0.36: An increase of 9% compared to the $0.33 achieved in the year ago quarter.
Total revenues (Industrial and GE Capital) came in 2% lower at $34.2 billion compared to the year ago quarter even though the company also posted strong revenue growth in select industrial segments like Power&Water (+14%), Oil&Gas (+27%) and Aviation (+14%). General Electric's industrial segment also reported 8% organic revenue growth which highlights the inherent strength of GE's diversified market positioning. GE Capital, on the other hand, posted 8% weaker revenues ($10.5 billion in the most recent quarter) compared to last year.
Share performance
General Electric's first quarter results were solid, especially with regard to its underlying operating performance in its industrial segments. Despite improving business results and strong operating cash flow generation, the conglomerate is still lagging its peers Siemens (SI) and Honeywell (NYSE:HON) in terms of share performance.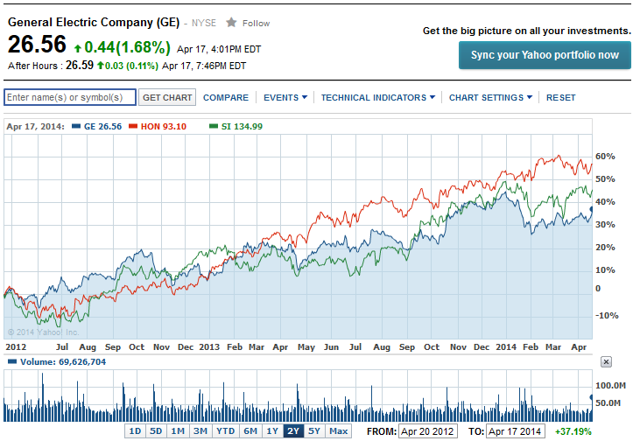 (Source: Yahoo Finance)
Intrinsic value estimate
First quarter results have shown once again, that General Electric operates a solid mix of industrial businesses with attractive growth prospects. General Electric also expects strong industrial segment operating earnings and cash flow growth and an improvement in margins in the current fiscal year (Source: First Quarter 2014 Earnings Presentation). Both should provide tailwinds for GE's equity valuation this financial year.
I have little reason to adjust my free cash flow to equity estimates given that General Electric, so far, has outperformed it own industrial segment organic revenue growth target of 4-7%. As such, I am reaffirming my free cash flow estimates (see chart below, reproduced for your convenience) and estimate that General Electric continues to have an intrinsic value in the neighborhood of $36 per share. Given a current share price of $26.56, the conglomerate has substantial upside potential of more than 36%.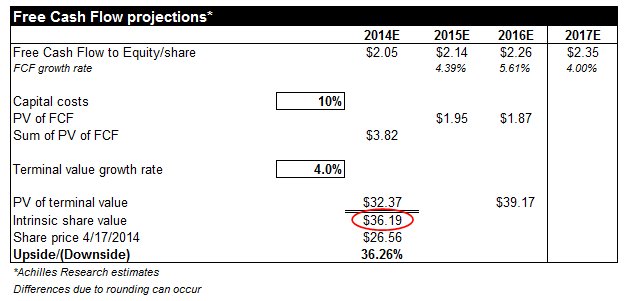 Market valuation
From an earnings perspective, General Electric is not necessarily undervalued - on first glance. The company currently trades at a forward P/E multiple of 14.60, which is lower than Honeywell's 15.14, but higher than Siemens' 13.26. However, I believe that analysts largely underestimate the strong EPS growth prospects General Electric retains and I expect gradual upward adjustments of earnings estimates in the coming quarters.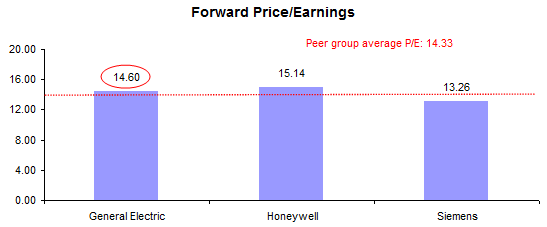 (Source: Achilles Research, Finviz.com)
A side benefit of owning General Electric is its high dividend yield. The conglomerate pays investors a quarterly dividend of $0.22 per share translating into annual payments of $0.88 per share: This represents an annualized forward dividend yield of 3.31%.
If growth in the global economy gains traction, I wouldn't be too surprised if General Electric increased its quarterly dividend to the $0.30 per share region, just like it did in previous expansionary phases of the business cycle. A quarterly dividend of $0.30 per share ($1.20 annually) leads to a potential dividend yield of 4.5%. Not too bad for a major, diversified conglomerate.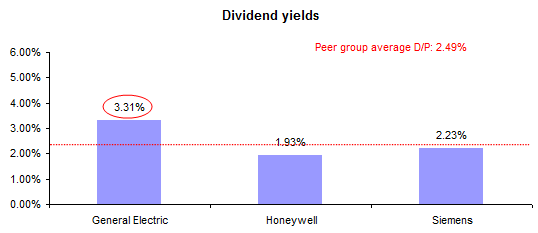 (Source: Achilles Research, Finviz.com)
A summary valuation table including General Electric's premiums to the respective peer group averages is provided below:

(Source: Achilles Research, Finviz.com)
Bottom line
General Electric's present market valuation clearly needs to be reevaluated. Most investors and analysts will chase the stock price only after better economic news make headlines and cyclical investments are sought after. In the meantime, investors who want to get exposure to a cyclical business, could purchase General Electric now at a substantial discount to intrinsic value. Long-term BUY on EPS estimate upward adjustments, high intrinsic value, large margin of safety and healthy dividend yield.
Disclosure: I have no positions in any stocks mentioned, and no plans to initiate any positions within the next 72 hours. I wrote this article myself, and it expresses my own opinions. I am not receiving compensation for it (other than from Seeking Alpha). I have no business relationship with any company whose stock is mentioned in this article.