The healthcare industry has a storyline with mass appeal that is fit for a soap opera. As a soap opera, the narrative is open-ended and there are many concurrent sub-plots that eventually intermix. The business model for companies developing innovative patented drugs is a problematic and uncertain one, relative to the business model for companies developing generic drugs for reasons discussed below. Within the generic drug sector, Dr. Reddy's Laboratories (NYSE:RDY) is a global player that is headquartered in India. It is the 2nd largest pharmaceutical company in India, but is much smaller than other generic drug companies like TEVA and Sandoz (acquired by Novartis). It is a global player in the generic drug market and also has a relatively small R&D expenditure to develop complex generics and new drug delivery capabilities. RDY is projected to grow at an impressive 20% annually over the next 5 years. This is supported by a growing need in developing countries for affordable generic drug solutions, an ageing population in developed countries like the U.S., increasing investment in public healthcare by the Indian government, and a proactive management that is investing in new developing complex generics and branded generics to ensure a healthy profit margin in the face of increasing competition.
A Difficult Business Model for New Drugs
The healthcare industry itself is composed of many different players. There are patients, physicians, researchers, pharmaceutical companies, not for profit organizations, government, and insurance companies. The digitization of healthcare information is adding a new dimension to this industry and may change it entirely. Leaving that aside for now, science is advanced mainly by researchers working in academia and in pharmaceutical companies.
Due to the short lifetime of a patent in the U.S. (20 years), the high costs associated with bringing a drug to market, and increasing amount of time spent in clinical trials, new drugs take longer and cost more to develop than ever before. The average drug costs about $1 billion to bring to market; after factoring in R&D spent on drugs that fail to make it to market, the cost per drug rises to a staggering $4 billion on average. On top of this high cost, it takes about 12 years to gain FDA regulatory approval and since a patent only lasts 20 years, there is little time to market and sell the drug.
The chart below shows how loss of patent protection is affecting the biggest pharmaceutical companies in the world.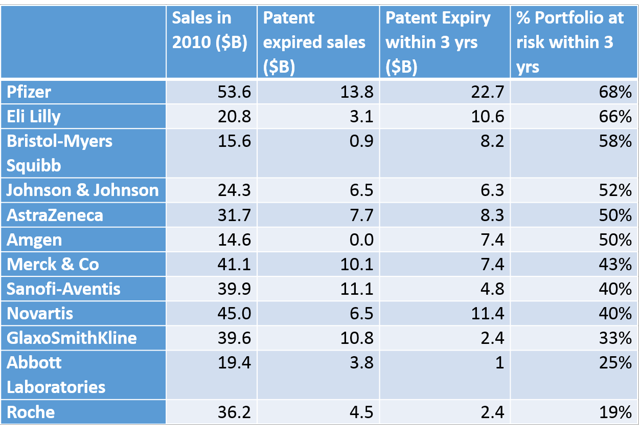 Source: EvaluatePharma
In addition, because of a stringent regulatory process, only 1 out of 5000 preclinical stage drugs come to market, which amounts to only a 0.02% success rate. However, profit margins for drugs that make it to market are over 90%, making the pharmaceutical industry one of the most profitable ones. For instance, take a look below at the comparison between RDY and Pfizer, which mainly develops and sells branded pharmaceuticals.
At first glance, there are several clear differences between the two companies. PFE is 26X larger than RDY in market capitalization. As expected, PFE spends more than twice on R&D as a percent of their revenues than RDY does. However, PFE's profit margins are more than twice that of RDY.
PFE is representative of the mature phase that many of the other big pharmaceutical companies are currently in. It has discovered several blockbuster drugs in the past like Viagra and Lipitor, whose patents have expired. In an effort to boost revenue in the face of patent expiration on various drugs, there have been a string of mergers and acquisitions such that the 10 largest pharmaceutical companies account for one-third of the industry's market value. These companies are investing heavily in R&D to safeguard a prosperous future. PFE has many drugs in the pipeline that are in various stages of development and testing. It is likely that some of these drugs will become future blockbuster drugs that are highly profitable for the company. However, in the meantime, PFE is in a low-growth phase (2% CAGR projected for the next 5 years) and is cutting costs to shore up its bottom line. Hence, while pharmaceutical companies as a whole are projected to grow, the future of individual companies dependent on scientific innovation is uncertain due to the mercurial nature of science.
The pharmaceutical industry is reacting to this changing landscape by consolidation. Many mergers and acquisitions have occurred in this industry such that the 10 largest pharmaceutical companies account for one-third of the industry's market value. For instance, it was just announced that PFE is purportedly in talks to acquire AstraZeneca for an incredible $100 billion. There is also a shift from developing small molecule drugs that treat very large patient populations to developing large molecule, specialized drugs that treat small patient populations. Currently, specialty drugs account for only a tenth of all drugs but that is expected to quadruple in 3 years. An advantage of this drug class is that they are harder to replicate by generic drug companies.
A Safer Business Model for Generic Drugs
The global generic market is valued at about $135 billion, which is a tenth of the global pharmaceutical market. Although the market value is relatively small for the generic drug sector, generic drugs account for 70% of all drug prescriptions. Moreover, the generic drug sector is expected to grow at a faster pace than the overall industry. This is likely due to the "patent cliff"- referring to the period from 2009 to 2016 when many blockbuster drugs (i.e. those with annual sales over $1 billion) will lose their patent protection. Thereafter, growth may slow down for generic drug makers.
Generic drug companies follow a different business strategy than branded drug companies. Prior to 2003, the first company to challenge the branded one's drug after patent protection expiration was granted a 180 day exclusivity period to sell the generic drug before other competitors could also join the fray. This allowed the generic drug company to reap a relatively high profit margin for the first 6 months. However, in 2003, Congress revised this policy such that multiple companies could be granted the 180 day exclusivity period. Consequently, profit margins are lower for generic companies selling drugs after patent protection expiration. The generic drug sector has countered this changing regulatory landscape with two strategies: 1) investing in making complex generic drugs; and 2) developing branded generics.
The Indian pharmaceutical market is highly fragmented with about 24,000 players with the top 10 making up for more than a third of the market. Several Indian companies have become big, global players in the generic drug market including Ranbaxy (recently acquired by Sun Pharma), RDY, Cipla, and Lupin. The Ranbaxy acquisition makes Sun Pharma the largest company in India and Dr. Reddy's the second largest in terms of market cap ($19B and $7B, respectively). Collectively, the Indian pharmaceutical market is valued at about $13B and is expected to grow to $55B by 2020 at 14% CAGR. As pointed out in a report by McKinsey, the main factors behind this growth are: 1) an annual population growth of 1.3% and a 20% increase in disease prevalence by 2020; 2) more affordable drugs due to increases in income and in insurance coverage; and 3) higher accessibility to drugs due to more government spending on healthcare.
A Tale of Two Indian Generic Companies: Ranbaxy and RDY
Not all Indian pharmaceutical companies are equivalent. Just take a look at the stock performance of two - Ranbaxy and RDY - below.

Source: Google Finance
The stock performance of Ranbaxy has been largely flat over the last 10 years, while that of RDY has increased by nearly 300%. Ranbaxy has had a spate of issues since 2004 that attack the integrity of the company. For instance, two Ranbaxy employees blew the whistle on the company's fabrication of drug test reports leading to a formal investigation into the company by the FDA and an import alert on drugs manufactured by Ranbaxy. The company also had consistent quality issues with good manufacturing practices at its various manufacturing plants. Lastly, the strategic partnerships that it formed with other companies to market its generic drugs were sometimes formed on unfavorable terms, such as the one with Teva pharmaceuticals to market a generic version of Lipitor.
On the other hand, RDY has no discernible quality concerns in manufacturing practices. It has 8 FDA-inspected active pharmaceutical ingredient facilities and 4 FDA-approved finished dosage facilities serving the U.S. Moreover, it has 200 Abbreviated New Drug Applications or ANDAs, which is an application for a U.S. generic drug approval for an existing licensed medication or approved drug. For approval of a generic drug, the maker only needs to show bioequivalence, i.e. that the generic drug is identical to the branded one. Of all these ANDAs, it believes to have at least 8 to have first to file status, ensuring a relatively high profit margin for these drugs.
RDY also has an astute management that has been proactive in investing in complex generics as well as in building a branded generics business. While their R&D budget is about half that of a big pharma company (only 6% of revenues), RDY is investing strategically in complex high-value generic drugs. For instance, the company acquired OctoPlus last year, which has in-house expertise in the development and creation of micro-spheres and liposomes that allow controlled release of active pharmaceutical ingredients into patients. Developing easy-to-use versions of available drugs will be important in increasing market share. On the branded generics front, they recently launched generic ibuprofen in the U.S. under Dr. Reddy's brand and are planning to expand their product line under this brand. It is expected that building a distribution system in the U.S. will benefit them greatly in the long-term.
Favorable Healthcare Trends for RDY
The chart below makes it clear that as baby boomers in the U.S. age, the cost and need for healthcare will increase accordingly.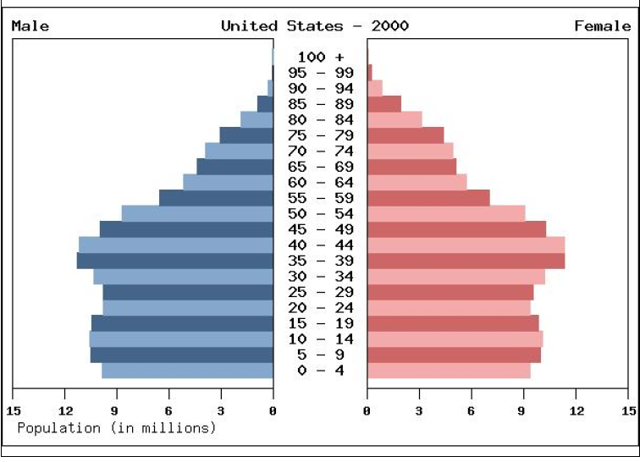 Source: U.S. Census Bureau.
The global patient population is increasing due to higher disease prevalence. For instance, the worldwide prevalence of diabetes is increasing by nearly 5% a year as shown below. Higher disease prevalence is due to: 1) increasing population size; 2) aging demographics; and 3) changing lifestyle. This clearly will require more affordable treatment like generic drugs.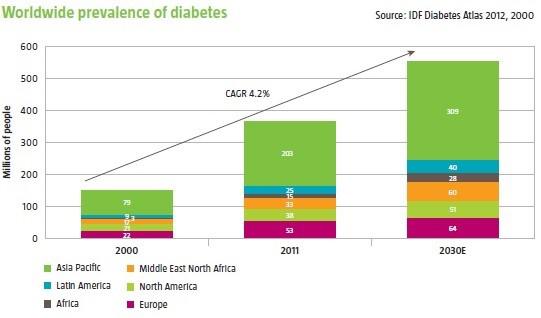 Another favorable trend is that governments in developing countries are spending more on healthcare infrastructure. India, for instance, RDY is participating in the government's Jan Aushadhi project, which is selling affordable generic drugs to low-income consumers. In order to meet the growing demand, the government is buying generic drugs in bulk and at least 3000 stores in rural areas are expected to be functional by 2017.
Conclusions
Financial indicators show that RDY is a less risky investment that will likely provide higher growth than big pharma companies like PFE. However, it is important to keep in mind that RDY is less established than PFE with a more volatile past. Earnings grew steadily the last 3 years, but in 2009, RDY incurred a large loss with an EPS of -31 due to supply chain problems, pricing pressures, and few generic drugs sold in North America and Europe. This illustrates the dependence of RDY's growth on availability of patent expirations on drugs and on forming strategic partnerships to sell generic drugs in developed countries. Management has been astute at forming these partnerships. The increasing need for affordable generic drugs in developing countries like India and China with aging populations ensures that RDY will perform well in the long-term.
Disclosure: I have no positions in any stocks mentioned, and no plans to initiate any positions within the next 72 hours. I wrote this article myself, and it expresses my own opinions. I am not receiving compensation for it (other than from Seeking Alpha). I have no business relationship with any company whose stock is mentioned in this article.