If one does not really believe in "trading range" and "technical support," the chart of Ford Motor (NYSE:F) would be the best candidate to convince them. The stock has been stuck in a great holding pattern over quite a few months and is now showing signs of breaking out. Of course fundamentals are backing up the theory that the stock is undervalued. This article presents five reasons why Ford is looking interesting for investors. Let us get into the details.
Upgrade:
Deutsche Bank recently upgraded the stock to a buy with a new price target of $19. The firm expects Ford's earnings to have significant upside in 2015-2016. As can be seen below, estimates have remained fairly steady over the last 60 days with a few revisions to the upside. This is in stark contrast to how estimates were being slashed just over 3 months ago.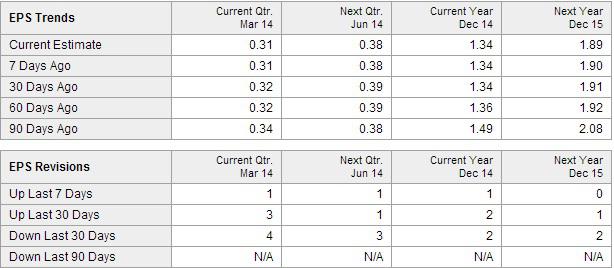 (Source: Yahoo Finance)
Upcoming Report:
Talking about earnings, Ford is reporting its quarterly earnings on April 25th, Friday. The company has been riding a wave of positives when it comes to China and Europe. With some major competitors issuing massive recalls in the U.S. it won't be a surprise to see Ford topping the numbers even on domestic sales.
Plus, as shown in the last column in the table below, Ford has a habit of easily surpassing estimates. The stock has almost always closed on the higher side recently after reporting earnings.

(Source: Nasdaq.com)
Price Targets:
15 analysts on Yahoo Finance have an average price target of $17.80.
21 analysts on Marketwatch.com have an average price target of $17.75.
Trefis.com has a price target of $17.66.
So, it is very clear the average price target is very close to $18, which represents an upside of about 12%.
The 3.20% yield and increasing earnings add more luster.
Lincoln and China:
Lincoln has always been an important brand for Ford but has been on a steady decline for quite some time now. Needless to say, luxury cars are an important division (premiums and margins are usually higher) for any automaker and Ford has been desperately trying to get Lincoln back on track.
Ford is getting ready to sell Lincoln in China and this move is critical for two reasons: 1) Ford is slowly but surely on track to meet its targets for China and 2) There aren't too many players in the Luxury segment in China except German manufacturers. CEO Alan Mulally said the plan is to sell five Lincoln models in China in the next 2 years and to eventually manufacture them in China.
Technical Reason:
The stock has been stuck between the $15 and $16 range for quite some time.
Good news from Europe pushed the stock beyond the $16 barrier on huge volume recently.
But the stock quickly gave away all those gains but more importantly found solid support at a 20-day average as covered in this article.
In a nutshell, the stock has a very sound bottom at this moment as seen by the numerous bounces shown below.

(Source: Yahoo Finance)
Conclusion: So, there you have the five reasons why Ford is looking interesting. Technicals and fundamentals are both backing this stock up. If the numbers disappoint investors on April 25th, that might end up presenting a chance to pick up shares on a bargain.
Disclosure: I have no positions in any stocks mentioned, and no plans to initiate any positions within the next 72 hours. I wrote this article myself, and it expresses my own opinions. I am not receiving compensation for it (other than from Seeking Alpha). I have no business relationship with any company whose stock is mentioned in this article.