While the unconventional oil and gas production trend continues to gain interest and leverage investment in the U.S., and increasingly in Canada, Argentina looks to be the next promising bastion of shale activity. The reserve estimates of the Vaca Muerta, translated as "Dead Cow," continue to evolve as well results reveal good prospectivity. Outside of North American shales - Eagle Ford, Permian, Bakken and Canada's Duvernay - Argentina is said to be the next most prospective shale play area.
The Dead Cow Awakens
According to a report by independent auditor Ryder Scott released in February 2012 by YPF, the Vaca Muerta shale is said to hold 23 billion barrels of oil equivalent. In an earlier EIA July 2012 update, they said, "YPF announced a large discovery of shale oil in the Loma La Lata field in the Neuquén province in the Vaca Muerta shale formation, the estimated size of which has increased to 741 million barrels of recoverable shale oil." An EIA/ARI estimate in June 2013 was 16.2 billion barrels for 270 billion barrels of risked oil-in-place, specifically for the Vaca Muerta. Overall Argentina's estimate is 27 billion barrels of technically recoverable oil and 800 tcf of gas.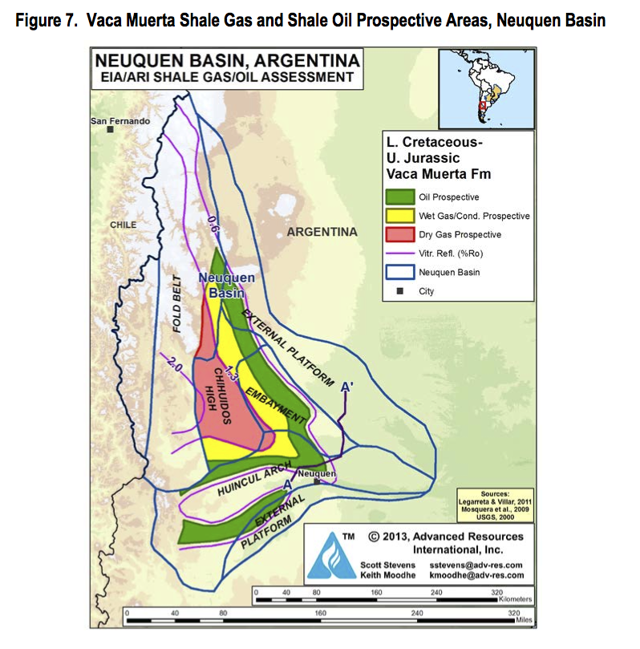 Specifically notes the EIA/ARI report:
The Vaca Muerta Formation has risked, technically recoverable shale gas and shale oil resources of 308 Tcf of gas and 16 billion barrels of oil and condensate, from 1,202 Tcf and 270 billion barrels of risked, in-place shale gas and shale oil resources. The Vaca Muerta has high to very high resource concentrations of 66 to 303 Bcf/mi2 for shale gas and 23 to 78 million bbl/mi2 for shale oil, depending on thermal maturity window. (p 243)
The Vaca Muerta shale consists of finely-stratified black and dark gray shale and lithographic lime-mudstone that totals 200 to 1,700 feet thick, says the EIA. By mid-2013, approximately 50 vertical wells of the "thick, organic-rich, marine-deposited black shales in the Los Molles and Vaca Muerta formations," produced at initial rates of 180 to 600 bbl/day following a typical 5-stage fracture stimulation, noted the Energy Information Administration. However, much more activity has occurred with the Chevron-YPF partnership gaining momentum.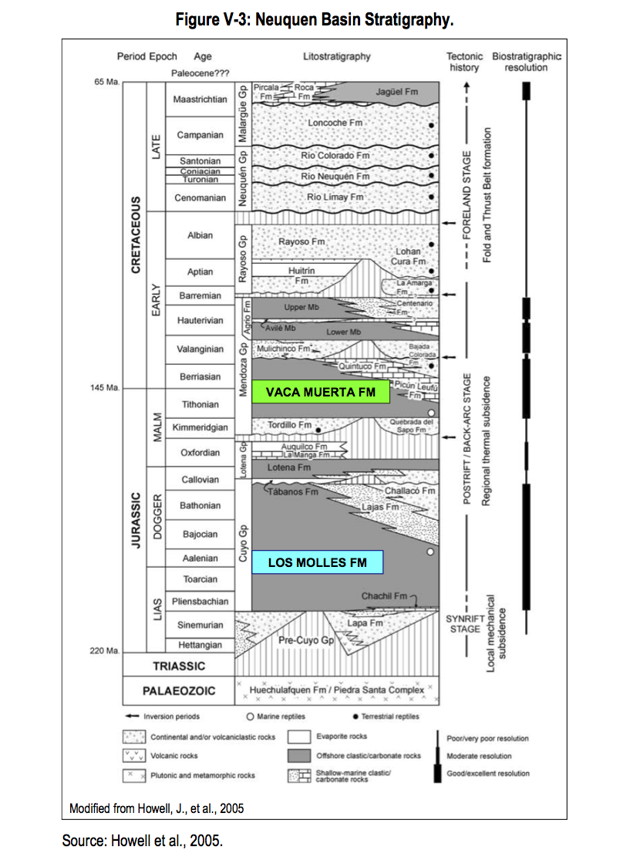 Chevron in the Play
Chevron and state-run YPF plan to drill 170 wells (increased from 140) in a 96,000-acre area this year in Argentina's Vaca Muerta formation, the world's second-largest shale gas deposit and fourth-largest shale oil reservoir, both companies said today in separate statements, notes Bloomberg. YPF holds 3 million net acres in the shale, according to the EIA/ARI assessment.
After the April 10th announcement by Chevron (NYSE:CVX) and Argentina's state-owned YPF SA, Chevron's stock price increased from under $118 to nearly $124, back in the range it traded at the first of the year. Markets gave the stock a slight push after the March 11 investors' day presentation.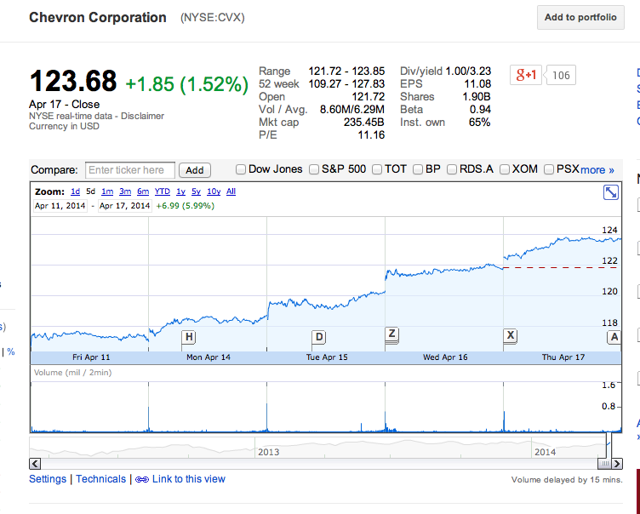 In Argentina, Chevron had net average daily production of 21,000 barrels of oil and 4 million bcf of gas, according to its fact sheet. The Vaca Muerta-specific pilot investment was $1.24 billion. Now in 2014, Chevron added $1.6 billion, signing an accord with Argentina's state-run YPF SA (NYSE:YPF). The joint venture, with further plans equal to a $15 billion investment, is targeting daily output of 50,000 barrels of shale oil and 3 million cubic meters. Generally, in the Vaca Muerta, Chevron expects production to grow to 80,000 boe/d by 2017, half of it Chevron's, according to its investor day presentation.
A concern for investors is the Argentine government's policy environment. The Argentine government expropriated a 51% stake in YPF from Spain's Repsol SA (REP) in April 2012. The government's action was in response to a lack of investment in exploration. Repsol's board agreed in February to accept $5 billion in compensation for Argentina's expropriation, which ended the two-year international dispute. However, by pursuing a more intense energy production path, Argentina can lift its sagging economy and restore growth. "Confronted by falling dollar reserves, a weak economy and high inflation, (President) Fernandez has in the past three months cut heating gas subsidies and let the peso devalue by 18 percent," says Reuters. Their stock market rose 19% since the announced policy changes, which are said to have averted a crisis.
The Argentine government has made it clear to energy firms that they must invest (apparently tidy sums) to explore and produce in the country. For this reason, Apache (NYSE:APA) recently exited Argentina as it focuses more on U.S. shale resources. Exxon Mobil (NYSE:XOM), British Petroleum (NYSE:BP) and Total (NYSE:TOT) are also active in the Vaca Muerta and other basins. China has invested large sums in Argentina's natural resources as well. (This chart was from 4/17/14.)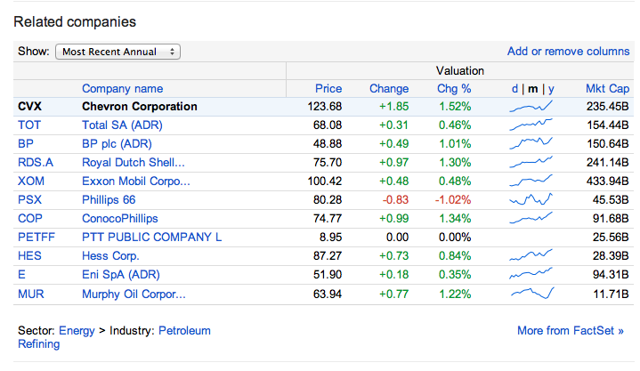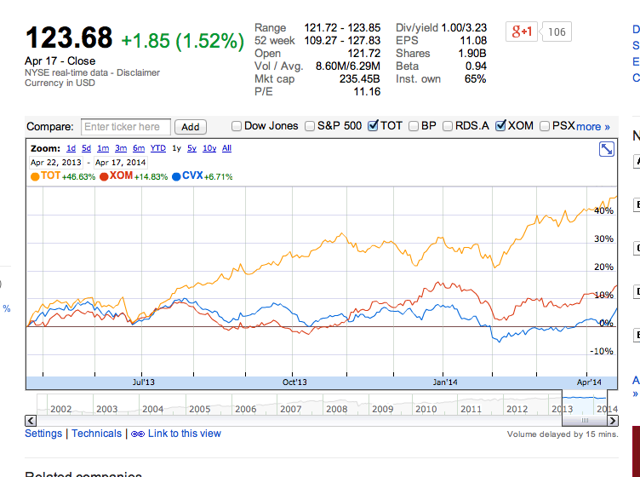 Chevron is definitely a player in Argentina and also secures its strategy there through corporate social responsibility initiatives, which are important for doing business in Argentina and other emerging markets. Besides exploration and production activity, Chevron has interests in a pipeline system that transports oil away from the Neuquén Basin to the Buenos Aires area. In the future, Chevron expects its recent Argentina investments to contribute to long-term growth. The Latin America shale venture by Chevron is just one in a number of shale efforts on their books, but one worth better understanding how it contributes to Chevron's prospects.
Source: EIA/ARI World Shale Gas and Oil Resource Assessment, June 2013.
Disclosure: I have no positions in any stocks mentioned, and no plans to initiate any positions within the next 72 hours. I wrote this article myself, and it expresses my own opinions. I am not receiving compensation for it (other than from Seeking Alpha). I have no business relationship with any company whose stock is mentioned in this article.
Additional disclosure: This article is for research and educational purposes only.