Oil and gas drilling and exploration companies have been making strong investments over the past two years as the economy healed. Unstable gas prices forced many companies to find liquid plays. That shift in the energy sector forced companies to invest heavily and, as a result, demand for oilfield services companies increased. Oilfield services companies provide the engineering, product and services necessary to complete complicated drilling and exploration activities. These companies also provide infrastructure, equipment and intellectual property to develop, explore, extract and transfer natural gas and oil.
With steady growth in the economy, oilfield services companies have generated record growth over the past two years. Further, economic indicators show more stability in the coming days. The entire energy sector is making massive investments to find new sources of production while enhancing existing assets. This, in turn, increases the demand for oilfield services companies like Baker Hughes Inc. (NYSE:BHI) and Schlumberger (NYSE:SLB).
Where Does Baker Hughes Stand?
Baker Hughes is showing momentum and has been generating strong growth. It is also well set to capitalize on the demand arising from increased investments in the energy sector. Baker Hughes provides products and services for drilling and evaluation of oil and gas wells, completion and production of gas and oil wells, reservoir technology and fluids and chemicals. Baker Hughes' innovative products and technologies keep it in the market and allow it to get new contracts.
Thus, in the past three years, its revenue growth is exceptionally high at 15%. The company has demonstrated this trend again in the recent quarter. The company had experienced seasonal headwinds, but it still posted 10% growth in revenues over the same quarter last year. Rising demand for its products, particularly in North America, the Middle East and the Asia-Pacific, led it to generate strong growth. Further, higher operational efficiencies resulted in increased margins and, thus, the company has posted a 29% increase in adjusted earnings.
In Brazil, Baker Hughes has applied high-technology logging-while-drilling (LWD) services, advanced drilling services, the DKD™ dynamic kill drilling fluid system and remote monitoring to highly complex deep water wells in unstable weather conditions. In Nigeria, the company's advanced wireline services and latest-generation LWD technologies are generating strong growth. The company has used wireline-conveyed cased hole logging and mechanical services in the Gulf of Mexico on an ultradeep gas well with temperatures reaching 500°F (260°C). Further, in the recent quarter, it installed the deepest subsea boosting system ever in the Gulf of Mexico.
With the latest products and technologies, it won multiple contracts in the Middle East, Australia, North Africa and in many other regions in the last quarter. It was awarded its biggest ever artificial lift contract for the Middle East. It has secured multiple contracts in the Middle East for its wireline services and completions systems. It also received considerable orders for FLEXPump in Russia. Its FracPoint™ multistage fracturing system continues to generate demand in international markets.
All in all, its innovative products and technologies are generating strong growth in all international markets. Further, its focus on enhancing operational efficiencies is setting it to generate substantial profits this year and beyond. Its cash generating potential is also strong enough to support capital investments and returns for investors. It has reduced capital spending over the past year, but it still has been investing heavily to introduce enticing products and technologies. The company's capital expenditures came down to $439 million in the recent quarter from $490 million in the same quarter last year. The company is further looking to lower its capital investments to give a boost to free cash flows.
Amid this, at the end of the past year, its free cash flows had provided complete coverage to dividend payments. At the end of last year, its free cash flows were standing at $1 billion when dividend payments accounted for only $267 million. I'm expecting a dividend increase this year with a huge gap in free cash flows and dividend payments. In addition, its payout ratio based on income is standing only at 24%, which also offers a lot of room for future increases.
Where Does Schlumberger Stand?
Schlumberger supplies technology, integrated project management and information solutions to customers working in the oil and gas industry worldwide. Schlumberger is capitalizing on the demand that is appearing from higher exploration and development activity offshore and in key land markets. Demand for its product and services are strong in the Middle East, Asia, Saudi Arabia and the United Arab Emirates. Strong exploration activities add considerable growth for the company in Malaysia and Australia; deepwater exploration work and strong project management activity occur in Latin America.
The company is constantly introducing new innovative products and technologies. As a result, sales of its premium new products are increasing year over year. Recently, the company announced first quarter results with growth in the top line compared to the Q1 of 2013, but the top line went down sequentially. It has posted first quarter revenues from continuing operations of $11.24 billion compared to $10.57 billion in Q1 of 2013. The company's sales went down sequentially in this quarter mainly from harsh weather conditions in Russia, China and North America. Also, instability in the Ukraine added to the decline in revenues.
On the other hand, the company is generating solid growth with its software and multi-client license sales in the Middle East, Asia, Australia, shale-related activity in Argentina and work in Ecuador. Land activity in North America remains strong with market share gains, increased service intensity and new technology uptake. Overall, the fundamentals of the economic outlook remain strong with short-term headwinds related to the growth in China and instability in the Ukraine. Further, E&P activities continue to be strong, as most of these companies are shifting to liquid plays. Strong E&P activities should result in a constant increase in demand for the products and services of oilfield services companies like Schlumberger. Thus, Schlumberger is well set to make big profits this year with its balanced technology portfolio, wide geographical footprint and the ability to capitalize on market opportunities.
The company's sales and earnings were sluggish sequentially in the Q1 of this year. However, it is making strong growth on a year-over-year basis in both revenue and earnings. On revenue, from continuing operations of $11.24 billion, it has generated diluted earnings-per-share of $1.21 versus $1.35 in the earlier quarter, and $0.97 in the Q1 of 2013. Its dividends look completely safe, as the company is paying only 24% of its income in dividends, which further offers a lot of room for potential increases. Its free cash flows are also providing complete coverage to dividend payments. In addition, the company is constantly working on a buyback program. In the recent quarter, it has repurchased nearly $9 million of outstanding stock, which will enhance its dividends, earnings per share and, finally, share price.
Which Is A Good Buy?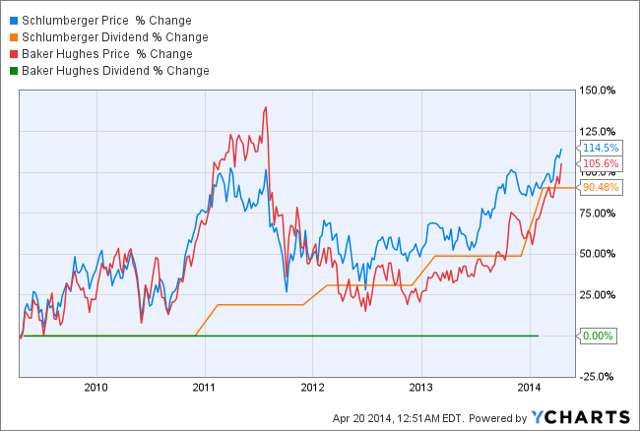 | | | | |
| --- | --- | --- | --- |
| | SLB | BHI | Industry Average |
| P/S | 2.9 | 1.3 | 1.8 |
| P/B | 3.3 | 1.6 | 2.5 |
| P/E | 19.8 | 26.9 | 25.7 |
| Forward P/E | 14.8 | 13.7 | |
| Rev Growth (3 Yr Avg) | 17.4 | 15.8 | 15.6 |
| Net Income Growth (3 Yr Avg) | 16.4 | 10.5 | 14.0 |
| Operating Margin % TTM | 19.6 | 8.7 | 11.9 |
| Net Margin % TTM | 14.5 | 4.9 | 7.2 |
| Debt/Equity | 0.3 | 0.2 | 0.4 |
| ROE TTM | 18.1 | 6.3 | 10.2 |
Morningstar.com
Schlumberger is making strong growth in revenues and earnings year over year. The company's financial situation looks to be strong enough to support its capital investments and returns for investors. I believe it will make another increase in dividends as it did in the past. As shown in the above chart, Schlumberger is a good stock for both dividend and value investors. The company has been consistently making dividend increases over the years.
On the other hand, with an outstanding performance, Baker Hughes' stock remains on a surge and gained more than 55% in the past year alone. Investors are paying a premium price for the company's shares. As a result, its valuations went far higher than the industry average. It is trading at 27 times to earnings compared to the industry average of 25 times. However, its dividend growth remains weak. Its return on equity ratio is also lower than Schlumberger's is.
In my opinion, if I would have to add one among these to my portfolio, I would go for Schlumberger on any next dip in the price. In terms of valuation, Schlumberger is still trading at attractive multiples compared to Baker Hughes. The company's low PE and high Forward PE demonstrate this trend. I like companies with strong business models and that offer consistent dividend growth with steady price appreciation. Further, Schlumberger's cash generating potential looks to be stronger than Baker Hughes' potential.
Disclosure: I have no positions in any stocks mentioned, and no plans to initiate any positions within the next 72 hours. I wrote this article myself, and it expresses my own opinions. I am not receiving compensation for it (other than from Seeking Alpha). I have no business relationship with any company whose stock is mentioned in this article.