For the better part of two years, Herbalife (NYSE:HLF) has been a battlefield between hedge fund managers. However, the story of the HLF bear-case is one that has been beaten to death. It is filled with speculation and what-ifs that never come to fruition. Investors have allowed their emotions to get the best of them, compromising their analysis and putting their capital at risk. This article will focus on the facts and what is, rather than what would, could or should be.
Background
2012
Pershing Square opened their short position in HLF on May 1, 2012. In Pershing Square's Q1 investor letter, Ackman indicated that he was short a company but never disclosed exactly which. It was only months later in December, that Ackman's short position in HLF was revealed, sending the stock tumbling over 10%.
On Dec. 20, Pershing Square gave a 342-page presentation at the Ira Sohn Conference, in which Ackman disclosed his $1 billion short position. In his presentation, Ackman outlined his thesis, accusing HLF of being a pyramid scheme and claiming that its share price was destined to hit $0 once regulators took action.
2013
On Dec. 24, HLF shares hit a 52-week low of $24.24.
On Jan. 9, Daniel Loeb and his hedge fund, Third Point LLC, filed a 13D with the SEC, indicating that he had taken an 8.24% stake in HLF. In a letter to investors, Loeb described Ackman's claims as "preposterous."
On Feb. 14, Carl Icahn reveals a 12.98% long position in a 13F filing.
On July 31, George Soros reveals a large stake in HLF, making it one of his three largest holdings.
On Sept. 3, Bill Stiritz takes up a large stake in HLF, making him the largest individual shareholder.
On Dec. 16, PwC reaudits HLF's financials, finding nothing wrong.
2014
On Jan. 10, 2014, HLF shares reach an all-time high of $83.51.
On March 12, HLF received a Civil Investigative Demand (NASDAQ:CID) from the FTC.
On April 11, the Financial Times alleges that the FBI and DOJ are conducting a criminal probe into HLF. HLF has not received any formal or informal requests by either agencies.
On April 14, the New York Post reported that the New York Attorney General is conducting investigations.
On April 17, it was confirmed that the Illinois Attorney General has joined investigations into HLF.
Click to enlarge images.

HLF Chart courtesy of Google.
Holdings and Governance
As of March 27, 2014, five minority interests own over 49% of HLF.
| | | |
| --- | --- | --- |
| Beneficial Owner | Shares | Percentage Ownership |
| William P. Stiritz | 7,484,804 | 7.39% |
| Capital World Investors | 6,945,000 | 6.85% |
| Susquehanna Capital Group | 6,854,215 | 6.76% |
| FMR LLC | 11,878,077 | 11.72% |
| Carl C. Icahn | 17,000,000 | 16.78% |
Carl Icahn also controls five of 13 seats on the HLF Board of Directors. As one of the greatest investors of all time, Icahn seems to have enormous conviction in the value of HLF -- and he's not alone.
Think of the people who are/were invested in HLF -- Loeb, Soros, Icahn, Druckenmiller, Stiritz. Ackman's claims of HLF being a pyramid scheme is something that would be blatantly obvious to individuals in their positions. Without a doubt, no one as successful these investors would touch HLF, had there been a risk of it going to 0 for regulatory violations. So why did they invest in HLF? Simple: They all came to the same conclusion that Ackman is wrong.
Domestic Investigations and Audits
HLF is currently under investigation by the FTC, the New York Attorney General, the Illinois Attorney General and allegedly the FBI and DOJ. Despite having received a formal investigation demand by the FTC, HLF has received neither formal nor informal requests from the FBI and DOJ. The SEC has also investigated HLF twice in the past. Both times it has concluded its investigations, finding nothing to suggest that HLF has committed any regulatory violations.
So, what are the chances that any of these agencies find something that everyone else has missed over the years and shut the company down? Remote at best. As explained above, if there was anything to be found it would have been found by now. At the very most, HLF will receive a fine for some trivial matter and be done with it.
Also, it was only recently that PwC completed a full reaudit of HLF's financials for the past three years. Despite Ackman's warnings to PwC, they found no inconsistencies in the company's financials.
International Investigations and Court Rulings
Belgium Case
In 2012, a Belgian commercial court ruled that HLF's business model was based on an illegal pyramid scheme. However, this verdict was soon overturned by The Belgian Appeals Court, who stated that HLF's business model is not a violation of European consumer protection laws.
China Investigation
Ackman recently renewed his attack against HLF, stating that the company's China practices were in violation of Chinese direct-selling laws.
Although Chinese authorities have not yet begun an investigation of HLF, they did recently probe and fine their competitor, Nu Skin Enterprises. Even though this opens HLF to the possibility of a probe in the future, the Chinese authorities have indicated no such thing. At this point, anything relating to HLF's Chinese operations is pure speculation.
In their Q4 investor conference call, HLF management indicated that they are completely confident that they abide by all current Chinese market regulations.
Market Share and Industry Outlook
As of 2014, HLF is estimated to be the largest MLM nutritional company in the industry, dominating 69% of market share.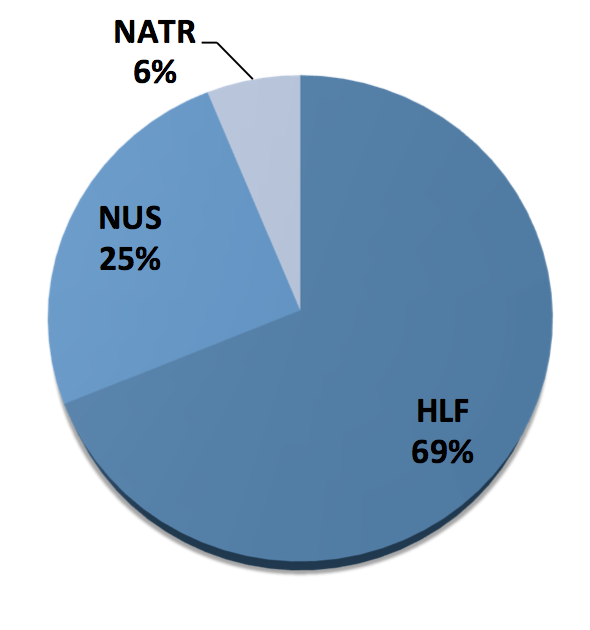 Even when accounting for nutrition retailers, HLF still enjoys a superior 40% of market share.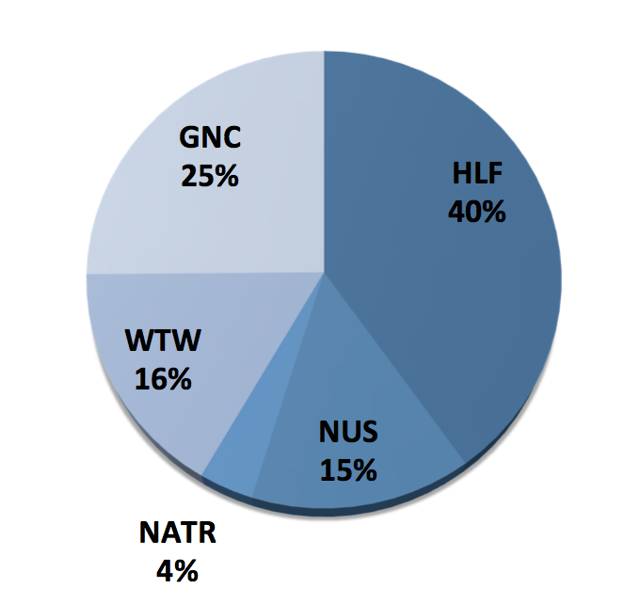 As the worldwide obesity epidemic continues to grow, the fitness/nutrition industry is poised to follow. As the largest MLM nutritional company in the industry, HLF is well positioned to take advantage of industry expansion.
Statistics relating to obesity in HLF's geographic operational segments are as follows:
Demand for weight management products has been increasing rapidly, as developed countries desperately continue to promote health education and awareness. Proof of this can be seen in HLF's net sales, which have been increasing exponentially since FY09.
HLF's key revenue-generator -- its weight management products -- are well positioned to drive huge growth for the company in the coming years. This is complemented by their ever-expanding sales team and MLM business model.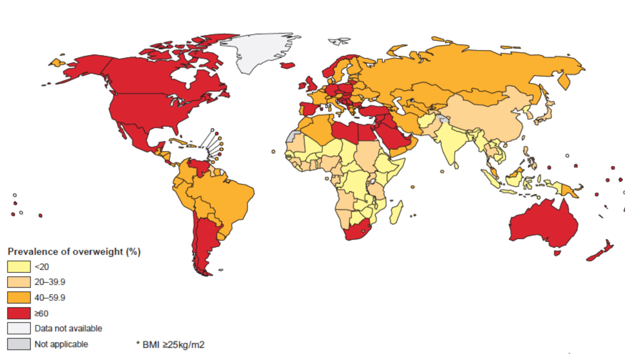 Image courtesy of fightchronicdisease.org.
There can be no doubt that the industry in which HLF operates is stable and poised to experience enormous growth in the coming years.
Geographic Operations and Expansion
HLF's member and customer base has seen aggressive geographic expansion over the years. In turn, international demand for their products has also increased, generating rapid growth in net sales.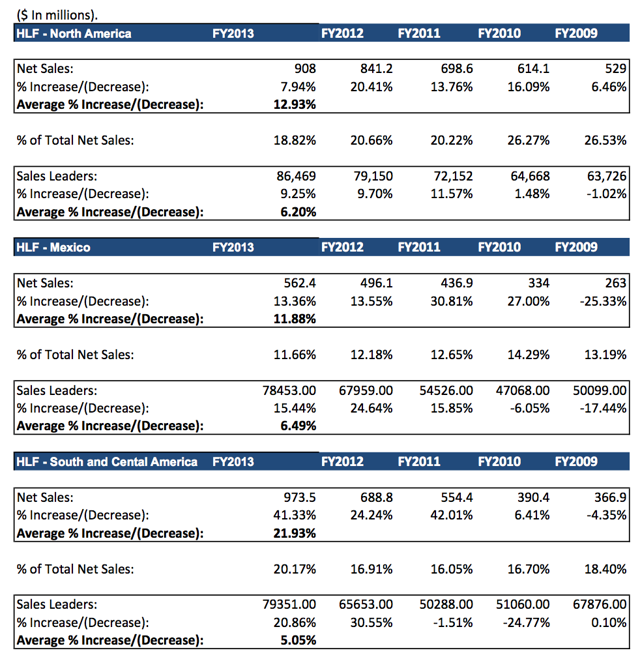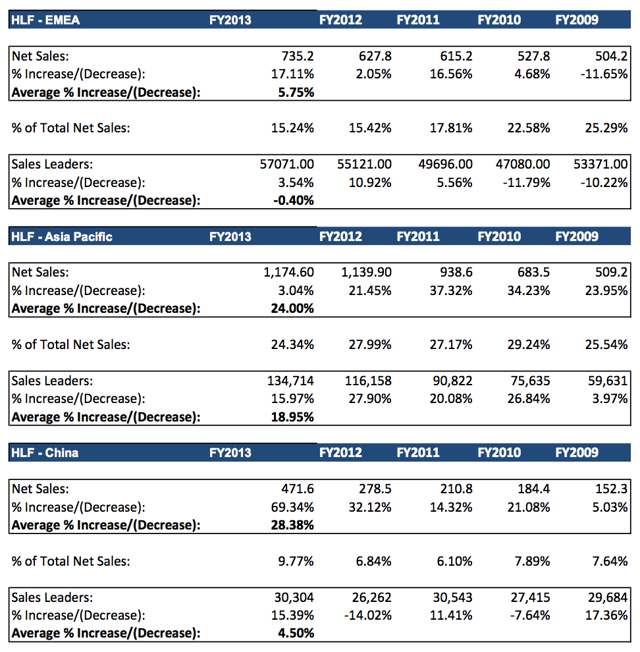 As can be seen, international demand for HLF products has been increasing dramatically. Locations such as North America and Mexico are experiencing an average increase in net sales of 12% and 11%, respectively. Meanwhile, locations such as China, Asia-Pacific and South and Central America, have been seeing an average increase in net sales of 28%, 24% and 21%, respectively.
Also, as their member base expands so does their number of worldwide sales leaders. With the exception of the EMEA region, the number of sales leaders has been increasing by an average of 5% annually. Asia Pacific is an outlier, with an enormous average increase of almost 19% annually. HLF is well positioned for continued international expansion and creation of shareholder value.
Revenue Drivers
Unsurprisingly, HLF's weight management products are the company's key revenue driver. This includes meal replacements, protein shakes, weight loss enhancers, etc.
The weight management segment accounts for more revenue than all other product segments combined. It has been growing extremely rapidly since FY09, producing an average annual increase of 18% over five years. This segment accounted for 63.5% of HLF's overall revenues in FY13 and is poised to continue driving huge growth for the company in coming years.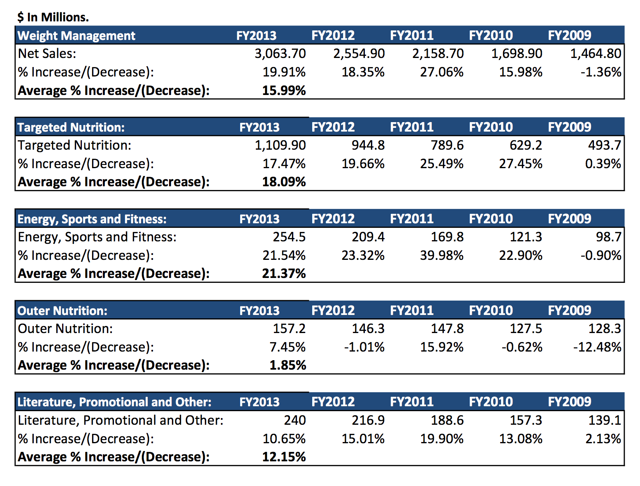 Despite having a minority contribution to total revenue, all other product segments, with the exception of Outer Nutrition, have been displaying outstanding growth over the last five years. As HLF continues its worldwide expansion, these segments are also poised to generate an abundance of growth.
Valuation/Fundamental Analysis
Thanks to Ackman's attempts at destroying the company, HLF is seeing retracements that serve as excellent opportunities to go long. HLF shares have temporarily retraced to $54.83 and will undoubtedly rebound back to intrinsic value soon.
Calculations indicate that HLF has a NAV/share of $53.10. The fact that the share price is directly at NAV should be sending off huge green lights in investor's heads to start looking for longs. A company this valuable has no business being this cheap. Withstanding speculative external matters, it is extremely unlikely that HLF will stay this low for long. We can automatically view this as an indication to start looking for longs ASAP.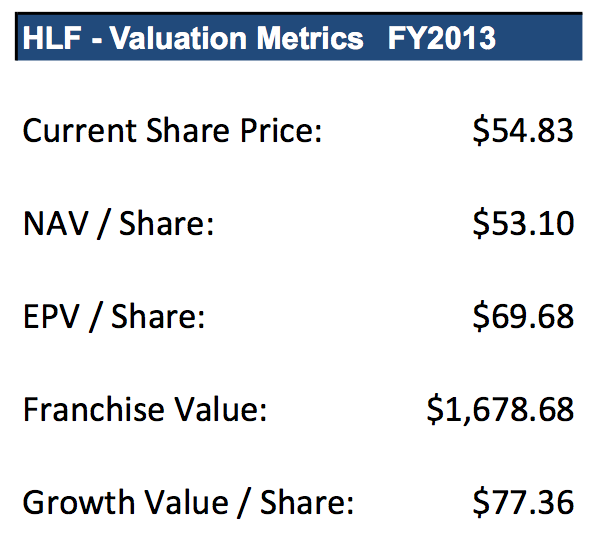 Looking at EPV/share, we can see that HLF's current distributable earnings are valued at $69.68. This is the company's current intrinsic value and indicates a 27% upside, withstanding growth.
Also, EPV exceeds NAV by a decent margin. This is indication of a few crucial factors:
Management is effectively utilizing their assets to generate earnings.
HLF has a valuable franchise and retains a competitive advantage. However, whether this competitive advantage is sustainable or not is unknown.
The presence of a franchise indicates that HLF has growth potential. There is synergy here.
Analysis of HLF's competitive advantage is crucial to our calculations of growth potential. True growth is only possible within the existence of a franchise. In other words, in order to create value, growth must be within a franchise. Growth outside of a franchise will destroy value. This is the synergy that exists between growth and franchise value.
The existence of HLF's valuable franchise will incentivize potential entrants to enroach economic profits. This is why in order to retain its franchise value, HLF will require a sustainable competitive advantage (barriers to entry). Without this, there can be no long-term growth.
To determine whether or not HLF's competitive advantage is a result of sustainable factors will require an analysis of microeconomic factors. This will be discussed momentarily. For now, we will continue our fundamental analysis assuming the presence of a sustainable competitive advantage.
Calculations indicate that HLF has a growth/share value of $77.36. However, it must be remembered that growth is speculative in nature and strictly a potential figure. Of all the valuation metrics discussed thus far, growth is the one that should warrant least focus.
Even so, growth is valuable to our calculations, as it will serve as our margin of safety for a trade. When taking growth into account, HLF has a potential upside of 41%. This gives our trade a margin of safety of approximately 14%.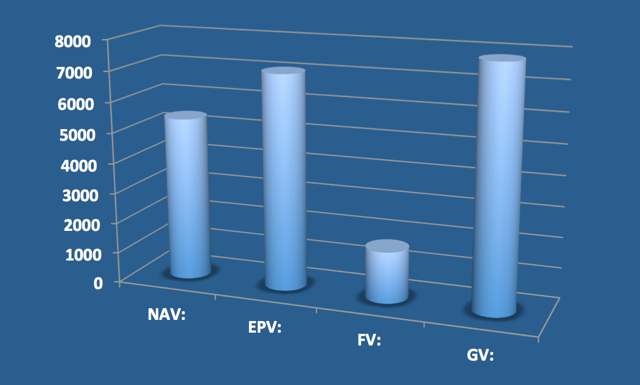 Competitive Advantage/Barriers to Entry
HLF's competitive advantage stems from aspects of consumer captivity and economies of scale. These are sustainable sources of competitive advantage, compared to, say, superior management, which is not. Also, this competitive advantage stands within the nutrition sector of the MLM industry, rather than the MLM industry in aggregate.
The MLM business model, when used within the context of the fitness industry, encourages a sense of community between consumers. Fitness is a life-long commitment and requires consistent active involvement to bear fruition. Consumers who experience success with HLF are likely to continue purchasing their products and drive perpetual growth.
Also, the vision of an active and healthy lifestyle is one that is attractive to all. The MLM business model allows users of HLF to expose their acquaintances to the products, allowing them to gain income and offering a second level of consumer captivity.
These two points also relate highly to economies of scale. Unlike other companies, HLF does not have a pressing need for marketing and capital expenditures. The MLM business model allows HLF to use their consumers as vehicles for marketing and geographic expansion. Distribution and production facilities are the only capital expenditures necessary, to facilitate the demand requirements of consumers and sales leaders.
Market-Share Stability Analysis
The microeconomic analysis of HLF's sustainable competitive advantage is supported by market-share stability analysis. The average absolute change in industry market share has been 5% over the last five years, confirming the presence of barriers to entry. We can also see that HLF retains its market dominance each year of the five year period.
Interestingly, there is also an inverse relationship between the nutrition retail firms and the nutrition MLM firms. Over the past five years, the nutrition MLM firms have been gaining market share, at the expense of the nutrition retail firms. This could represent the economic rise of the MLM business model, as a superior alternative to those of retail outlets, in the context of the nutrition industry. Furthermore, it accentuates the failure of the retail business model in retaining a sustainable competitive advantage, compared to that of the MLM business model, for the reasons previously discussed.

Technical Analysis
The short-term trend is clearly down due to temporary bearish sentiment. However, this trend is against the clear long-term uptrend and unsustainable. This is most likely why price has reacted off of the lower area indicated. It is an area of high liquidity and unfulfilled buy orders. This is expected to occur in a short-term counter trend.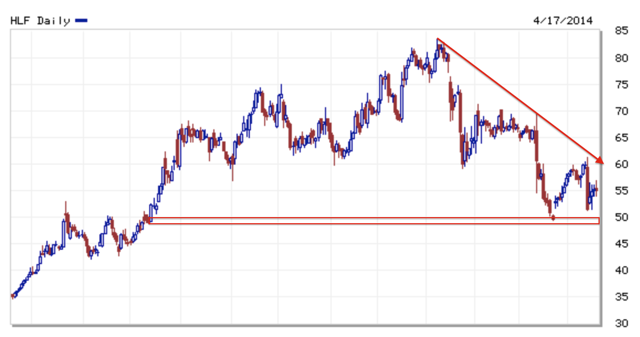 HLF Chart courtesy of MarketWatch.
This analysis is supported by our fundamentals. HLF is far below intrinsic value and directly at NAV. The company is far too valuable to remain at this level. It is only a matter of time before price continues higher, in accordance with the long-term trend and our fundamental analysis.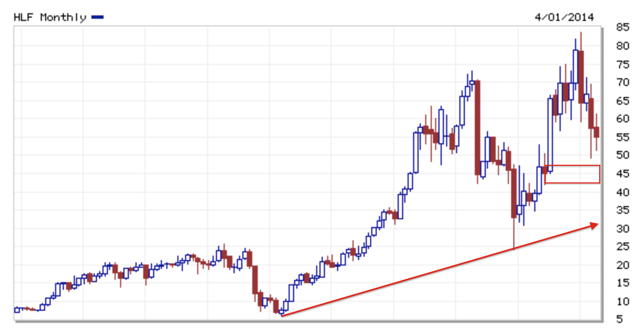 HLF Chart courtesy of MarketWatch.
The image above displays an area containing a large amount of unfulfilled buy orders. Price has a very high probability of reversing within this area and resuming its bullish sentiment.
Key Risks to Investment Thesis
As management has echoed, HLF's business model is dependent on the everyday use of their products by consumers. It is imperative that the majority of their sales come from consumers looking to consume the product, rather than individuals purchasing the product to market. If consumers do not have confidence in the product itself and are simply purchasing it to act as a re-distributor, it is only a matter of time before market saturation takes the company down. This is one of the flaws of the MLM business model.
We must acknowledge that there is always a chance, no matter how remote, that the company will be shut down by regulators. Whether it be in the U.S. or foreign markets, shut down of operations in any significant revenue-generating region will have a material and significant effect on the company's earnings. Of course, this risk is present with any multinational corporation. However, due to the publicity surrounding HLF, lawmakers may feel compelled to exercise unfounded scrutiny upon the company.
The expansion of the industry in which HLF operates has the potential to be a liability, as well as an asset. As the industry expands, opportunities will arise for competitors to encroach on HLF's market share. This will cause a deterioration of its economies of scale advantage. However, as we have seen, HLF management have proven that they possess the expertise to advantageously utilize any industry expansion. If past results are any indication, we can be confident that HLF will defend its market share vigilantly.
Conclusion
HLF has already been investigated and re-audited and found to be a legitimate company.
Large amounts of high-profile investors have advocated HLF's legitimacy, whilst taking up large positions in the company. If there was anything to be found, these groups and their endless resources would have found it already, before risking billions of dollars. Thus far, the facts prove them correct.
The company has been experiencing exponential growth over the past five years and is positioned well to continue into the future.
Ackman's continued attempts at discrediting the company are causing retracements, creating opportunities for investors to go long.
Currently, HLF is valued far below intrinsic value and directly at NAV. There's excellent upside potential here. Fundamental and technical analysis are in agreement on HLF's direction.
Disclosure: I have no positions in any stocks mentioned, and no plans to initiate any positions within the next 72 hours. I wrote this article myself, and it expresses my own opinions. I am not receiving compensation for it (other than from Seeking Alpha). I have no business relationship with any company whose stock is mentioned in this article.