Once again, Johnson & Johnson (NYSE:JNJ) is proving it can charm investors with ease.
Over the years, this New Jersey-based firm has demonstrated consistency and enduring worth again and again. A remarkably diverse company, JNJ has its hand in everything from prescription medicines to bandages and mouthwash.
Innovation Highlights
JNJ's Olysia is one of the most exciting hepatitis C medications the world has yet seen. Instead of settling for the ordinary, JNJ continually innovates and experiments with winning new strategies. In the long run, these innovations have proven incredibly profitable for investors. In fact, JNJ is part of an elite group of companies that has raised its dividend in each of the last 25 years.
(Note: The 2014 dividend only shows the payout for Q1 2014.)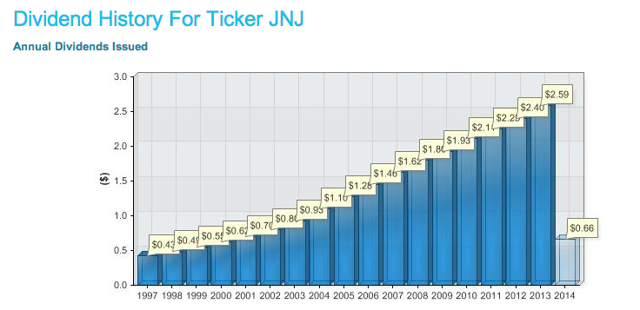 (www.investor.jnj.com/divhistory.cfm)
This year, JNJ is further establishing a dominating presence in the market, breezing past the S&P's aggregate performance to date. JNJ remains a winner when many long-established stocks are deteriorating into sluggishness. Despite signs of stagnation in the stock market, JNJ stock has gained 9% this year. This performance shows staying power and the ability to adapt to the times. In terms of year over year growth, JNJ again stands out at 8%.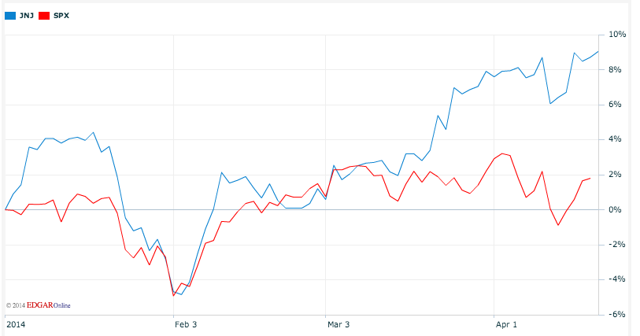 (Nasdaq.com)
Primed To Continue Growth, Despite Volatile Environment
Without question, JNJ has plenty of untapped value for investors. This company bears all the hallmarks of an organization primed to continue achieving landmark results. This is one of the more solid companies that is justifying the growing resurgence of public faith in Wall Street. Even as tech stocks fall, stocks like JNJ impress through stolid stability.
Newer companies can learn a lot from the ongoing example set by Johnson & Johnson. JNJ's stability is guaranteed by focusing on its three most important businesses: medications, consumer items and high-tech medical devices. In these three sectors, JNJ has achieved its fullest potential. Olysia isn't the only medication driving public faith in JNJ. The company is actively pushing Imbruvica, a leukemia treatment with great potential. JNJ is also promoting Invokana, a promising new treatment for diabetes. Collectively, these two medicines should eventually earn JNJ an estimated $7 billion or more. A major player in pharmaceuticals, JNJ can even outmatch Pfizer when it comes to corporate maneuvering.
Collectively, JNJ's pharmaceutical lineup is keeping the company in a high-performing state. Compared to the previous year, JNJ's pharmacy division posted a 10% increase in 2014's first-quarter sales. Interestingly, JNJ has avoided common pitfalls now afflicting rivals like Pfizer and Merck. In contrast with these competitors, JNJ has diversified enough to exist on a kind of rarified plane.
Investors Should Be Very Optimistic on JNJ's Future
Though the future always remains opaque, it is a reasonable to suppose that JNJ will continue building good will with investors.
A well-established and known property, JNJ is used by many investors as a foundation for a portfolio. Like other established firms that can afford to pay hefty dividends, JNJ has the ability to earn and keep public confidence.
Despite JNJ's high valuation, there is every reason to believe this stock has enormous potential. Although the larger pharmaceutical industry is plagued with a creeping malaise, JNJ is showing the facility to keep delivering in the long-term.
We are optimistic on JNJ's future and recommend investors be so, as well.
Disclosure: I have no positions in any stocks mentioned, and no plans to initiate any positions within the next 72 hours. I wrote this article myself, and it expresses my own opinions. I am not receiving compensation for it (other than from Seeking Alpha). I have no business relationship with any company whose stock is mentioned in this article.