Last week, Intel (NASDAQ:INTC) announced its earnings for the last quarter and the investors viewed the results pretty positively as the stock's price appreciated by a little more than 2% for the short trading week. So, how does Intel's valuation look after the earnings report?
Historically speaking, Intel investors have been "enjoying" a roller coaster ride for a long time. Except for those who bought at the bottoms of early 2000s (post tech-bubble) or late 2000s (post-recession) most people did not make much money from this stock apart from dividends. Of course, those who bought in 1980s and the early part of 1990s made plenty of money but most of their gains did not occur anytime recently, and those who bought at the peak of tech-bubble might not be able to recover their money anytime soon.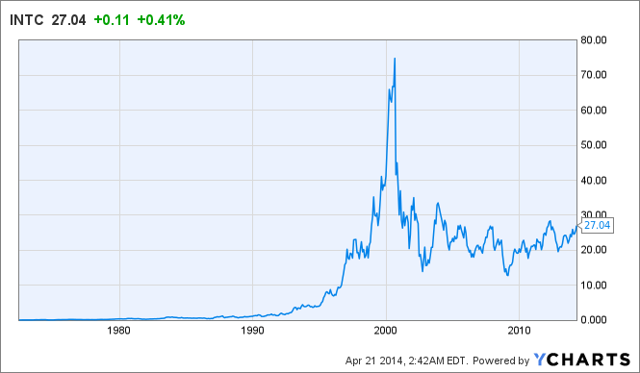 The chart below shows Intel's revenue patterns for the last 30 years. In the early-to-mid 1990s, the company's revenue started climbing rapidly as regular folks started buying home computers and the climb continued until it met a speed bump in the early 2000s. Seemingly, the company's revenue growth never recovered fully until after 2009, and it's been pretty flattish for the last couple years. Between 2003 and 2013, Intel nearly doubled its revenues but we can't say the same for the last few years where the revenue growth looks flat at best.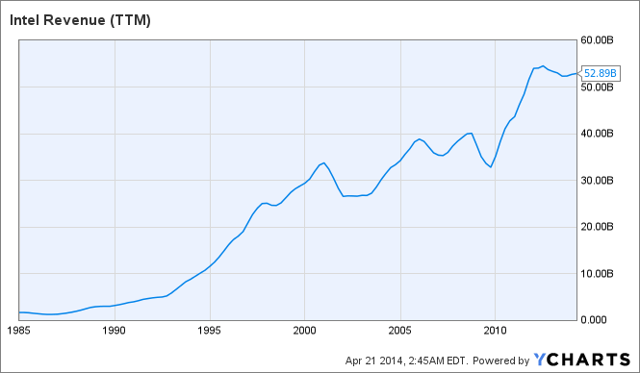 If we look at Intel's year-to-year revenue growth, we are looking at two different pictures, 1) prior to 2000 and 2) after 2000. Prior to 2000, the company posted double-digit growth for the most part; however, it was able to achieve this in very rare cases after the start of the new century. No one expects Intel to post double-digit revenue growth anytime soon and many investors would be happy for a mid-single digit growth, and we don't even know if it will happen within the next couple years.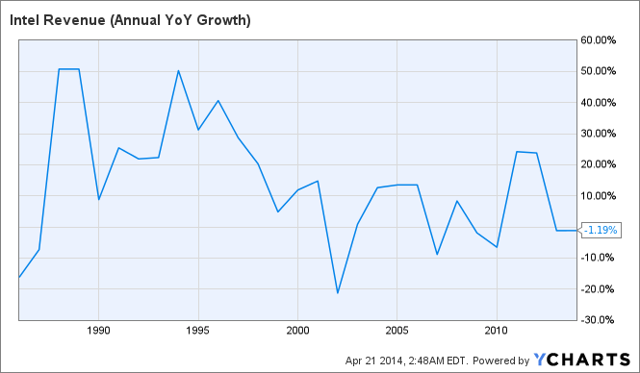 Speaking of revenues, we will now take a look at how investors value Intel in relation to its revenues. Currently, Intel sells for 2.61 times its revenue and this is below historical averages even if we remove the outlier of the year 2000 when the company's price to revenue ratio was a ridiculously high 15. Historically speaking, the company's price to revenue ratio has been in the 3 to 4 range which shows us that the investors are discounting the company in this particular metric.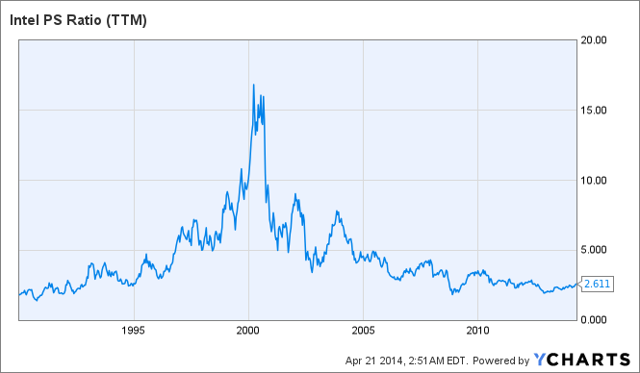 Next, we will talk about the gross profits. Currently, Intel's gross profits for the last 4 quarters is near all-time high and it is trending upwards, which is good for the investors. The long term trend looks solid for the company's gross profits even though things don't look as good in the revenue growth, which indicates that a good portion of this graph can be explained by margin expansion. This is what we will look at next.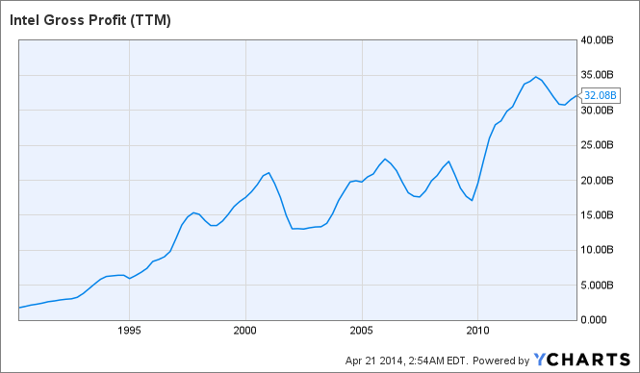 If we look at Intel's gross margins, we notice that there has always been ups and downs for the company. Interestingly enough, Intel's gross margins rarely went below 50% and they never stayed there for long. Typically, the company's gross margins moved between 55% and 60% and the current figure of 60.65% is closer to the high end of this range. Notice that the peak figure was slightly above 70% and we might ignore this figure since it looks more like an outlier. Intel could probably increase its gross margins to about 65% at peak and the company would have to grow its revenues after that in order to be able to grow profits.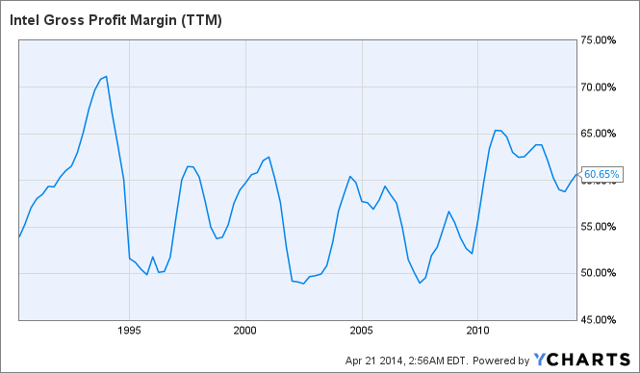 While Intel's gross profit margin is above historical averages, the company's operating and net profit margins are roughly where we expect them to be according to historical figures. This tells us that the improvements in gross margins are not being passed on to the bottom line of the company, which is not so great for the investors. Historically, Intel's average operating margin is around 25% and the company's historical net profit margin is around 19%. Unless the company can actually expand its margins closer to historical high figures, it may have to start growing revenues at a meaningful rate in order to make the investors happy.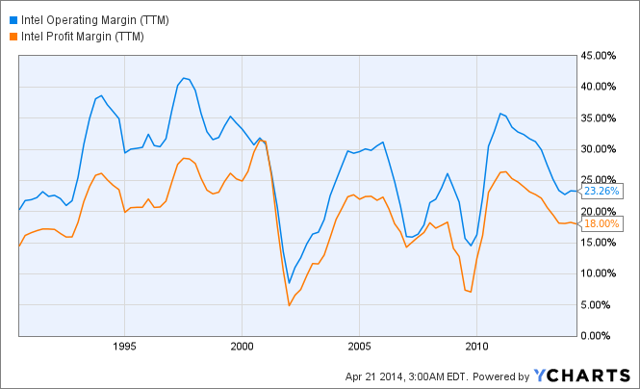 Historically, Intel sold for about 20 times its earnings excluding the outlier data from the tech-bubble era. At the bottom, the company has a single digit P/E and its P/E ratio has been on the rise for the last year and half even though we are still looking at a P/E ratio of 14.50 which is below the historical standards. Then again, one can always ask whether a blue-chip company with flat revenues deserves a P/E close to 20. Some people argue that Intel's flat revenues in the last couple years only reflects a speed bump and the problem is temporary. If this is true, we may see the company trading at a historical multiple of 20 again, if not, the multiple might draw closer to 10-12 range.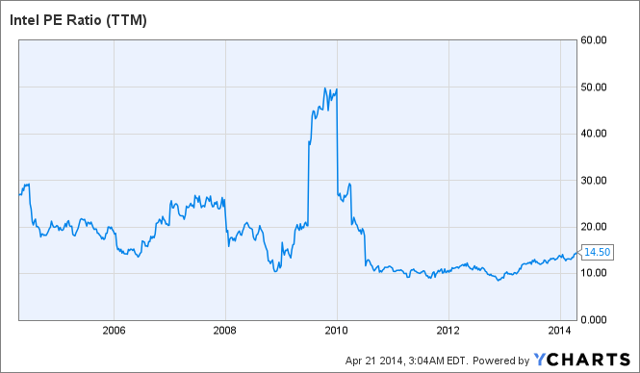 How about cash flow? When we look at historical figures, the company's cash flow from operations show some solid growth while free cash flow shows flatness for almost a decade with some ups and downs along the way. The company is still a cash cow and a solid dividend payer but its dividend payments might not increase by much if it doesn't grow its free cash flow soon enough.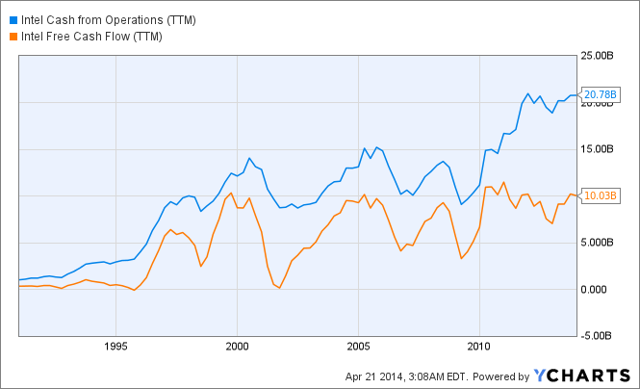 The chart below shows Intel's price compared to its cash flow. Historically, Intel traded for about 15 times its free cash flow and 9 times its cash flow from operations, whereas it currently trades for 13 times its free cash flow and 6.6 times its cash from operations. This metric also shows us that investors are discounting the company from a cash flow perspective and this probably has a lot to do with the flat dividends in the recent years.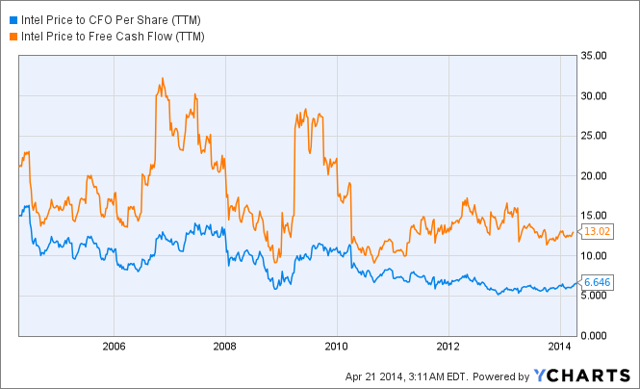 Finally, we will look at Intel's price to book value. Currently, investors are buying Intel for 2.32 times its book value and 3.16 times its tangible book value. Historically, the company sold for about 2.50-3.00 times its book value and 3.50-4.00 times its tangible book value. This metric also shows that the company is historically cheap but this doesn't mean it is attractive.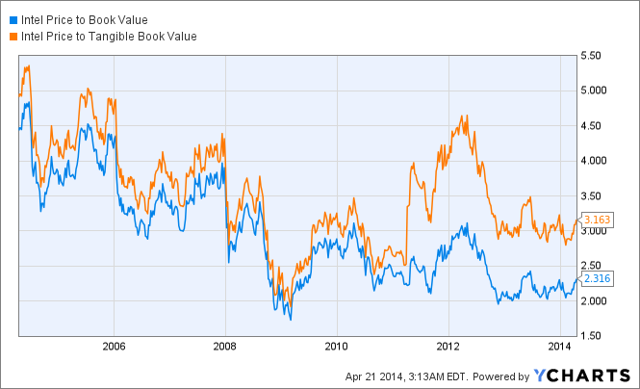 Intel has a lot of issues and challenges and many of these challenges seem to be reflected in the company's share price as it currently trades for historically low valuations. Investors who believe in the company's management's ability to turn things around might benefit from buying the shares at this time due to valuation.
Disclosure: I have no positions in any stocks mentioned, and no plans to initiate any positions within the next 72 hours. I wrote this article myself, and it expresses my own opinions. I am not receiving compensation for it (other than from Seeking Alpha). I have no business relationship with any company whose stock is mentioned in this article.