"I think that flash in the enterprise is really the biggest disruptive force since the advent of virtualization, and we are really in the early innings of a multi-year growth trajectory in this space."
Sumit Sadana - SanDisk, Exec VP of R&D and Chief Strategy Officer, Investor Day 2013
Since the dawn of the tech age, there has been one constant that industry execs and investors could rely on: namely, that no matter how big a market may be and how entrenched the current leaders are in that market, there is always the threat of an innovative competitor entering it with a new product that provides a compelling value equation that "disrupts" the current market, and over time changes the competitive landscape. Clayton Christensen is credited with coining the term "disruptive innovation" in 1995 for the general business market, but tech industry paragons such as Gordon Moore have used the term since the 60s. Since then, the term has been used, abused, and misused so much that smart investors should be wary when encountering it in a marketing presentation. All that said, when a credible source employs the term "disruptive," it demands a closer look. SanDisk (SNDK) and its partner Toshiba (OTCPK:TOSYY), which owns much of the foundation IP in the NAND area, is one such credible source.
So why would flash memory utilization in the enterprise qualify for this term? Consider the following two slides, presented last May at the SanDisk Investor Day by Tom Rampone, Sr. VP and GM of Storage Group: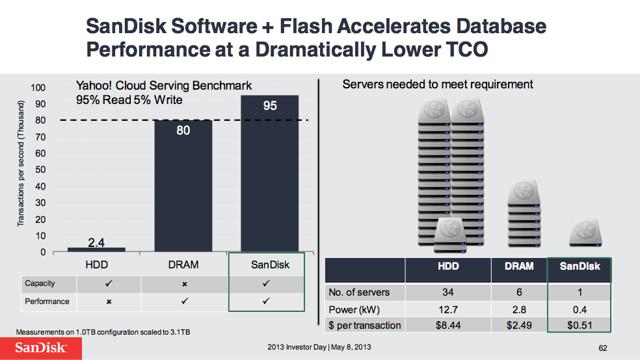 The first slide illustrates a use-case of a transaction-oriented DB of 3.1 TB that requires 81k transaction through-put. Note the dollar per transaction metric for three solutions to the same problem. As an IT executive, would you find the opportunity to reduce your TCO (Total Cost of Ownership) for this service by a factor of anywhere from 17 to 5 to 1 to be a compelling one? Of course you would. One further question, as you consider the payback from the SanDisk solution of a flash cache coupled with its proprietary "Flash-Soft" Software, would you be concerned about the relative price of the SanDisk NAND bits that are coupled as a part of the solution?
Now, I'm going to make a rash assumption that you feel that the answer to the question is obvious. Especially when floor space and power consumption are enormous and increasingly costly aspects of your operations budget. When Sadana (see quote above) said "the biggest disruptive force," he wasn't simply being dramatic. Think for a brief minute about the implications to Intel (NASDAQ:INTC) and Oracle (NASDAQ:ORCL) of losing 15 - in the most extreme example - server seats! NAND in the enterprise is going to really shake up the industry, and IT managers are going to love every minute of it. Therein is the key to SanDisk's fabulous future: one that will see the company accelerate revenue growth, gross margin increases, and earnings and cash flow per share expansion through at least the balance of this decade. The second slide shows why.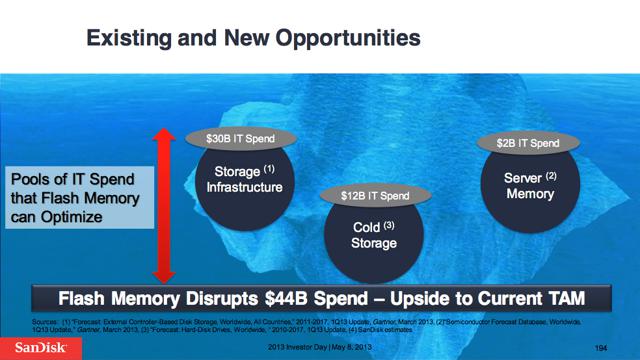 Note the "$44B" number represented as "upside" to the current TAM. $44B represents the TAM (Total Addressable Market) expansion for the three use-cases for which SanDisk has identified excellent Flash enabled solutions from its current estimate of $7.8B total enterprise TAM in 2016. "Upside" indeed! Getting excited? I hope so, because SanDisk is executing superbly on the "premium pricing, high value-add" strategy it laid out in 2013, the fruits of which we have just seen announced in it Q1 2014 earning conference call. This strategy depends almost exclusively on SanDisk winning in the enterprise market. This quarter's results show us that the strategy is paying off. What does SanDisk CEO Sanjay Mehrotra have to say about it?
"We are really doing very well … engaging with broad set of Fortune 1000, hyperscale storage OEM and server customers across the board …, so [we have a] really tremendous growth opportunity ahead. We are very excited. Our vertical integration model and our strong portfolio of products and broadening customer engagement is really working to our advantage in this [..enterprise] area, and I expect continued solid growth in enterprise revenue through the year and in the future years for us as well."
- Seeking Alpha transcript, SanDisk Q1 earnings conference call - Sanjay Mehrotra, CEO SanDisk
I won't dwell on the excellent Q1 results, which have been amply covered in other articles. What's really important about this strong Q1 (a seasonally weak quarter!) are two things. The first is growth in the enterprise, including corporate and "hyperscale" (think Google (NASDAQ:GOOG) (NASDAQ:GOOGL) or FaceBook (NASDAQ:FB)).
"In the hyperscale portion of the enterprise business, we are building substantial momentum in engaging customers, clinching design wins, and starting to build strategic relationships that will underpin the long-term growth of our enterprise business. We are already shipping product in volume to several customers and expect that these fast growing customers will play an important role in our growth ahead… We anticipate that enterprise SSDs will be our fastest growing product category in 2014…"
- Seeking Alpha transcript, SanDisk Q1 earnings conference call - Sanjay Mehrotra, CEO SanDisk
The second vital factor in SanDisk's growth is the discipline to pursue their production strategy with focus and rigor. Once again, let's hear from Mehrotra:
[…] "in terms of the 2014 supply bit growth, it's in the range of 25% to 35% [for SanDisk and 40% for the industry] as we have said. And for 2015, of course it is too soon to say but I would not be expecting for the industry or for ourselves supply bit growth to be any higher than the kind of ranges that exist in 2014."
Seeking Alpha transcript, SanDisk Q1 earnings conference call
Sound familiar? Production restraint among the four members of the industry oligopoly is a key aspect of their future success, and Mehrotra has been one of the chief disciples of this strategy. He has consistently voiced the intention of leading SanDisk to gains in revenue share outpacing gains in bit share, and he has been good to his word. Q1 revenue bits as reported in the conference call were up only 20% YOY. So what happened to costs and prices? Costs were down 23% YOY with prices down only 7%. That's a 16% swing for all you folks scoring this at home. The reason? A portfolio mix heavier on enterprise sales and lighter on custom embedded sales, which tend to be big OEM smartphone and tablet contracts (e.g., Apple (NASDAQ:AAPL)) sold at lower "quantity discount" margins.
The net result of these two factors results in a new equation for operating in the NAND business: USBODP = increasing EPS and industry revenue/profit share. What's USBODP, you ask? Try "Under Supply (NASDAQ:BITS) and Over Deliver (profits)." This strategy, when combined with a relentless focus on higher margin enterprise business, promises to produce results sure to please shareholders.
Conclusion: SanDisk is executing on the strategy that its competitors are (mostly) just talking about. It benefits from a simpler business model that eschews DRAM to focus solely on NAND. This undoubtedly helps. Another aspect of its business model that works in its favor is its "Fab" light model, which concentrates on industry leading NAND IP along with sales/marketing and lets Toshiba handle the manufacturing. How good is SanDisk in IP? In 2013, it booked slightly over $400M in licensing sales to its Korean competitors SK Hynix (OTC:HXSCL) and Samsung (OTC:SSNLF). (Micron (NASDAQ:MU) avoids paying this toll because of the joint venture with Intel, which has ownership of the Intel/SanDisk cross licensing agreement.)
SanDisk, in my opinion, is the class act in the NAND business. From a quality of management perspective, the company stands alone. If you're really interested in this industry, please find the time to listen to the recent earnings calls of SanDisk and Micron. Do an A/B comparison and consider what you are hearing. One is crisp, detailed, sure-footed - in sum, confidence inspiring. The other - well, let's just say it's not any of that. I realize this is hardly an original thought if you have been tracking the commentary on this industry on Seeking Alpha, but it is worth emphasizing. (Do I like SanDisk as a stock better than Micron? In a word, NO. I own both and will continue to stay long. Just imagine how good Micron could be when its management matures to approach SanDisk's level. This is a topic that deserves more development, and I will return to it.) Meanwhile, take another look at SanDisk's earnings release and check out Rampone's Investor Day presentation on the impact of NAND in the data center. You'll be very impressed by both, and understand why SanDisk is likely to continue to outperform.
Disclosure: I am long SNDK, MU. I wrote this article myself, and it expresses my own opinions. I am not receiving compensation for it (other than from Seeking Alpha). I have no business relationship with any company whose stock is mentioned in this article.