A two-step process of simple quantitative fundamental screening followed by price behavior filtering of the fundamental list effectively narrows the field for subsequent qualitative and extended quantitative as well as suitability evaluation of the stocks, ETFs or mutual funds universe.
Performing that process today on the 9,000+ stocks traded in the US, resulted in only 4-7 prospects for investors who seek liquid stocks, that are growing over the long-term and that pay more dividend than the S&P 500 index -- not a terribly aggressive set of requirements.
Virtually only 90 companies passed our simple, preliminary quantitative filter:
Liquidity: average daily $ trading volume per minute => $50,000
Growth: 7-yr growth rate of sales, earnings and dividends > 0
Yield: trailing dividend => 3% (3-yr forward min. 3.5% based on compound dividend growth).
The liquidity requirement helps assure a reasonable exit on a stop-loss order, which becomes a market order when executed.
The price behavior filter done in five progressively more stringent levels, narrowed the 90 fundamentally screened stocks to only 4-7 names:
Level 3: slope of regression trend line for 1-year, 6-months and 3-months > 0; AND price > daily moving average for 1-year, 6-months and 3-months
Level 4: same as Level 3, plus slope for 1 month > 0 and price greater than daily moving average for 1 month
Level 5: same as Level 4, plus price > daily moving average for 2 weeks. (Click to enlarge)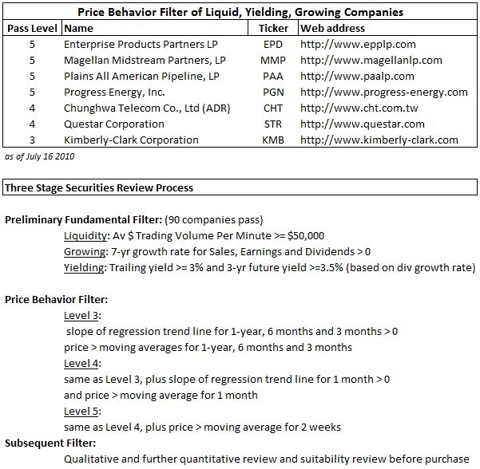 After we generate a list from these two types of filters (whether these specific criteria or others), we then look at additional qualitative and quantitative as well as suitability factors to evaluate selection for purchase. You may find this list helpful in your own research.
Securities Cited: Enterprise Products Partners (NYSE:EPD), Magellan Midstream Partners (NYSE:MMP), Plains All American Pipeline (NYSE:PAA), Progress Energy (PGN), Chunghwa Telecom (NYSE:CHT), Questar (NYSE:STR), Kimberly-Clark (NYSE:KMB).
Notice: Filter results are not recommendations. They are reports of the outcome of criterion tests only. Further research is required before taking any purchase or sale action with respect to any security cited in a filter result. Filtered data is provided to readers as a courtesy, and as a potential way to reduce the effort required to narrow the focus of research.
Disclosure: As of July 18, 2010, we currently own EPD, PAA and PGN in some managed accounts. We do not own any other securities mentioned in this article in any managed accounts.
Disclaimer: Opinions expressed in this material and our disclosed positions are as of July 18, 2010. Our opinions and positions may change as subsequent conditions vary. We are a fee-only investment advisor, and are compensated only by our clients. We do not sell securities, and do not receive any form of revenue or incentive from any source other than directly from clients. We are not affiliated with any securities dealer, any fund, any fund sponsor or any company issuer of any security. All of our published material is for informational purposes only, and is not personal investment advice to any specific person for any particular purpose. We utilize information sources that we believe to be reliable, but do not warrant the accuracy of those sources or our analysis. Past performance is no guarantee of future performance, and there is no guarantee that any forecast will come to pass. Do not rely solely on this material when making an investment decision. Other factors may be important too. Investment involves risks of loss of capital. Consider seeking professional advice before implementing your portfolio ideas.