Earnings should be a key driver of any fundamental valuation. This week, a large number of companies will be releasing their quarterly earnings results. Here are three companies found to be Undervalued by the ModernGraham valuation model and suitable for either the Defensive Investor (one who is not willing to undertake substantial research) or the Enterprising Investor (one who is willing to undertake substantial research).
Apple Inc. (NASDAQ:AAPL)
Apple is scheduled to release earnings on Wednesday afternoon and is an excellent company for Enterprising Investors, having failed only the investor type's current ratio requirement. The company does not qualify for the Defensive Investor due to its low current ratio, lack of a long enough dividend record, and high PB ratio. As a result, Enterprising Investors should feel very comfortable proceeding with further research into the company and its competitors. As for a valuation, the company's latest ModernGraham valuation indicated it is significantly undervalued. Apple has grown its EPSmg (normalized earnings) from $9.22 to an estimated $37.86 for 2014, a growth rate that far outpaces the market's implied estimate of only 2.75% earnings growth. If the company reports earnings above $9.70/share, the valuation looks even better.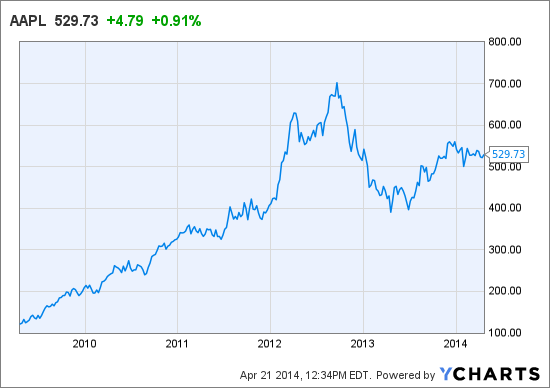 AAPL data by YCharts
Caterpillar Inc. (NYSE:CAT)
Caterpillar is set to release earnings on Thursday morning and in its latest ModernGraham valuation, it was found suitable for both the Defensive Investor and the Enterprising Investor. From a valuation perspective, the company is significantly undervalued and any earnings result greater than $1.03 is likely to improve the valuation further. It should be noted that the market is currently implying a growth rate for earnings of 3.85%, which is well below the growth the company has demonstrated in recent years.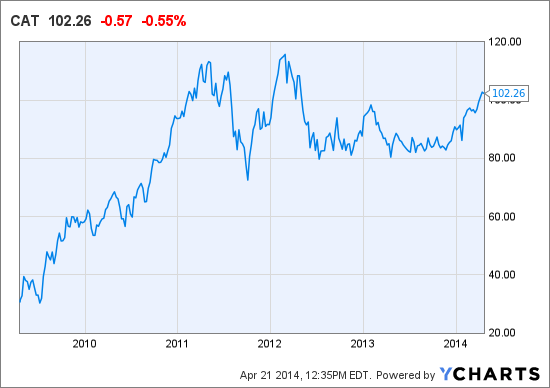 CAT data by YCharts
D.R. Horton (NYSE:DHI)
D.R. Horton will release its earnings on Thursday before the market opens, and according to the latest ModernGraham valuation, the company is suitable for Enterprising Investors, but is not suitable for the Defensive Investor. The company has shown insufficient earnings stability or growth over the ten-year historical period for the Defensive Investor. The company passes all of the Enterprising Investor's requirements. From a valuation side of things, the company appears to be significantly undervalued after growing its EPSmg (normalized earnings) from -$1.91 in 2010 to an estimated $1.47 for 2014. If the company can beat $0.30 earnings for the quarter, the valuation should be even better, as this level of demonstrated growth outpaces the market's implied estimate of 3.04% earnings growth and leads the ModernGraham valuation model to return an estimate of intrinsic value that is well above the market price.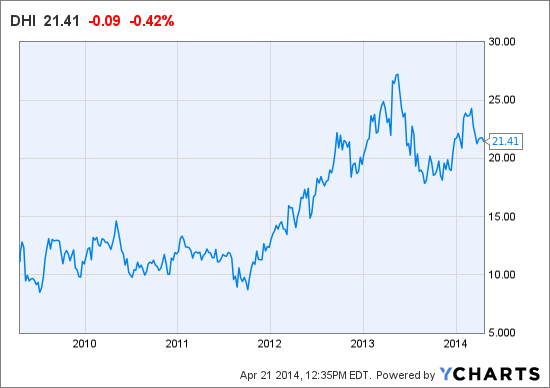 DHI data by YCharts
Disclosure: I am long AAPL. I wrote this article myself, and it expresses my own opinions. I am not receiving compensation for it (other than from Seeking Alpha). I have no business relationship with any company whose stock is mentioned in this article.