There have been numerous articles discussing the potential IPO of Alibaba (ABABA) and the resultant impact of the deal on its main investors: Yahoo (NASDAQ:YHOO) and Softbank (OTCPK:SFTBF) which own 24% and 36.7% stakes, respectively. The effects of Alibaba's impressive growth in the 4th quarter on Yahoo's earnings were shown in Yahoo Inc.'s 4Q2014 results reported on April 15th. I'm writing this article to assess the performance of Yahoo's latest quarter and to analyze whether or not it is a stock worth investing in at this point in time.
Top and Bottom Line Growth
Yahoo reported revenue for the quarter of $1.09 billion reflecting a 1% rise year over year and beating analysts' expectations of $1.08 billion as polled by Thomson Reuters. When segregating the revenues by source we can see that the display ad revenue of $409 million reflected a 2% growth in this quarter. It is a major source of revenue as it contributed 38% to the latest quarter's revenues. After many quarters of negative growth this was the first quarter that reflected an increase in display revenues since Q2-2012. On a year over year basis search revenue increased by 9%. Search is the highest revenue generating source for Yahoo as its contribution stood at 41% in the latest quarter up from 38% in the same quarter last year. Globally Yahoo experienced a 6% rise in the number of paid clicks and an 8% rise in price per click. However in the comparable quarter last year the number of paid clicks had grown by a massive 17% but price per click faced a 4% growth decline. In the display stream, Yahoo faced a 7% rise in number of ads sold which was higher than the previous quarter and the same quarter last year. On the other hand, price per ad faced a 5% negative growth compared to a 7% negative growth in the previous quarter. Price per ad once enjoyed high single digit growth but for the past five quarters it has experienced negative growth. Now it seems to have found its way back to those positive trends.

Source: Yahoo Presentation
Apart from Yahoo's core business, its investment stake in Alibaba Group also prove to be advantageous this quarter and will continue to do so. Yahoo has a 24% stake in Alibaba Group and provided figures for Alibaba's fourth quarter results as well. Alibaba's results seem impressive especially after two consecutive quarters of decline or negative growth. Alibaba's Q4 sales grew almost 66% year over year beating the results of the two previous quarters while the company's net income doubled year over year.
Yahoo Japan, 35% owned by Yahoo, did not perform well in the 4th quarter of 2013 as indicated by the 14% decline in revenues year over year. The operating and net income of Yahoo Japan fell 20% and 11%, respectively.
Segmental Performance
Yahoo operates in 3 main geographical segments: America, Asia Pacific and EMEA. America was the only segment that posted year over year revenue growth for the company. The EMEA and Asia Pacific segments both demonstrated a year over year revenue decline in the latest quarter.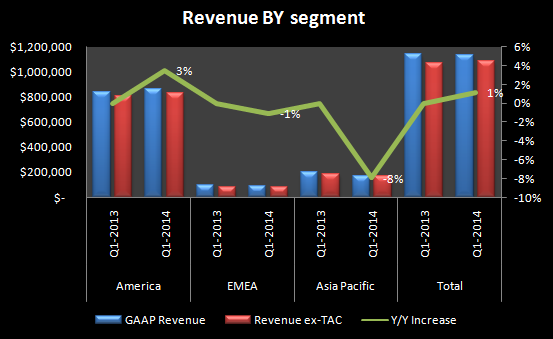 Source: Yahoo Press Release
The following table illustrates that GAAP revenues from EMEA and Asia Pacific declined more than the decline in ex-TAC revenues. Direct costs were up 1% in the Americas segment, 3% in the EMEA segment and declined 19% year over year in the Asia Pacific segment. The Americas segment is the highest revenue contributing segment with a 77% contribution this quarter up from its 75% contribution in the same quarter last year. APAC and EMEA contribute the rest of revenues i.e. 16% and 8%, respectively.

Source: Yahoo Press Release
The following graph illustrates a key metric: traffic acquisition costs "TAC" as a percentage of relevant revenues. Traffic acquisition costs are defined as commissions paid by Yahoo to other websites that host its ads. The trend line shows that for every group of similar services this metric is moving downwards. In terms of search revenue stream, TAC as a percentage of search revenue has decreased 4% year over year while in the display and "other" revenue stream the same metric has undergone a 2% and 1% year over year decline. In total the company's traffic acquisition costs as a percentage of its GAAP revenues stood at 4%, down from 6% a year earlier. This indicates that cost pressures on the company's profitability have reduced year over year and if the trend persists it will bode well for the company's future margins and profits.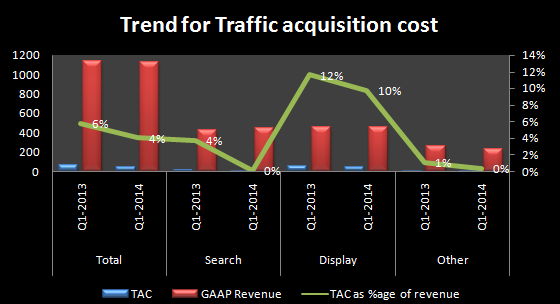 Source: Yahoo Press Release
Shrinking Margins
However, despite the downward trend of traffic acquisition costs Yahoo reported depressed margins such as an operating margin of 3%, down from 17% in the comparable quarter a year earlier and reflecting a decrease of 1500 basis points. Such is the case with the net margin that demonstrated a 700 basis points decline compared to the first quarter of 2013. The following graph illustrates the fact that the company has been witnessing its net margin eroding since the first quarter of last year. However, in the latest quarter the net margins have been sustained. The coming quarters will reveal a true portrayal of the margins to determine whether they continue their downhill journey or whether they will be bolstered over time.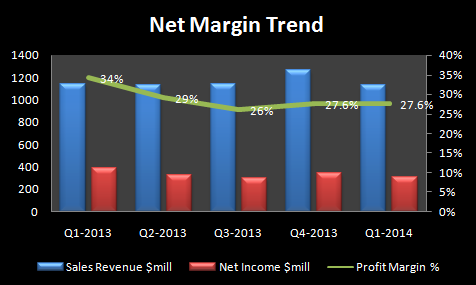 Source: Bloomberg
The Road Ahead
Yahoo provided an outlook for its second quarter 2014 results that reflect a mix of positive and negative results. After calculating an average value for all provided value ranges I calculated a year over year change with respect to the second quarter results depicted in the table below. On average, GAAP revenue and revenue ex-TAC are anticipated to show a slight increase while adjusted EBITDA and non-GAAP operating income are expected to see huge declines year over year.

Source: Yahoo Presentation
At Alibaba's expected $152 billion valuation, Yahoo's 24% stake will carry a valuation equivalent of $36.48 billion. Translating this value to a per share amount, each Yahoo share will see a value of as much as $21.91 pertaining to Alibaba. Yahoo aims to sell 40% of its total stake in Alibaba and the rest can be unloaded later after the IPO. Yahoo Japan is also striving to expand its services and for this reason it has agreed to acquire eAccess, a mobile and broadband provider from Softbank. This acquisition will act as a platform for Yahoo Japan to expand its internet portal services for tablets and smartphones. This way Yahoo Japan will penetrate the mobile advertising market that is expected to grow in Japan by an average of 30% per annum between 2012 and 2017.
I'm looking forward to the impact of Yahoo's videos ads. Yahoo is considering adding high quality and long shows comprised of multiple episodes. Mobile advertising spending globally is expected to reach $18 billion in 2014, up from $13.1 billion in 2013 and will grow to almost $42 billion by 2017. According to Gartner display format will attract most of the revenues while the video format will earn the highest growth.
Yahoo now has more than 430 million mobile users, up 30% year over year. Yahoo claims that mobile users now make up more than half of its audience but its revenue from the mobile stream is not that significant and that is the reason why the company does not bother to disclose its mobile revenues as a separate item. On the other hand Facebook Inc (NASDAQ:FB) had 945 million monthly mobile active users that contributed $1.37 billion out of its total of $42.59 billion in revenues last quarter. Hence, Facebook now earns 53% of ad revenues from mobile. This indicates that Yahoo needs to put efforts into boost mobile interfaces as a source for its revenues like Facebook. The addition of video shows and premium content for its video services will really pave the way for the company to attract more and more advertising. In essence Yahoo is trying hard to bolster its position as an advertising platform for its clients and as a premium content provider for its audience.
Final Thoughts
Yahoo cannot move forward if it is relying solely on Alibaba Group's continued growth. Rather it has to accelerate the sales rebound that is sustainable in the long term. Yahoo's core online advertising business should show a positive turnaround and allow the stock to elevate in price after Alibaba goes public. A slight growth in sales in the latest quarter may be a glimpse of an early stage turnaround and maybe the sales growth can become more and more resilient with the passage of time. It seems that the company's CEO, Marissa Mayer, is putting some serious effort into redesigning Yahoo's services and her efforts have started paying off.
Yahoo has repurchased shares worth $3.79 billion in the past 15 months and $450 million in the latest quarter. In the latest quarter its free cash flows decreased 24% year over year and that is not a good sign. Therefore, I will suggest investors hold their stocks for the long term and not add more to their existing holdings before the company's top and bottom line growth justifies the buying decision.
Disclosure: I have no positions in any stocks mentioned, and no plans to initiate any positions within the next 72 hours.
Business relationship disclosure: The article has been written by a Gemstone Equity Research research analyst. Gemstone Equity Research is not receiving compensation for it (other than from Seeking Alpha). Gemstone Equity Research has no business relationship with any company whose stock is mentioned in this article.