At the tail end of 2013, journalists asked money managers like myself about perceived threats to stock assets in 2014. My answer was simple: The possibility that policy missteps in the battle against global deflation might scare away risk-takers.
In truth, my commentary received a lukewarm reception. Some argued that deflation is a good thing for consumers and a bad thing for corporations. That surprised me a bit since the well-being of a corporation's profits and revenue streams often drive investor demand. More notably, even a rudimentary review of the "Great Depression" reveals the insidious trap associated with prices on goods and services spiraling downward.
It is one thing to dismiss my sentiments with respect to the "d" word. Then again, central banks clear across the globe typically maintain official or semi-official inflation targets. If the monetary authorities around the world value inflation targeting, it stands to reason that influential monetary authorities favor a gradual rise in the price of goods and services, as opposed to a negative inflation rate.
Why all the brouhaha about deflation? Do we not have clear evidence of economic improvement in developed regions like North America and Europe? That depends on the aspects of an economy one looks at. Last week, Federal Reserve Chair Janet Yellen explained that persistently low inflation poses an immediate threat to the U.S. economy. Investors interpreted her words to mean that the "Fed" will maintain its massive stimulus via its zero-percent-interest rate policy for an extended length of time to fight deflationary pressures; the SPDR S&P 500 Trust (NYSEARCA:SPY) has recovered most of its losses from a previous round of aggressive selling in early April.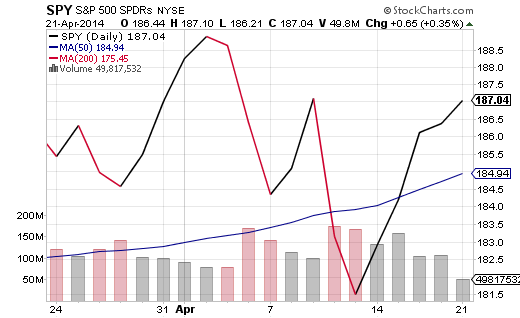 More noticeably, global inflation is at its second lowest level since World War II. This is occurring in spite of $4 trillion in Fed quantitative easing (QE). It has also occurred in spite of the European Central Bank (ECB) cutting its benchmark lending rate to a meager 0.25% late last year. Worse yet for Europe, inflation currently runs at a paltry 0.5% year-over-year. Wage growth (a.k.a. "wage inflation") is non-existent in a region where unemployment hovers near a record high of 12%. In other words, the powers-that-be in Europe will inevitably act by conventional and/or unconventional stimulus measures, weakening the exchange rate for the stubbornly high euro.
Few folks, myself included, expected the eurozone's common currency to do as well as it has for as long as it has. Over the last year, CurrencyShares Euro Trust (NYSEARCA:FXE) has maintained a relatively stable technical uptrend.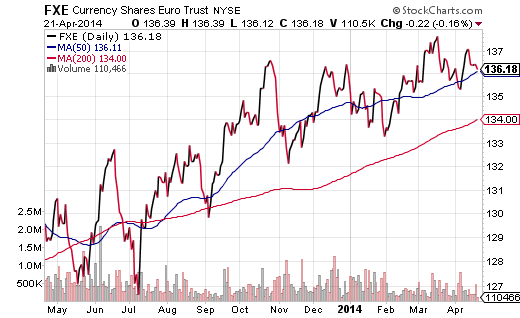 The economies of individual countries that use the euro are being held back by the currency's strength. Specifically, the strong euro makes it difficult for a nation to export its wares. Even a eurozone participant like Germany - a participant that is not necessarily struggling with deflation - has had difficulty exporting goods due to the euro's vigor. Consequently, Germany's Bundesbank has moved from questioning the legality of asset purchases via quantitative easing (QE) to embracing the possibility of the unconventional stimulus measure.
What does Germany's willingness to consider QE mean? In a similar vein, what does the shrinking balance sheet of the European Central Bank (ECB) mean to policy makers who recognize the need to facilitate euro depreciation? It means the eventuality of more monetary stimulus from the ECB and a subsequent weakening of the euro.
Investors can take advantage of the eventuality by purchasing a currency-hedged stock ETF like WisdomTree Europe Hedged Equity (NYSEARCA:HEDJ) or db X-Trackers Germany Hedged Equity (NYSEARCA:DBGR). Whereas the stoutness of the euro over the last year has benefited unhedged European funds like Vanguard Europe (NYSEARCA:VGK) and iShares MSCI Germany (NYSEARCA:EWG), HEDJ and DBGR are the better selections going forward.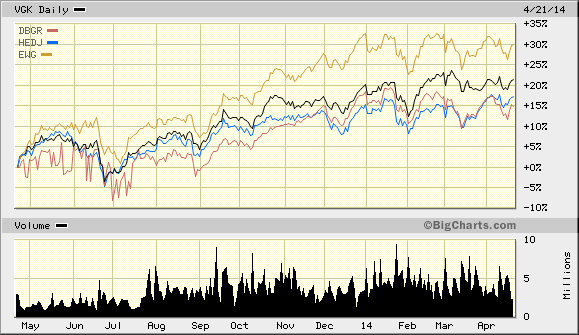 Traders might prefer a more aggressive route. In particular, a trader may wish to take a short position against the euro via ProShares UltraShort Euro (NYSEARCA:EUO). Although I prefer to stick with the P/E discount (relative to U.S. stocks) for European equities, an aggressive trader might wait for EUO to pop above a 200-day long-term trendline. A technical price change could signal further depreciation of the currency.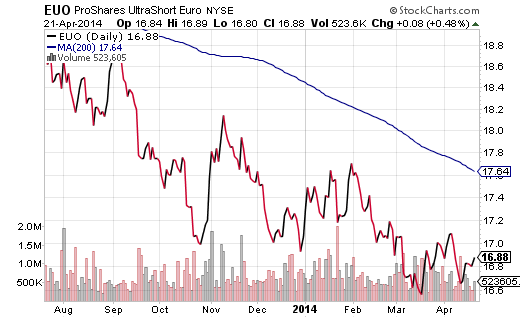 Disclosure: Gary Gordon, MS, CFP is the president of Pacific Park Financial, Inc., a Registered Investment Adviser with the SEC. Gary Gordon, Pacific Park Financial, Inc., and/or its clients may hold positions in the ETFs, mutual funds, and/or any investment asset mentioned above. The commentary does not constitute individualized investment advice. The opinions offered herein are not personalized recommendations to buy, sell or hold securities. At times, issuers of exchange-traded products compensate Pacific Park Financial, Inc. or its subsidiaries for advertising at the ETF Expert website. ETF Expert content is created independently of any advertising relationships.