In the investment community, there exists a fairly broad consensus that General Motors (NYSE:GM) and Ford (NYSE:F) are undervalued. Aside from sluggishness in the automotive sector, reasons for Ford's low stock price seem a bit difficult to grasp.
However, the cause of weakness in GM shares is evident. General Motors' investors took a beating following the company's recall of 2.53 million cars for faulty switches. While Ford, Toyota (NYSE:TM) and other car manufacturers also suffered large-scale recalls this year, the problems with GM vehicles (primarily Chevrolet Cobalts and Saturn Ions) resulted in at least 13 deaths, possibly more. With spring barely upon us, GM has issued recalls for over six million vehicles.
Contrast that with 2011 and 2012 when Toyota had the dubious distinction of leading U.S. recall numbers with approximately 5.25 million vehicles each year.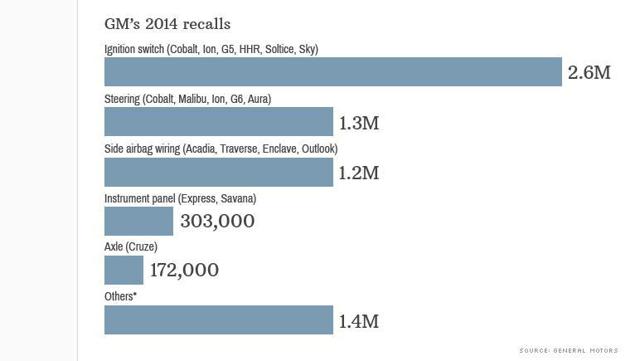 LEGAL ASPECTS OF GENERAL MOTORS' RECALL
It is possible GM will be immune from civil suits related to the "faulty switch" recall. Before GM reorganized, under section 363 of the U.S. Bankruptcy Code, the former GM obtained permission from the courts to sell its assets to the new GM, free from liens, claims and encumbrances.
Consequently, GM established and funded separate trusts to deal with any claims related to bad assets and legal liabilities. However, the ignition switch problem was not known (at least publicly) during the 2009 bankruptcy, therefore, a trust was not established to cover damages associated with that recall.
My understanding is that GM will be free of financial responsibilities provided they had no knowledge of the vehicle defects prior to reorganization.
Since the management of the new GM is essentially the same as the old GM, I find it unlikely the company can claim no prior knowledge of the defects surrounding the affected vehicles.
Recently information surfaced indicating senior members of management were aware of the defects in Cobalt models.
In fact, GM acknowledged the company was aware of the ignition switch problems as early as 2001. Furthermore, at least two of the fatal accidents occurred after the company's reorganization.
Meanwhile, GM filed motions in several U.S. District courts attempting to consolidate lawsuits and enforce an injunction barring plaintiffs from suing the reorganized company for any claims related to the former GM.
LIKELY FINANCIAL CONSEQUENCES OF GM RECALL
Let us look to Toyota for a hint of the effects of a widely publicized recall.
Late in 2009 and into 2010, Toyota suffered recalls regarding sticking accelerator pedals. Last month, Toyota paid a $1.2 billion fine to the U.S. government related to that recall. Toyota also paid a $1.1 billion class action settlement late last year.
Fines and lawsuits are not the only costs suffered by Toyota. Following the much publicized recall, Toyota's sales declined by 8% and U.S. market share dropped 1.5 percent.
Studies by J.D. Power and Associates determined GM sales dropped 6.3% during the first five days of April versus 0.3% for the automobile industry overall.
Jeff Schuster, of consulting firm LMC Automotive, predicts GM sales will increase 4% this month compared to an anticipated growth rate of 8% industry wide.
It should be remembered, however, that Toyota's recall involved significantly more deaths than those suffered in the GM tragedies, and the models recalled by Toyota were still in production. The recall of GM vehicles involves cars no longer produced or sold.
While Toyota's share price suffered during the period following the initial recalls, from the end of February 2010 to April of this year, Toyota stock is up well over 40 percent.
The fallout from the GM recall is causing EPS forecasts to drop significantly.
EPS Trends
Current Qtr.
Mar 14
Next Qtr.
Jun 14
Current Year
Dec 14
Next Year
Dec 15
Current Estimate
0.09
1.06
3.06
4.80
7 Days Ago
0.41
1.08
3.58
4.78
30 Days Ago
0.50
1.13
3.72
4.87
60 Days Ago
0.52
1.13
3.81
4.88
90 Days Ago
0.85
1.22
4.44
5.26
CHART SOURCE: YAHOO FINANCE
COMPARISONS OF PRODUCT QUALITY
But all is not doom and gloom at GM. In March sales of the Buick Encore increased by 78% to 5,279 units while those of the Buick Regal doubled. The Silverado-C/K Pickup increased sales by 6.8 percent and the new Sierra boasted 22% sales gains.
GM won The 2014 North American Car and Truck of the Year Awards for the Chevrolet Corvette Stingray and Silverado.
Meanwhile, the 2014 Chevrolet Impala received rave reviews from Consumer Reports ("We are stunned at how good the 2014 Chevrolet Impala is.), and the organization seconded the appraisal of the Silverado as the best truck.
The Cadillac CTS was named Motor Trend Car of the Year.
In the 2014 J.D. Power Customer Service Index Study, Buick, GMC and Chevrolet ranked 1st, 3rd and 5th respectively for customer satisfaction among mass market brands. Cadillac took the top spot among luxury models.
In J.D. Powers' recent vehicle dependability study, GM received eight segment awards with all four of its brands scoring above the industry average.
J.D. Power studies indicate owners who don't experience repair problems have a brand repurchase rate of 56%. For those who experience three or more problems, repurchase rates drop to 42 percent. Clearly, the phrase "doing something right" applies here, and doing something right can lead to increased market share in the future.
In a comparison of the two companies, however, one must consider Ford's record for reliability.
"A few years ago, Ford was in the top 10 of reliability," Consumer Report's Jake Fisher said. "It's the new Fords that are having the problems."
According to Consumer Reports, six of the top ten least reliable vehicles are now Ford products. But caveat lector. Most of the problems with reliability stem from the MyFord Touch infotainment system.
Strangely enough, drivers with MyFord Touch equipped vehicles report greater satisfaction with their cars than motorists that do not own the option. Ford's internal studies indicate the most satisfied category of Ford owners are buyers of F-150 trucks equipped with MyFord Touch.
According to the previously quoted Jake Fisher:
"It's not like Ford has had a history of bad quality. Looking at Ford's history, I would expect over the next few years the reliability would drastically improve."
In large part due to MyFord Touch and other initiatives, Bank of America projects Ford will gain one point of market share by 2017.
In conducting on the ground research for this article, I spoke with one of my sons, a manager at one of the largest CarMax (NYSE:KMX) stores in the U.S. (For those unfamiliar with CarMax, the company is the largest used-car retailer and a member of the Fortune 500.) The young man is a walking encyclopedia of cars and consumers perceptions of differing makes and models. It is his belief that the majority of CarMax customers currently perceive both a value and quality difference in favor of Ford.
While that is anecdotal information, it leads me to pose this question: Can General Motors' new found reliability overcome years of Ford's "Quality Is Job 1?" In a list by Car.com of the best used cars selling for $10,000 or less, Ford garners three of the top ten spots. Not one GM model graces the list.
So my personal opinion is, "Not yet." If GM continues to perform as it has for the last 15 months, and if Ford products continue to rank among the worst cars on the road, I believe General Motors will gain a lead over Ford and most of the automobile industry.
Note my emphasis of the word if above. It leads me to one of those wise old Southern sayings: "If Aunt Wilma had different plumbing, we'd call her Uncle Will." IF can be a very big word, indeed.
A COMPARISON OF RECENT TRENDS
As of the end of the last fiscal year, General Motors (GM) and Ford (F) both tallied eighteen consecutive profitable quarters. Although those statistics may seem impressive, the market share GM commands dropped by 1.4% over the last two years. Cadillac, arguably the most iconic of GMs models, suffered a 1.2% drop over the same time frame. Long gone are the days when nearly half of domestic autos sported a GM related nameplate.
As quality concerns and the appeal of foreign-made cars made inroads with American consumers, both companies suffered precipitous declines in the domestic market. Ford, however, managed to pull out of the nosedive while GM seems to seek a new low.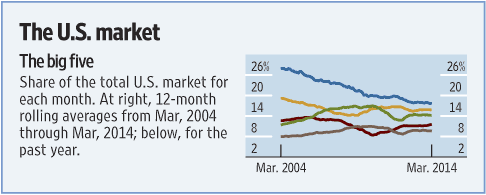 Source of both charts: Wall Street Journal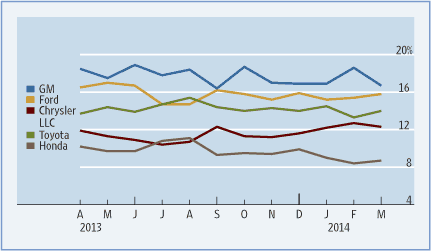 Ford's market share increased by roughly half a point last year, and Ford was the only brand to surpass two million units sold. In so doing, the company more than doubled the gains made by GM.
Ford's profit margins also exceed those of GM.

Source: Reuters
SNAPSHOT OF LAST FISCAL YEAR RESULTS
GENERAL MOTORS
FY 2013 revenues for GM increased from $155.4 billion to $152.3 billion YoY. Although 2013 full-year diluted EPS fell from $2.92 in FY 2012 to $2.38, a decline of 18%, much of the decline (.80 per share) was due to special items.
Operating cash flow increased to $11 billion versus $9.6 billion in 2012.
FORD
For the full-year, the company generated $146.9 billion in revenues and $1.76 per share in net income, up from last year's $133.6 billion in revenues and $1.42 per share in net income.
For the full-year, Ford's automotive business generated $6.1 billion in operating net cash flow, strongly up from 2012's $3.4 billion.
A significant percentage of Ford's growth in profits can be attributed to Ford's deferred tax credits.
Both companies saw similar results in overseas operations including declines in South America, lower losses in Europe and inroads in China's markets.
ADDITIONAL CONSIDERATIONS
In 2013, Ford made remarkable progress towards meeting underfunded pension obligations. Ford's U.S. pension obligation stood at $52 billion at the end of 2012.
Worldwide, Ford's pension plans were underfunded by $9 billion at the end of 2013. Some analysts now dare to speak (and I believe their talk is far too sanguine) of Ford retiring their unfunded pension obligations by the end of 2015.
Meanwhile, although GM made significant progress towards meeting its pension liabilities, the company is at least two years behind Ford.
In China, GM sales lead Ford by a margin of roughly three to one. Both companies outsell rivals Toyota and Honda (NYSE:HMC).
GM holds the edge in regards to debt ratios. Ford currently holds a debt to capital ratio of 74.1% versus General Motors' 33.8 percent.
GM has a cash reserve three times larger than Ford's with $30 billion in cash and cash equivalents versus roughly $9 billion in Ford's coffers.
IN SUMMATION
Both companies have made impressive gains in recent years.
Prospects overseas appear to be trending well for Ford and GM.
While GM currently leads in terms of product quality, I believe Ford has a stronger reputation among consumers. Furthermore, I will speculate and state I expect Ford to recover the ground it lost in terms of product reliability.
Ford's efforts to meet its pension liabilities are truly impressive and will soon free up capital for other pursuits. Meanwhile GM leads in terms of cash reserves and debt levels.
I consider both companies significantly undervalued.
Meanwhile, General Motors' recall problems, while manageable, will weigh on the company over the next fiscal year.
Although they represent a relatively small portion of the population, a segment of American consumers was virulently opposed to the government managed GM bankruptcy proceedings.
Those buyers (I would suggest) skew towards men in their mid-thirties or above. That segment of the car buying public is more likely to purchase trucks and other larger vehicles, and they hold a grudge against GM. To purchase a vehicle from "Government Motors" is anathema to them.
I also believe there is a small segment of the American public that believes GM acted in a morally reprehensible fashion in its response to the recent recall. Those consumers will also avoid GM products.
Consequently, I consider Ford the better investment.
THE ARGUMENT AGAINST AN INVESTMENT IN THE AUTOMOBILE INDUSTRY
I find a long-term investment in either company problematic for the following reasons:
- The United Auto Workers (UAW) will negotiate a new contract with Ford and GM in 2015. Approximately 16% of GM workers and 19% of Ford's employees are paid under the two-tier system.
According to Norwood Jewell, one of three UAW vice presidents:
"The international executive board hates two-tiers. We didn't do two tiers because it's a wonderful thing. We hate them. We intend to eliminate them over time."
Any change in the two-tier pay system will result in significant cost increases to both companies.
- Stagnating middle class incomes and rising new car prices are increasingly placing new vehicles beyond the financial reach of many consumers.
According to a study by Interest.com, in 24 of the 25 largest metro areas in the U.S. the average median-income household can no longer afford to purchase the "average-priced" new car or truck.
- Improved reliability in newer vehicles is resulting in longer time spans between new purchases. According to a study by R.L Polk, the average age of all light vehicles on the road is at a record high of 11.4 years. That contrast with an average age of 11.2 years last year, and 10.9 years in 2010.
- The new "CAFE" (corporate average fuel economy) standards mandate that automakers average 54.5 mpg for their cars by 2025, compared to 29.7 mpg now. The new standards will likely result in additional costs for automakers. Manufacturers will absorb a portion of the increased costs and pass the remainder along in higher prices to consumers, resulting in lower sales. Manufacturers will sell larger numbers of smaller vehicles. Smaller vehicles generally yield lower margins.
While I can understand the allure of an investment in Ford and/or GM, I will pass on both companies. I am a man of limited means, and it is my opinion better investments are available.
However, GM and Ford fit my model for a very profitable trade. The stock of each company is significantly underpriced. The short-term prospects of each company are good, and Ford and GM both boast dividends north of three percent. The dividends should help prop up the companies' share price and attract dividend investors. If the market pushes the stock below my entry point, I can collect my dividends as I wait for the likely increase in the stock price.
In the weeks and months ahead, I will monitor both companies closely waiting for a catalyst or technical indicator that should result in a profitable trade.
Disclosure: I have no positions in any stocks mentioned, and no plans to initiate any positions within the next 72 hours. I wrote this article myself, and it expresses my own opinions. I am not receiving compensation for it (other than from Seeking Alpha). I have no business relationship with any company whose stock is mentioned in this article.