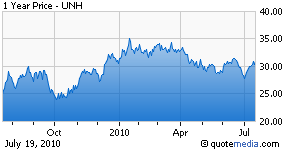 Health insurance bellwether UnitedHealth Group Inc. (NYSE:UNH) kicks off earnings season, as it is slated to report its second quarter 2010 results before the opening bell on Tuesday, July 20. The Zacks Consensus Estimate for the second quarter is 75 cents per share, representing a growth of about 2.5% over the year-ago quarter.
Though concerns related to the impact of the upcoming health reform bill and continued high unemployment has overshadowed its share prices recently, the company is expected to report in-line results based on its gradually improving fundamentals.
Previous Quarter Performance
UnitedHealth's first quarter 2010 earnings of $1.03 per share far exceeded the Zacks Consensus Estimate of 68 cents. This was also ahead of last year's earnings of 81 cents.
Better-than-expected earnings for UnitedHealth were primarily aided by higher revenues driven by an increase in premium in the Health Benefits segment, coupled with a fall in operating costs. All other segments also delivered favorable results during the quarter. However, continued high levels of unemployment have led to a decline in commercial enrollment, a line of business which generates greater business than government programs such as Medicare and Medicaid.
Operating costs came in at 14.1% of revenues, which improved 10 basis points year over year due to ongoing cost management and quality improvements.
Agreement of Analysts
Heading into earnings season, it is always interesting to analyze how consensus estimates have changed over the past few days and consequently how sentiments around the stock fluctuates. Thus, we see that in the run-up to the earnings release, only 2 of the 21 analysts covering the stock has raised the estimates for the second quarter 2010 in the last week, however, 4 of them have raised estimates in the last 30 days. No downward revisions were witnessed during this period.
However, 2 upward revisions prove that the majority of the analysts are in agreement with the company's in-line earnings expectations. Analyst expect the company to meet the estimates on the back of a rational pricing, moderating flu trends, adequate reserves partially offset by a decline in commercial membership growth.
During the first quarter earnings call, UnitedHealth lifted its earnings forecast range for fiscal 2010 to $3.15 – $3.35 per share from the previous range of $2.90 – $3.10. For fiscal 2010, 2 analysts upped the estimates, while no downwards estimate revisions were witnessed in the last 30 days.
However, 2 analysts have made a downward revision to estimates for fiscal 2011 while 1 has upped estimates.
Magnitude of Estimate Revisions
For the second quarter, the Zacks Consensus Estimate has increased by two pennies to 75 cents per share from 73 cents over the last 30 days. Also, the consensus for FY2010 improved from the operating earnings of $3.30 per share to $3.34 over the same time frame. The revised estimates trend up to the higher end of the management's guidance. This reflects analysts' confidence in the company, which is poised to benefit from revenue growth with a gradually improving economy and the ongoing cost-management efforts.
However, estimates for FY2011 moved down by a cent from earnings of $3.44 per share to $3.43. The analysts are concerned that the Medical cost ratio requirements related to the health reform that will get into effect in 2011, will adversely affect the company's bottom line.
Our Take
The biggest issue that United Health faces is of the Patient Care Protection reform bill. The company derives approximately 15% of its earnings from the individual and small group business and 30% of earnings from Medicare. A margin compression is expected for both these groups in 2012 and 2014 as the Medicare rates will be reduced from 2012 and the minimum Medicare MLR will get effective from 2014 onwards.
Further, health care reform jeopardizes the more lucrative commercial business. In addition to decreasing commercial enrollment, the company also sees a rise in the number of members going for lower premium or higher deductible plans. While enrollment in Government programs (Medicare and Medicaid) is increasing, it tends to be less profitable in general.
With, impressive operating cash flow (the company revised its guidance for operating cash flow to $4.8 billion from $4.4 billion previously), aggressive share repurchase and increase in quarterly cash dividend, low leverage; Unitedhealth is a long-term value stock for investors.
UnitedHealth is well positioned among its peer group as it has the ability to diversify its earnings stream. Given its diversity and sound operating facilities, the company is well positioned to handle the challenges posed by the health care reform.
Currently, UnitedHealth carries a Zacks #3 Rank, which translates into a short-term Hold recommendation.