Target Corp.'s (NYSE:TGT) share value decreased a little over 9% in one year. The company experienced one of the largest breaches ever of American consumer data during the holiday season with as many as 40 million customers' credit and debit card information becoming exposed to hackers. Such events, especially where consumers' financial matters are concerned, can leave an irreparable dent on the company's image. While dealing with that image is a future concern, presently Target is preparing for a Minnesota court hearings where all of the 33 lawsuits filed against it will be discussed.
Banks will be hitting the company hard, seeking reimbursement for millions of dollars in losses due to fraud and the cost of card replacements. Apart from external events, the performance of the company hasn't been too impressive lately. In this article, we will be going through Target's fiscal year 2013 and then I'll talk about what the future holds for the company's shareholders.
Recent Performance
Total U.S. sales declined 90 bps to $71.3 billion. The decrease reflected the impact of an additional week in 2012 and a decline in comparable sales partially offset by the contribution from new stores. Comparable store sales fell by 40 bps due to lower transaction counts that outpaced the price and unit per transaction increase that Target was able to bring (see table below).

Source: 10-K
The data breach definitely affected Target's total sales. This can be observed from the fact that prior to December 19th, when the company made the announcement of the data breach the fourth quarter comparable sales for its U.S. segment were positive. This was followed by a profound negative comparable sales result after the announcement.
Although comparable sales began to recover in January, the shared integration of changes in the retail calendar compared to 2012 (the number of days between Thanksgiving and Christmas) combined with the assortment of competition factors, consumer behavior, and weather factors made quantifying the precise impact of the breach on sales difficult.
The gross margin for the year remained relatively the same, improving by a slight 10 bps to 29.8%. The increase was primarily the result of a change in vendor contracts regarding payments received in support of the marketing programs. Increases to the rate were offset by the integrated growth strategies of Target's 5% RED card rewards loyalty program and its store remodeling initiative.
SG&A expenses rose 3.8% to account for 20% of total sales after two years as a result of a smaller contribution from the credit card portfolio, investments in technology, and supply chain in support of multichannel initiatives and previously described changes in merchandise vendor contracts. Increases were partially offset by the benefit from the expense optimization efforts and favourable incentive compensation and store hourly payroll.
Target sold its entire consumer credit card portfolio to TD Bank Group (NYSE:TD) for $5.7 billion in March of 2013. The sale resulted in revenues increasing by $391 million that would have otherwise increased the percentage of revenue decline by a few basis points.
The net result was adjusted diluted EPS falling 8% to $4.38. Even though 2013 wasn't too good for Target that doesn't mean that the company hasn't delivered good returns in the past (see graph below). The company has beaten the S&P Index and its peers over the past several years.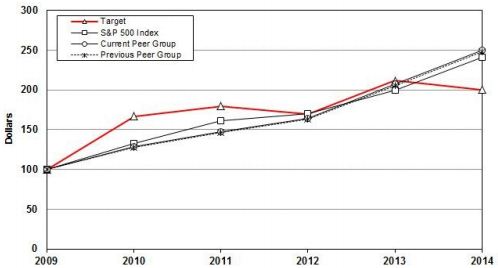 Source: 10-K
As far as the present scenario is concerned, the company has already shelled out $61 million as part of litigation costs. Around $44 million of that has been compensated through insurance. To limit the exposure to data breach losses Target maintains $100 million network-security insurance coverage with a more than $10 million deductible.
Also, Target has accelerated its security enhancements measures by adopting advanced chip enabled technology that will require an investment of more than $100 million by the company to equip its branded credit and debit cards with security chips by the first quarter of 2015. Now, how effective this will be in protecting customers data in the future can't be assessed, but the measure will likely improve the image of the company.
Hopefully, after the company's image improves Target's Canadian operations will begin reaping positive results. During 2013, Target's Canadian operation generated sales of $1.3 billion at a gross margin of 14.9% and EBIT of negative $941 million. Canadian operations reduced Target's full-year GAAP EPS by $1.13. Target faced high expansion costs and disappointing sales abroad as shoppers complained about near-empty shelves and notably higher prices than in U.S. stores. I believe these issues can be mitigated perhaps through higher marketing and increasing prominence that will eventually lead to an improvement in results.
Finally, concluding on a happier note, the company is making an effort to reduce its leverage. Having sold its credit card portfolio Target significantly reduced its net debt position in 2013, including the early retirement of the Haikupon debt. Even in a year of high capital expenditure and dilution relating to the Canadian segment combined with the impact of weaker than expected U.S. sales Target still has the capacity to return about $2.5 billion to its shareholders in the form of dividends and share repurchases.
That being said, wait till all the negative lime light is removed from Target. Once that's done the stock price should pick up and create momentum based on the future potential in Canada. The stock gets a long-term buy rating.
Disclosure: I have no positions in any stocks mentioned, and no plans to initiate any positions within the next 72 hours. I wrote this article myself, and it expresses my own opinions. I am not receiving compensation for it (other than from Seeking Alpha). I have no business relationship with any company whose stock is mentioned in this article.