Offshore drilling contractor Vantage Drilling (NYSEMKT:VTG) has been one of the fastest growing companies in the sector over the past few years. In fact, it has been one of the fastest growing companies in any industry over the past few years. In order to finance this growth, Vantage Drilling has had to take on an enormous amount of debt. This debt load has caused many investors to avoid the company, resulting in a fairly cheap stock price given the company's historical and projected forward growth. However, the company has taken some steps to reduce the risk that this debt poses and this, combined with other recent developments, may have caused the entire risk profile to change for this company. The company now appears to offer an enticing risk-reward profile because the stock has not adjusted to reflect the lower risk that the company's debt now poses. Vantage itself did an excellent job of discussing the investment thesis for the company in a presentation that Vantage Drilling gave at the DNB Markets 7th Annual Conference.
Vantage Drilling owns an operating fleet of seven offshore drilling rigs consisting of four high-specification jack-up units and three ultra-deepwater drillships. The company also has an additional ultra-deepwater drillship under construction.
Source: Vantage Drilling
These rigs are all among the most modern and technically-capable offshore drilling units in existence. The company's oldest rig, Emerald Driller, was built in 2008. In fact, out of all of its similarly-sized or larger peers, only Pacific Drilling (NYSE:PACD) can match Vantage in terms of the age and capabilities of its fleet. This gives the company a considerable advantage over its peers when it comes to securing contracts for its rigs because of the marked preference that exploration and production companies have for modern drilling units. I discussed the reasons for this preference in a recent article. In short, all things being equal, an exploration and production company would prefer to contract a modern rig over an older one even if the modern rig is considerably more expensive as they have been in recent years.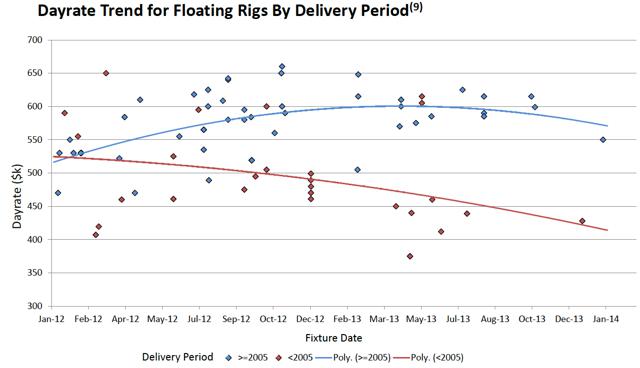 Source: Pacific Drilling
The reason why prices differ so much between the older rigs and the newer sixth-generation rigs is due to supply and demand. As I already stated, exploration and production companies have been displaying a marked preference for modern drilling units. However, there are a limited supply of such rigs. Therefore, the exploration and production companies have to bid against each other to secure the rigs that they need to achieve their field development goals.
The above chart and discussion refers exclusively to ultra-deepwater rigs but the situation is much the same in the market for jack-up rigs, which operate in much lower water depths than ultra-deepwater rigs. In this environment too, the most modern rigs command a price premium over older rigs. Vantage's larger peer Seadrill (NYSE:SDRL) discussed this at the SEB Nordic Seminar in Copenhagen in January.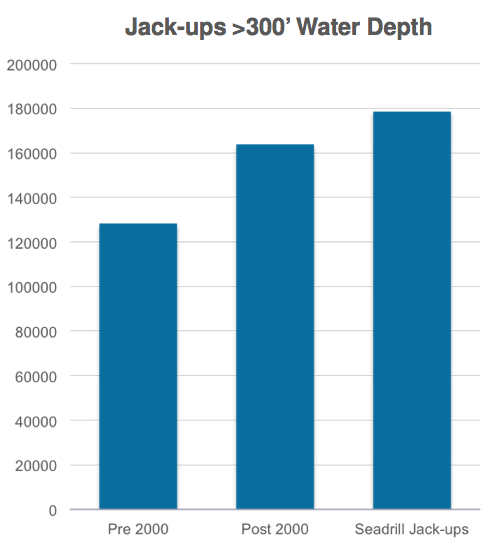 Source: Seadrill
This chart shows that those jack-up rigs built before the year 2000 typically command lower dayrates than those rigs built after that date. The chart also shows that Seadrill's rigs, which are all modern high-specification jack-ups, command the highest dayrates of all. Vantage Drilling's jack-up rigs would also be included in this category because its rigs are every bit as modern and capable as Seadrill's.
These higher dayrates that Vantage Drilling is receiving for its rigs compared to many of its competitors allow the company to generate significantly higher EBITDA and cash flow margins than its competitors. This is because it costs the same amount of money to operate a new rig as it does an old one. An older rig may have lower or non-existent depreciation but that does not affect EBITDA or cash flow because EBITDA specifically excludes depreciation and depreciation is a non-cash expense. In other words, no money actually leaves the company's bank account to pay for the cost of depreciation.
This modern fleet has been the driver of the company's extremely rapid growth over the past few years. This is because they have all left the shipyard fairly recently and in so doing, added to the number of rigs that Vantage Drilling has operating and working. Since its first rig left the shipyard in 2008, the company has added six operating rigs to its fleet. This works out to an average rate of one per year, although there were years in which the company had no rigs leave the shipyard and other years in which it had two. Nevertheless, this has resulted in spectacular growth for the company over the past five years.

Source: Vantage Drilling
As the charts show, over the period from 2009 to 2013, Vantage Drilling grew its annual revenue from $111.5 million to $732.1 million, annual income from operations from $18.4 million to $256.9 million, and annual adjusted EBITDA from $30.2 million to $363.5 million. This represents growth rates of 556.6%, 1,296.2%, and 1,103.6%, respectively, over a five year period. That is a remarkably high growth rate, regardless of the industry.
By all indications, Vantage's growth story is not over yet. This is due to the rig that the company has under construction, the ultra-deepwater drillship Cobalt Explorer. The Cobalt Explorer will be the most advanced rig in Vantage Drilling's fleet as it is a seventh-generation drillship with two blowout preventers and 10,000 ft. of riser. The rig is built using the DSME 12000 design and is capable of drilling wells up to 40,000 ft. deep in up to 12,000 ft. of water. This rig is scheduled to leave the shipyard in late 2015 and will hopefully begin work on its first contract, which has not been secured yet, by early 2016. This rig will thus result in further forward growth for Vantage.
It is not just the Cobalt Explorer that will drive forward growth, however. Some of the company's existing rigs will also produce some growth for the company this year because the dayrates that Vantage receives for the rigs increased. This chart shows all of the rigs in Vantage Drilling's fleet as well as their dayrates and contract lengths.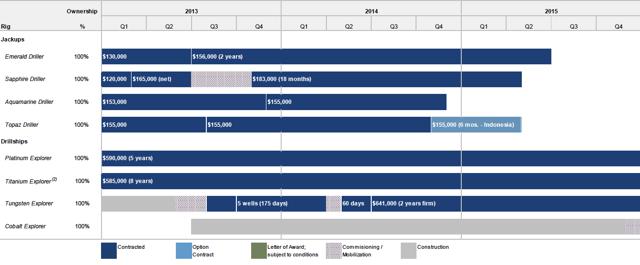 Source: Vantage Drilling
As the chart shows, the Emerald Driller, Sapphire Driller, and Aquamarine Driller all saw their dayrates increase in 2013. Therefore, each of these three rigs will generate more revenue for Vantage Drilling in 2014 than they did in 2013 because 2014 will be the first year in which each of these rigs operated at the higher dayrate for the entire year.
One potential risk to this growth comes late in the fourth quarter when the Aquamarine Driller completes its current contract. This is because the rig has not yet secured a replacement contract and without one, the company risks having the revenue that it earns from this rig drop to zero. This would represent a revenue decrease of $155,000 per day plus the company would have to incur costs related to idling and storing the rig. However, this outcome does not appear likely because the market for high-specification jack-up rigs is quite strong as evidenced by two recent announcements by Seadrill. I discuss these announcements in two recent articles found here and here. The reason why Seadrill's announcements show that the high-specification jack-up market is still quite strong is because of both the lengths of the contracts that Seadrill received and the dayrates that it received under these contracts. In these articles, I calculated that some of the dayrates that Seadrill received were in excess of $200,000. As eagle-eyed readers will note, this is well in excess of the dayrates that Vantage is currently receiving for any of its jack-up rigs. Vantage Drilling's jack-up rigs are every bit as capable as Seadrill's. Therefore, it appears that the market for high-specification jack-up rigs has strengthened since the time that Vantage secured its contracts since the demand for such rigs has pushed the price up. This market strength provides confidence that Vantage Drilling will not only be able to secure a new contract for Aquamarine Driller to begin working on once the current contract expires but that said contract could very easily carry a higher dayrate than what the rig has under its current contract. This scenario would result in revenue and cash flow growth for Vantage beginning late this year.
Vantage Drilling itself quantified its forward growth potential in its aforementioned DNB Markets presentation: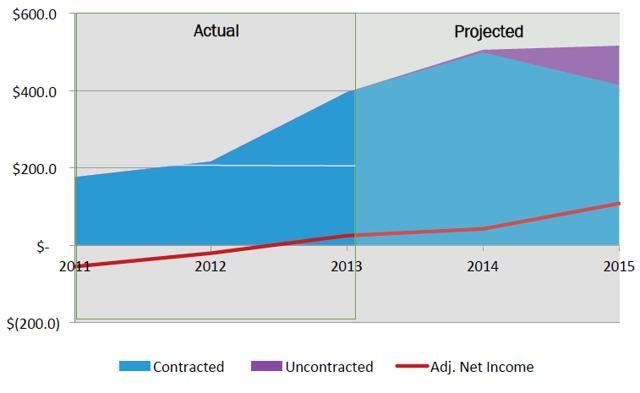 Source: Vantage Drilling
As the chart shows, the company is likely to see strong growth in 2014 compared to 2013 due to the Tungsten Explorer being operational for its first full year as well as the already discussed dayrate increases among the company's jack-up fleet. This growth rate is expected to slow between 2014 and 2015, although Vantage Drilling could see some growth should the Aquamarine Driller secure a higher paying contract. The next big growth spurt will come in 2016, which will be the first year in which the company's new drillship, Cobalt Explorer, operates for the full year.
Unfortunately, this growth has not come without cost and Vantage Drilling has had to take on enormous amounts of debt to finance the build out of its rig fleet that has been the driving force behind the company's growth. At the end of 2013, Vantage Drilling had total long-term debt of $2.85 billion or approximately 7.8 times the company's EBITDA. However, Vantage Drilling has taken steps to ensure that it will be able to carry this debt load and even reduce it going forward. The most important of these steps is that the company has staggered the maturity dates on its debt and extended them out to a time when the company will have more money coming in. Here is Vantage Drilling's debt maturation profile: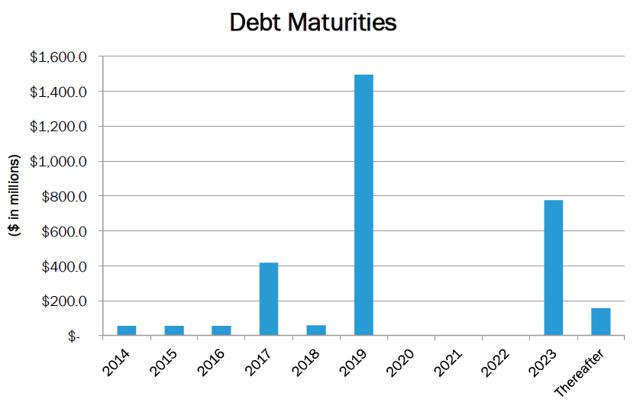 Source: Vantage Drilling
As the chart shows, Vantage Drilling does not have a significant amount of debt maturing until 2017. By this time, the company will have all eight of its rigs in operation and so its cash flow and EBITDA will be higher as we have already discussed. This will make it much easier for Vantage to cover the payments required to service this debt. In fact, Vantage Drilling itself projects that its cash flow from operations will be sufficient to cover all of the company's debt servicing costs from now until 2018.
The company's very high long-term debt to EBITDA ratio may still be sufficient to scare off potential investors. However, this ratio will be improving significantly this year. This is because of the EBITDA growth that the company will see this year. Due to this growth, the company should be able to get its long-term debt to EBITDA ratio down to 5.0x by the end of the year. While this is still quite high, it represents a substantial improvement over the company's current ratio and this ratio should continue to improve going forward as Vantage Drilling continues to grow its business. Long-time readers may remember that Vantage Drilling's debt was always my biggest concern with the company but I am now more confident than ever about the company's ability to handle its debt load going forward.
Disclosure: I am long SDRL, PACD. I wrote this article myself, and it expresses my own opinions. I am not receiving compensation for it (other than from Seeking Alpha). I have no business relationship with any company whose stock is mentioned in this article.