Plug Power (NASDAQ:PLUG) bulls may be dumbfounded today after the company reported multiple positive news events, and yet the stock closed down about 5% after a strong gap-up and surge at the open that took shares up in the first hour of trading by about 15% above Thursday's close.
Earlier in the day, at 7 a.m. ET, Plug Power announced a business update conference call to be held at 10 a.m. ET, pre-announcing that it had closed nine GenKey deals, totaling almost $80 million in bookings. Also, it announced an update on ReliOn, its acquisition last month that develops hydrogen fuel cell stack technology and fuel cell systems. Then, at 10 a.m., Plug Power issued another press release coinciding with its conference call, announcing that it signed a non-binding memorandum of understanding (MOU) with Hyundai Hysco Co. Ltd. (Hysco) to create a joint venture partnership to develop and sell hydrogen fuel cells in countries throughout Asia using Hysco's advanced stack and plate technology. Also, it indicated that it aims to close $150 million in bookings this year, almost double last year's total bookings of $80 million Even so, shares fell from a high of $8.37 in the first hour of trading by about 19%, to a low of $6.81 in the next hour, closing the day near the lows at $6.98.
But just to keep things in perspective, Plug Power shares are now up almost 50-fold in the last year, having closed at 15 cents at this time a year ago (see chart).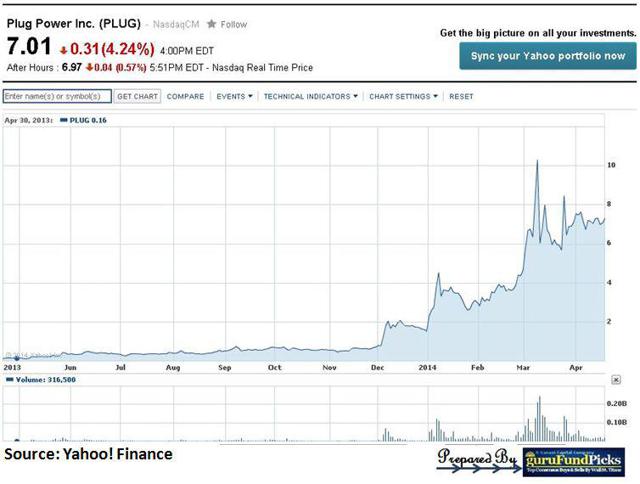 We last wrote about Plug Power on January 3rd this year, recommending it when shares traded in the $2 range, after the company reported that order flow in Q4 '13 was about $32 million, a significant ramp-up from order flow in prior quarters. Plug was then relatively unknown, and despite its negative gross margins and high losses, the outlook looked favorable given its then-current market-cap in the $150 million to $200 million range. We even bought it at below $2 in the first hour of trading after the positive news on January 2nd. Fast forward about three-and-a-half months, and share price increases and equity offerings have raised the value of Plug Power shares to over $1 billion, and as much as $1.68 billion at its $11.72 high last month.
If the number of Seeking Alpha Premium articles is any indication, we went from a total of nine articles written in the prior six months when we penned the last article on Plug Power in early January to nine written in just the past three weeks. No one can argue anymore that Plug Power is a new "pick"; rather, the truth may be closer to the opposite of that. The story is now so well-known that almost everyone has heard about it. It has been a darling of the momentum stock crowd this year.
Generally, in our experience, this is not the time when great profits are made, especially in small-caps. Rather, this is generally a time to exercise great caution. We have seen this story play out many times in the markets, including recently in the 3D printing space, and frequently, it does not end well for the bulls. Compound this with Plug Power's long history of disappointing investors, of over-promising and under-delivering, its long-standing practice of financing operations by diluting existing shareholders, its cash flow problems that led it to almost go bankrupt last year, negative gross margins, negative EBITDA and losses, and the fact that in Q4 '13, its losses of $28.9 million far exceeded its revenue of $8.0 million, and you have a devil's brew in the making.
We wrote extensively about our optimism on the long-term outlook for Plug Power in our prior article, and we still believe that. Fuel cell technology is still in its infancy in terms of mass-scale adoption, and Plug Power's proton exchange membrane (PEM) fuel cell technology has applications beyond just its current focus on the material handling market. Ancillary markets where this could be applied that have even larger potential include automotive and aerospace applications, for example, in transportation refrigeration units, ground support equipment at airports, and as range extenders for electric hybrid vehicles.
Every stock, however, has a price value, at any point in time. At $2, Plug Power shares on January 2nd this year were a screaming buy. But at about $7, after earlier hitting a high of $12 last month, they just don't hold anywhere near the same profit potential, even after the string of positive news released by the company since the beginning of the year. The news recently has been more incremental, and much of it in terms of its translation to future sales and profit numbers could have been anticipated based on prior news releases. Our guess is that it would take something more significant to move this stock, and in the meantime, the risk is too great.
Earlier, in our January article, we put a price target in the $3.30s on PLUG shares, which the stock went on to achieve within the first week after our article was published. That was based on our target revenue in the range of $70 million to $100 million in FY 2014. Even with the string of positive news releases since, as we mentioned before, the news has been more incremental, and there is no need for any substantive change to our previous revenue targets, thereby putting our target fair value for Plug Power still below $4, well short of the current price in the $7 range.
Besides a valuation and detailed fundamental analysis, we also consider an analysis of the moves of leading institutional money managers as imperative before pulling the trigger on a stock. On our site, GuruFundPicks.com, we track the collective or consensus buying and selling of over 330 of our hand-picked leading Wall Street fund managers based on their latest 13-F and SC 13D/G 5% ownership filings. Their ownership change over multiple quarters, and net buying and selling, both in shares and in number of funds, and the percent outstanding shares held by these leading funds, especially when compared to similar sized peers in the same industry, is like reading tea leaves. It gives us the extra edge, increasing the probability of making the right decision, and in many cases, saving us from making a wrong decision on a stock.
The collective or consensus buying and selling activity of these leading fund managers in Plug Power in Q4 '13 is shown in the Table below, for all seven fund groups.

Our hand-picked 330+ leading fund managers collectively own 1.40 million or about 1.0% of the outstanding shares at the end of Q4 '13, cutting 1.33 million shares or 49% from their prior quarter holdings of 2.73 million shares. The stock was collectively net sold by our hand-picked 78 legendary or guru fund managers, 27 of the world's largest or mega fund managers, and 59 billionaire fund managers. Furthermore, it was ranked at the bottom, at 1.0, on a 1-to-5 GuruRankTM scale, that measures the relative attractiveness of each stock to over 5,300 stocks owned by top fund managers.
The largest leading fund manager holders of Plug Power shares at the end of 4Q'13 were:
Quantitative hedge fund Renaissance Holdings, founded by billionaire Jim Simons, and with $41.8 billion in 13-F assets, that holds 0.74 million shares, including cutting 1.02 million shares in Q4 '13;
American multinational banking and financial services corporation, Bank of New York Mellon Corp., with $1.3 trillion in AUM, that holds 0.18 million shares, including adding 26,754 shares in Q4 '13; and
Chicago-based international financial services company Northern Trust Corp., with $710 billion in AUM, that holds 0.13 million shares, including adding 23,773 shares in Q4 '13.
You can view complete summarized 13-Fs of all of these funds, and over 330 more for free on our website, GuruFundPicks.com.
In our experience, the large 49% decrease in leading fund ownership in just one quarter is uncommon and significant, conveying in no uncertain terms the bearishness of leading fund managers on Plug Power shares, even when it traded in the $2 or below range. It is also very significant that together our leading funds own only about 1.0% of outstanding shares of Plug Power, as generally we would expect ownership to be at least in the double digits, and possibly much higher, for stocks in the $1 billion market-cap like Plug Power. While data for the just completed Q1 '14 will be available in mid-May, it would be appropriate to infer based on their selling in Q4 '13, that these leading fund managers would most likely not find value in Plug Power shares at the current trading price in the $7 range.
We have learned to heed to these signals from leading fund managers, especially when they buy or sell collectively or in consensus. In our research, we have observed strong correlation between leading fund manager ownership, including their consensus buying and selling activities every quarter, and the stock's immediate and long-term performance. We have documented many such cases on our website and in our archive of articles on Seeking Alpha, including five cases we discussed in just the last two weeks on Gilead (NASDAQ:GILD), Facebook (NASDAQ:FB), BlackBerry (NASDAQ:BBRY), Micron (NASDAQ:MU), and Apple (NASDAQ:AAPL).
The strong selling by these leading fund managers in Q4 '13, and their low 1.0% ownership of the stock, signals to us that leading fund managers, with the vast resources and market intelligence at their disposal, and their sector and industry-specific knowledge were collectively betting against Plug Power shares as it traded in the $2 range at the end of last year. With Plug Power shares currently in the $7 range, about 250% higher than at the end of Q4 '13, it would be appropriate to infer that these leading fund managers would most likely not find value in Plug Power shares at current prices.
As over-valued as we think current prices are, and as much as we think it is driven primarily by momentum traders and not value buyers, we would definitely not short Plug Power shares unless you had a portfolio of at least 50 or so stocks and were allocating no more than 2% to this as a short position. We believe the risk of a huge loss on a positive news event like a new customer, huge contract, new market entry, major collaboration or even a buyout, is just too great. Instead, we would recommend that existing shareholders lighten up some here, and more on what appears like almost certain periodic surges based on news releases. For those sitting on the outside, the most reasonable direction would be to stay out and only buy if share prices fall at least below the $4 range, and that too in increments starting below $4, say a fourth initially and a fourth more for every 50 cent drop in price.
Disclosure: I have no positions in any stocks mentioned, and no plans to initiate any positions within the next 72 hours.
Business relationship disclosure: The article has been written by the Hedge and Mutual Fund Analyst at GuruFundPicks.com. GuruFundPicks.com is not receiving compensation for it (other than from Seeking Alpha). GuruFundPicks.com has no business relationship with any company whose stock is mentioned in this article.
Additional disclosure: Use of GuruFundPicks' research is at your own risk. You should do your own research and due diligence before making any investment decision with respect to securities covered herein. You should assume that as of the publication date of any report or letter, GuruFundPicks, LLC, has a position in all stocks (and/or options of the stock) covered herein that is consistent with the position set forth in our research report. Following publication of any report or letter, GuruFundPicks intends to continue transacting in the securities covered herein, and we may be long, short, or neutral at any time hereafter regardless of our initial recommendation. To the best of our knowledge and belief, all information contained herein is accurate and reliable, and has been obtained from public sources we believe to be accurate and reliable, and not from company or persons who have a relationship with company insiders. Also, in our preparation of this article, we referred investor resources such as Zacks.com, Marketsmith and Sentieo.