Dry bulk shippers and tanker companies have been feeling the heat as demand for their services has tumbled. Despite a nice July rally in equities, shipping stocks and related ETFs may still have to endure a long period of suffering.
A lot of things are not going well for shipping companies. China, one the largest importers of raw materials, decided to curb its economic growth, and many dry bulk shippers are based out in Greece, which is an association no company wants to have.
According to The Economist, China's imports of iron ore and coal in June fell by 6% and 8%, respectively. Measures to slow down growth in China have also caused prices for construction steel to fall by 17% since mid-April.
In addition, "the Baltic Dry Index—which measures the rates charged for chartering the giant ships that carry coal, iron ore and grain—has fallen by almost 60% in its longest streak of consecutive declines for nine years (34 days running as of July 14th)."

In late May, it cost $48,000 to charter a large ship. Today, the rate is down to around $18,000.
It's clear that the commodities and shipping industry are suffering. What is unclear is "whether the index is saying more about the supply of ships than the demand for their cargoes."
In 2008, the index spiked as a shortage of transporting ships met head on with a roaring commodities market. But just as shipping capacity expanded in response to increased demand, the financial crisis rocked the global economy.

Todd Shriber of Investopedia thinks we should watch the shipping industry from the sidelines now. Well, at least until the global economy shows clear signs of a recovery.
Claymore/Delta Global Shipping ETF (NYSEARCA:SEA)
click to enlarge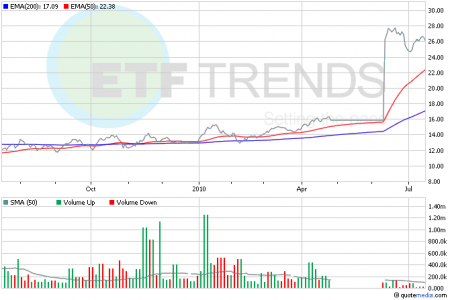 Sumin Kim contributed to this article.
Disclosure: None