By Todd Shriber & Tom Lydon
In search of better returns compared to emerging markets and lower correlations to U.S. and emerging equities, investors have increasingly embraced investing in frontier markets.
That much is evident by the rapid success of the iShares MSCI Frontier 100 ETF (NYSEARCA:FM). FM will not turn two until September, but the ETF already has $708.2 million in assets under management, according to iShares data. In its 18 months of trading, FM is up nearly 45%, a performance that thwarts those offered by diversified emerging markets ETFs over the same period.
A large part of FM's bullishness since inception is attributable to gains in the equity markets of Qatar and the United Arab Emirates, but next month, those countries will depart MSCI frontier indices for the MSCI Emerging Markets Index. That does not necessarily mean bad news for FM. Said BlackRock Chief Investment Strategist Russ Koesterich in a new note:
In my opinion, the departure of these two above average performers, and the other upcoming index methodology changes, is actually good news to frontier market investors. My sense is that the new portfolio of companies in the index following the rebalancing will more accurately reflect what most people think of when they consider investing in frontier markets.
UAE and Qatar currently combine for 36.3% of FM and are the ETF's second- and third-largest country weights, respectively. With the departure of those countries, Kuwait and Nigeria will combine for 40% of the MSCI Frontier Markets 100 Index. The two countries currently combine for about 32% of FM. Pakistan will also see its weight in the ETF nearly double to 8.9% from 4.5% as of April 15.
Koesterich sees the departure of Qatar and UAE allowing for better country diversification in the frontier index, allowing for a better representation of true frontier markets. The strategist also forecast reduced exposure to financial services stocks and increased allocations to the consumer staples and energy sectors. Said Koesterich:
True frontier markets (as defined by per capita income) is anticipated to take on a greater share of the index. Combined exposure to Vietnam and Sri Lanka should nearly double from 3.25% to 7%, for example. While the exposure to each individual lower-income country will be small, the collective increase in exposure is large. Exposure to countries defined as having a per capita income below $10,000 should increase to 47% from 29%.
While Qatar and UAE are leaving FM and will likely be afforded only slight weights in the MSCI Emerging Markets Index, investors have options for continuing to gain adequate exposure to those markets.
The WisdomTree Middle East Dividend Fund (NASDAQ:GULF), which is up 17.5% this year, devotes a combined 58.5% of its weight to Qatar and UAE. The Market Vectors Gulf States Index ETF (NYSEARCA:MES) devotes 62.4% to those countries. MES is up over 21% this year.
iShares MSCI Frontier 100 ETF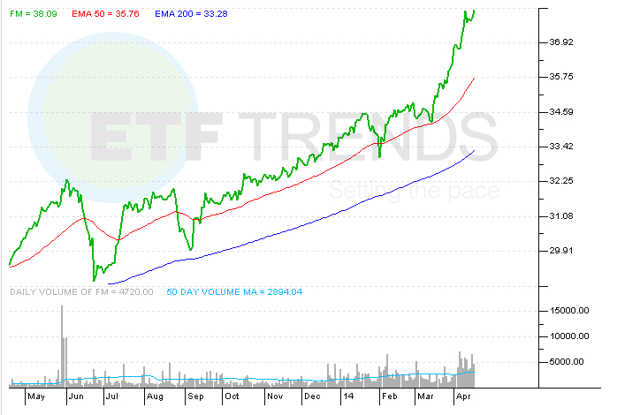 Disclosure: I have no positions in any stocks mentioned, and no plans to initiate any positions within the next 72 hours. I wrote this article myself, and it expresses my own opinions. I am not receiving compensation for it. I have no business relationship with any company whose stock is mentioned in this article.