General Electric (NYSE:GE) has taken a number of steps to position itself for future success, and reduced reliance on GE Capital Corp (NASDAQ:GECC) remains a sound trajectory. Not only do we think that increased transparency and potential monetization of a portion of its far-reaching financial operations is a prudent idea (particularly given the recent lessons learned from the Financial Crisis), but the move also frees up the executive suite to focus on driving top-notch performance at its industrial operations. Clearly, we're already seeing the potential of this "new GE," and we like it very much.
Image Source: GE
On Thursday, GE reported excellent first-quarter results. One of the most important indicators of GE's industrial business potential is the trend in backlog of equipment and services. Since 2010, the trend in backlog has been ever-higher, and we like that the company posted increases in every business segment over the year-ago period. Industrial segment organic revenues jumped a better-than-expected 8% during the period, while growth market revenues advanced 7%. Equipment revenue jumped 12%. We find it quite remarkable that a company of General Electric's size is growing at a pace that is 2-3 times healthy global GDP numbers, and it posted double-digit growth in five of nine growth regions.
GE's industrial segment profits rose 12% thanks to segment margins improving 50 basis points over the prior-year period. 'Simplication' and efficiency initiatives continue to be the key margin drivers, accounting for a large portion of the profitability improvement. Excluding the 2013 NBCUniversal impact and other restructuring items, operating earnings per share increased 9% from the year-ago period. GE Capital's earnings were flat, and the division posted a solid Tier I common ratio (Basel I) of 11.4% and a strong net interest margin of 4.9%. Both of these numbers are better than some of the largest money center banks, including JP Morgan, Wells Fargo, and Citigroup. Cash from operating activities totaled $1.7 billion during the period, and the industrial giant ended the quarter with $87 billion of consolidated cash and equivalents.
GE's 2014 operating framework remains on track, and we show the firm's slide below. It's difficult to argue with all key metrics moving in the right direction, and we are huge fans of GE's ongoing focus on removing structural costs. Its 'simplication' goals, for example, helped to reduce industrial structural costs in the first quarter by $254 million, and the company remains on track to achieve $1 billion in savings. This is needle-moving efficiency improvement.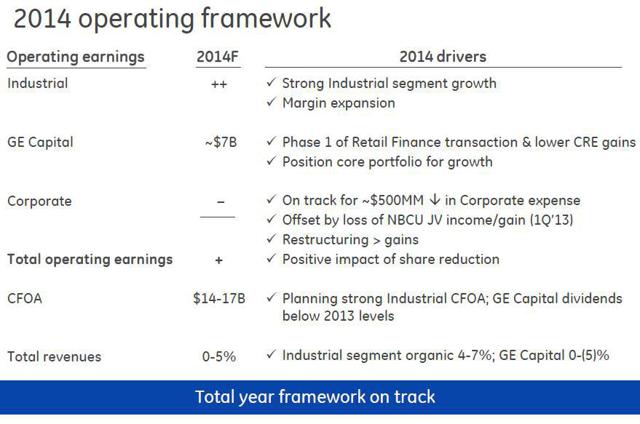 Image Source: GE
Valuentum's Take
GE continues to simplify its business by shedding non-core financial assets as its industrial operations fire on all cylinders. The company boasts a solid annual dividend yield of 3.4% at the time of this writing, and dividend growth investors should expect increases year-after-year. Management has learned from the Financial Crisis, and as evidenced by the coming initial public offering of its North American Retail Finance division, it's not interested in needless risk-taking for growth. We continue to expect upside in shares, and the company remains a holding in both of the actively-managed portfolios.
Disclosure: I have no positions in any stocks mentioned, and no plans to initiate any positions within the next 72 hours. I wrote this article myself, and it expresses my own opinions. I am not receiving compensation for it (other than from Seeking Alpha). I have no business relationship with any company whose stock is mentioned in this article.
Additional disclosure: GE is included in both actively-managed portfolios.