Sometimes it's difficult to keep your attention focused on the relevant data. This has been especially true for ReneSola (NYSE:SOL). The company has gone through a series of high-profile troubles that have distracted investors from fundamentals such as margins and revenues. When we look at the fundamentals, robust growth is what we see.
First let's look at the share price. SOL closed at $2.93 on Friday; essentially it is trading at the same price as September 2011. It's almost like ReneSola has missed out on the solar rally that began in Q1 2013.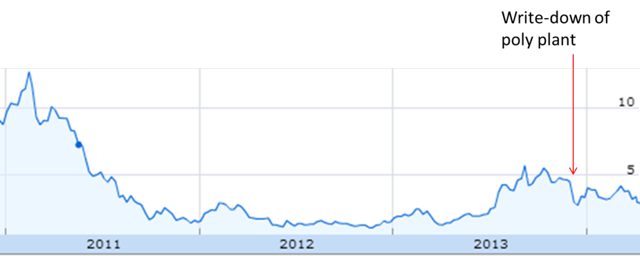 (source: Google Finance)
Headwinds
One of the reasons why SOL has lagged its peers was the closure of an unprofitable polysilicon plant in Q3 2013. There was an immediate impact on the stock price when the $202M impairment was announced, and it caused some investors to doubt management. But the impairment was a one-time event that is old news; we should be concerned with the company's future.
The other headwinds that SOL faces are:
1. Unprofitable LED lighting segment.
I'm not sure why SOL decided to get involved with the LED lighting business. Perhaps management was considering a pivot when the solar industry took a dive in 2011, and LED lighting was Plan B. In any case, SOL does not sell many LEDs while the R&D has surely consumed a lot of capital. My largest concern for the company is that LED lighting will be a drag.
From the Q4 2013 transcript:
"And for the LED products, we did not include in our broadcast we are still doing a lot of marketing efforts. So you can mark [LED shipments as] zero for this year."
2. Antidumping investigation.
A very recent (and insightful) article from PV Magazine delves into the International Trade Commission's antidumping investigation. The ITC is investigating whether Chinese module manufacturers have used parts from Taiwan to sidestep US tariffs. This could be a big deal because 42% of US modules are supplied by Chinese manufacturers; ReneSola is USA's number seven module supplier. A decision from the ITC isn't expected until October at the earliest.
ReneSola has already announced that it is sourcing its US shipments from OEM suppliers. These OEM manufacturers are located in Poland, South Africa, India, Malaysia, South Korea, Turkey, and Japan, and they should help SOL avoid tariffs. In fact, because of its extensive OEM capacity (1 Gigawatt), ReneSola will probably adapt to the tariffs more easily than its peers. If the ITC institutes a retroactive tariff, then ReneSola might get clipped for shipments prior to March 2014.
3. Class Action Lawsuits.
On top of the ITC investigation, at least two class action lawsuits have been announced [1, 2]. These lawsuits focus on ReneSola's recent announcement that it was temporarily reducing shipments from China to the US - and the 14% plunge in stock price that followed the announcement.
I don't have any way to judge whether the lawsuits will be successful or what the consequences will be. I can say that, as a shareholder, I would have preferred an announcement from ReneSola over the silence that has been the only response from other Chinese manufacturers. There might be some surprises coming from Trina Solar (NYSE:TSL), Yingli Green Energy (NYSE:YGE), and Canadian Solar (NASDAQ:CSIQ) when the full impact of the ITC decision is felt.
Fundamentals
Now that the risks are covered, let's have a look at the positive aspects of this solar stock. The story of a recovery is clear from the following charts of ReneSola's fundamentals. This data is taken from the past eight earnings reports (transcripts are available here on Seeking Alpha.) Gross margin is trending up after a few brutal quarters: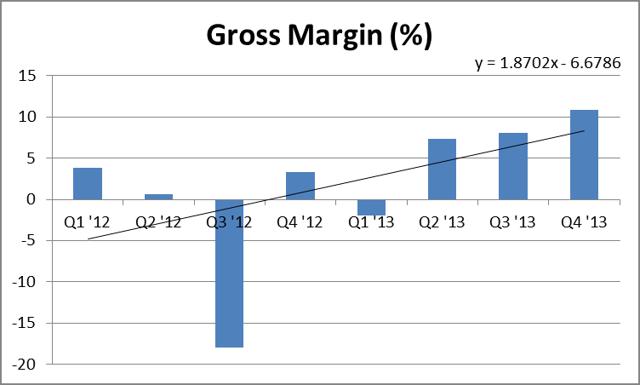 Total shipments (i.e. modules plus wafers) is also trending up, as is revenue: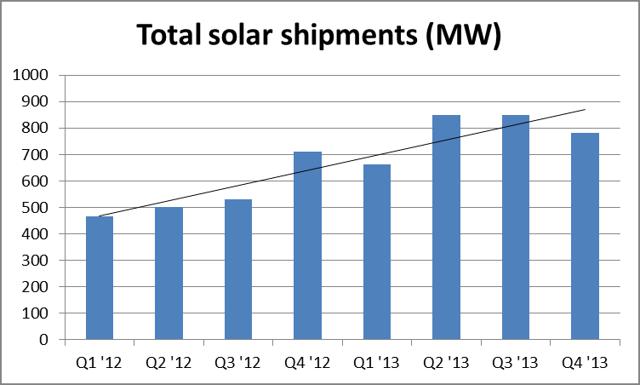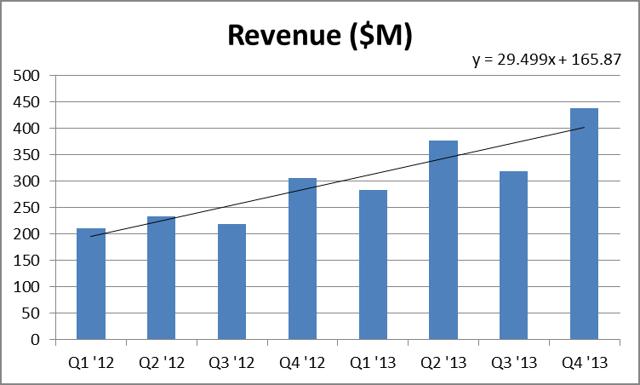 The linear trendlines indicate a gross margin of 12.67% and revenue of $468.3M for Q1 '14. We see that the average selling price for solar modules was driven down in the highly competitive environment of 2012. We're seeing average selling prices stabilize and even bounce back as demand increases. There are reports that solar module prices in the US might increase by 20% in 2014.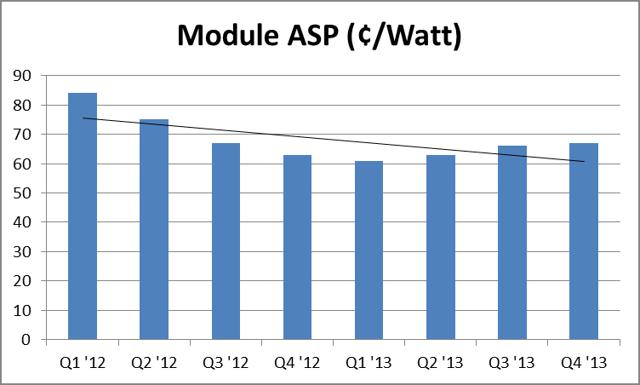 Finally, a reader has requested that I break out the revenue from other sources, including batteries, racks, inverters, and LEDs. We see strong sales growth in those categories as well, which is a good indicator that ReneSola has been successful in diversifying. "Other" revenue now accounts for almost 10% of SOL's total revenue.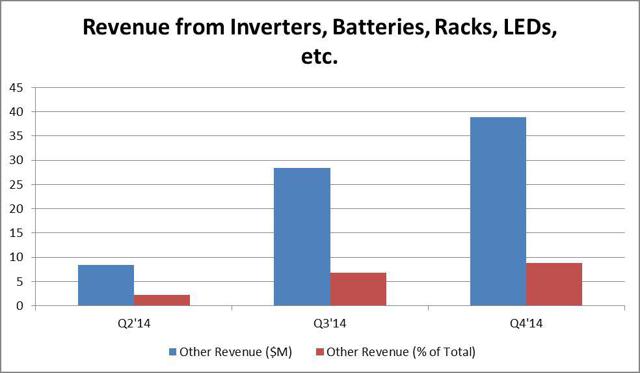 Bullish Factors
1. Poly price is increasing.
ReneSola shuttered an unprofitable polysilicon plant, but it still operates a second plant of higher efficiency. That gives ReneSola a great competitive advantage over its competitors who buy polysilicon on the spot market. There are reports that polysilicon prices increased 15% Q/Q in Q1 2014.
2. Largest competitor goes out of business.
The world's former largest module manufacturer is no longer operational. Bankruptcy has finally caught up to Suntech, which will leave a 2.4 Gigawatt void to be filled by other manufacturers. Suntech is being acquired by another module manufacturer and it's expected to resume production in June.
3. OEM strategy.
ReneSola has one Gigawatt of OEM manufacturing capacity that is spread across the globe (Poland, South Africa, India, Malaysia, South Korea, Turkey, and Japan). This manufacturing arrangement gives SOL a flexible manner to expand or contract production based on market conditions, as well as circumventing US anti-dumping tariffs.
One might expect that margins for OEM manufacturing is lower than margins for internal production; the difference is about 3% (15% gross margins for internal production, 11-12% for OEM production).
4. Record 50GW demand in 2014.
At a macro level, the solar PV market is booming. Based on Q1 2014 sales, NPD Solarbuzz predicted global demand of 50GW for 2014. That would represent a 35% increase from the 37GW of 2013.
The Bottom Line
I'm feeling quite comfortable with my ReneSola covered calls. I would suggest that the recent price drop is a good entry point - and this company is certainly not a good short, despite the headline-grabbing lawsuits and ITC investigation.
Disclosure: I am long SOL. I wrote this article myself, and it expresses my own opinions. I am not receiving compensation for it (other than from Seeking Alpha). I have no business relationship with any company whose stock is mentioned in this article.