Cameron International Corp. (NYSE:CAM), headquartered in Houston, Texas, is a leading manufacturer of oil and gas pressure-control equipment, including wellheads, chokes, blowout preventers, and assembled systems.
The company`s equipment is used for oil and gas drilling, production, and transmission used in onshore, platform, and subsea applications. Cameron also manufactures compression and power equipment, primarily for the energy industry. The company operates on a worldwide basis, with its equipment and services being sold in more than 100 countries.
Cameron's stock has finally started to perform better since its near-term bottom in late October after they announced third quarter earnings. That earnings quarter produced record revenues and an all-time high backlog, but the shares fell. A typical "sell on the news" event, or perhaps investors didn't like the "in line" forward guidance and were expecting more growth.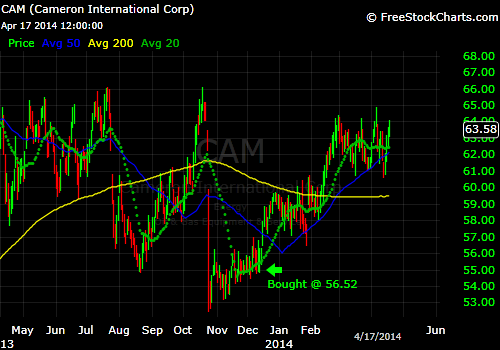 The selloff prompted more research on my part and eventually a purchase of shares as noted above in December 2013. The thesis that I worked with back in December 2013 when I purchased and then selected CAM as one of my stock picks for 2014, is seemingly playing out.
What I saw back in 2013 was a gradual improvement in operating efficiency, combined with resilient markets that they serve and finally an aggressive share buyback program. To date, the company has repurchased $780 million worth of stock, on top of the $1.5 billion repurchased last year. Additionally, the company has increased its authorization by $500 million and instituted a commercial paper program to help fund further repurchases.
Investors have displayed a "show me" attitude and remain skeptical about the validity of Cameron's recovery. I will take the other side of that argument by recognizing another good earnings report by the company when they announced 4th quarter earnings on Jan 30, 2014. In that report management laid out a plan to fix the issues that have been primarily isolated to the Drilling division within its Drilling & Production Systems segment. The capacity investments and personnel changes have been made and should start to show up in mid-2014 through margin expansion.
Additionally, Cameron has begun to push pricing due to the increasingly engineered process of BOP (Blow out preventers) construction, which should also start expanding margins in late 2014. Combine these initiatives with the increased capabilities due to its joint venture with Schlumberger, and I suggest Cameron is positioned to gain market share in the subsea realm.
Going into February 2014 the energy sector was one of the most under-owned sectors by investment managers as reported at "SmartStocks" .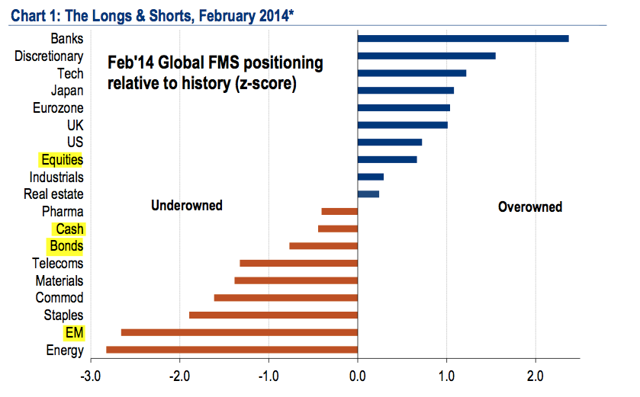 Money has now started to find a home in these areas as the rebound in the E & P oil names has been sharp. Stocks like Concho (NYSE:CXO), Pioneer (NYSE:PXD), and Whiting (NYSE:WLL) have all rocketed higher. While an integrated energy name like Chevron (NYSE:CVX) has risen from 109 to just under 124 since February 1.
The Energy sector has suffered the last two years from negative earnings growth, and negative revenue growth as well, but that may be about to change and the recent money flow could be signaling just that.
The forward estimates are now suggesting the first year-over-year growth for the energy sector in two years, as we move through 2014. The second-quarter estimates are looking especially strong, although we won't see those earnings reports until mid-July, 2014.
The ever present search for quality names that still possess good upside potential with an expected growth rate of 22% next year uncovers a stock like CAM. This compares to the industry average growth for next year pegged at 11.5%, and compares favorably to a solid company like National Oilwell Varco (NYSE:NOV), who comes in with a 13.5% growth estimate.
Cameron stands to generate substantial FCF, to the tune of about $700 million in 2015, or +$3.35 per share (5.5% FCF yield). This has already started to be returned to shareholders through buybacks, with $780 million having being repurchased YTD and its authorization recently being upped by $500 million.
2014 EPS estimates are within a range of $3.64-$4.05 with a consensus average of $3.83, leaving Cam selling at a respectable 16x 2014 earnings. Next year growth is expected to take those earnings per share to approximately $4.80 and a resulting PE of 13.
Therefore, I believe Cameron provides an attractive entry point into the Oil Service sector as a core Oil Service holding with a good growth profile that is focused on returning capital to shareholders.
Disclosure: I am long CAM, CXO, PXD, WLL. I wrote this article myself, and it expresses my own opinions. I am not receiving compensation for it (other than from Seeking Alpha). I have no business relationship with any company whose stock is mentioned in this article.
Additional disclosure: I am long numerous equity positions all of which can be seen in my Instablog. Please be advised : "It is my intention to present an introduction to this security and state my intent and position. It should be used as a 'Starting Point' to conduct your own Due Diligence before making any investment decision."