Panera Bread (NASDAQ:PNRA), along with Chipotle Mexican Grill (NYSE:CMG), operate in the same fast-casual, upscale segment. In my piece on CMG, I argued that though the company is executing well, it is priced to meet a very high bar, and any slippage from its current levels of performance could result in a disproportionately high pullback. In this article, I analyze Panera with a similar lens and conclude that, contrary to CMG, Panera's valuation leaves room to the upside. Panera sports a P/E of 25, which is around 50% of CMG.
Store growth
Store growth and store profitability, on both owned and franchised stores, will be the driver of Panera's performance going forward. PNRA owns the "better" soup, salad and sandwich category, and calls its stores "bakery-cafes". As of Dec 31, 2013, Panera along with its franchisees operated 1,777 bakery-cafes across the US and Canada, with a mix of 867 owned stores and 910 franchised. Total store count has grown from 1,380 stores in 2009 to 1,777 in 2013. Owned stores grew at a CAGR of 10%, from 585 to 867; while the growth in franchised stores was more modest (795 to 910). However, since 2011, the rate of growth in franchised stores has increased (going from 801 stores to 910).
Going forward, Panera's management has indicated a range of 115 to 125 store openings in 2014, with the majority of those being company-owned stores. In the model, I have assumed 10% growth in owned stores and 4% in franchised stores going forward. At this rate, Panera will have double its store count by 2020, with 1,726 owned stores and 1,197 franchised stores.
Sales/store growth
PNRA communicated between 2-4% store growth in its last earnings call. For the model, I am assuming 4% same store sales growth in 2014, growing to 5% after that through 2020 driven by the investments in IT to increase throughput. This is in the range of historical performance, which has ranged between 4.5% and 7.5% for owned stores and 3.4% to 8.2% for franchised stores (2010-2013). The following chart shows the trend of store count and per store revenue, with the mix of owned and franchised stores: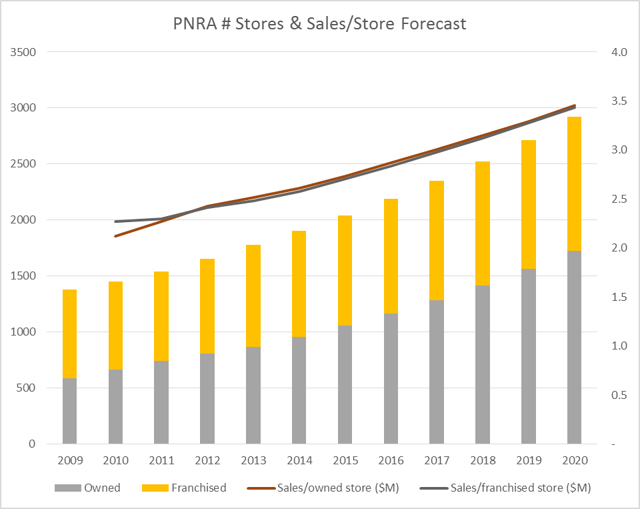 Click to enlarge
Source: PNRA 10-K; Aurium Investments analysis
Operating Expenses
PNRA's operating margins are expected to be pressured in 2014 by the investments the company is making in IT, as well as increased labor costs. I believe these investments are opportune and should result in increased throughput by allowing Panera to service take-out orders much faster than it is able to at the moment. These investments should allow it to increase same-store sales, especially to take-out customers, at a faster clip.
For store-level operating expenses, I assume that margins contract to 18.4% in 2014 driven by increased labor and marketing costs, and that these margins stay stable. On other operating expenses, G&A grows 20% in 2014 in line with the guidance laid out at the earnings call, and then decreases as a % of revenue as the company leverages these investments. There could be further upside in G&A, as I am still assuming fairly substantial dollar growth.
Franchising royalties
Franchising royalties are potentially a source of high-margin revenue for Panera. The company receives approximately 5% of revenue from franchised stores as royalty, and I am assuming this continues. Royalties essentially drop 100% to the bottom line, hence as the mix of stores shifts towards owned, optically there is a decrease in total company operating margin. If the company is able to attract a higher number of good-quality franchisees, this could result in further upside to revenue.
Attached is a chart showing the forecasts of owned store operating expense and total company operating margin: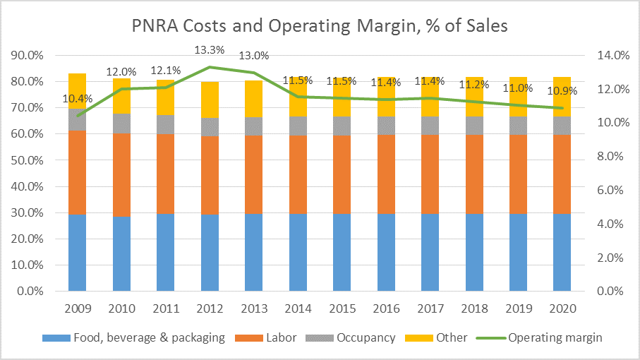 Click to enlarge
Valuation
After factoring in these growth and expense assumptions, I use a discount rate of 11% and a terminal growth rate of 6% for PNRA. Using these assumptions, I get to a fair market value of $184 value for PNRA, which implies 14% upside to today's share price. The complete valuation Excel is below: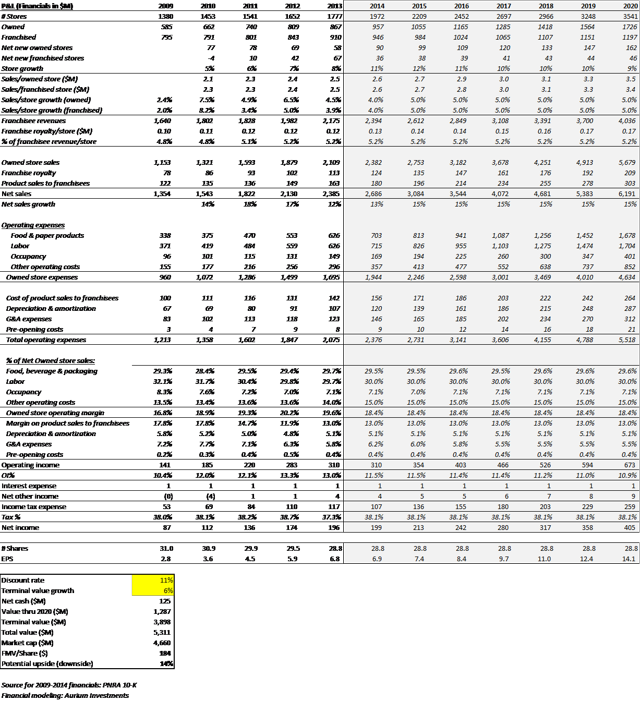 Click to enlarge
Conclusion
Similar to CMG, PNRA is a high-quality company that is serving a growing market. Unlike CMG however, the expectations for PNRA seem to be more muted, although PNRA has arguably the more scalable business model due to its franchisees. International expansion is also a potential driver of added upside, because of the nature of its offerings (soup, salads and sandwiches are pretty international tastes). The company is investing heavily in the short term to increase its throughput and serve customers better. PNRA is a buy.
Disclosure: I have no positions in any stocks mentioned, and no plans to initiate any positions within the next 72 hours. I wrote this article myself, and it expresses my own opinions. I am not receiving compensation for it (other than from Seeking Alpha). I have no business relationship with any company whose stock is mentioned in this article.
Additional disclosure: I am short PNRA put options.