Magnum Hunter Inc's (MHR) owns some 99,000 net acres in the Utica Shale, so maybe it is only natural it owns one of the fastest growing midstream pipeline gathering systems in this area, Eureka Hunter. Eureka Hunter is strategically located in the heart of the Marcellus "wet gas corridor" of WV and the Dry Utica shale of eastern Ohio. This system has 100 miles of mostly 20" pipe with a 350+ MMcf/day current design capacity which can be expanded. This system interconnects with many larger interstate pipelines and processing plants, like MarkWest Energy Partner's (NYSE:MWE) Mobley and Sherwood plants, for example. These plants are critical as they transform NGLs and other resources into profits for producers. Specifically, the Mobley plant processes NGLs and boosts the product price by $.75-$1.25 per wellhead MCF, a 20%-30% increase.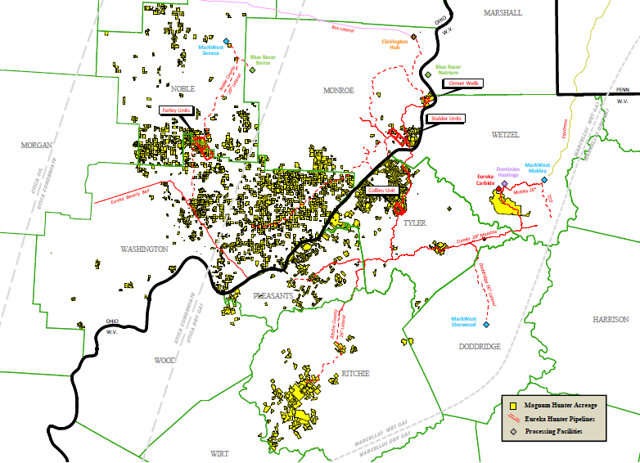 Eureka is managed to have stable cash flows from long-term contracts with 10-year minimum life spans. MHR currently owns ~48% of Eureka, while a supportive financial backer with deeper pockets, Arclight Capital Partners, owns ~42%.
Pipeline Expansions & Growing throughput volumes:
As per the Feb 2014 conference call, Eureka plans to spend $155 M in 2014 on expansions, which will add 40-50 miles of pipeline. One long-awaited project to completed in Q3 2014 is the Ormet lateral. This will connect to Triad's rich Marcellus gas and the Crescent line, which will head north towards REX, Dominion Resources (NYSE:D) and TETCO. This connection was due in Q2 of 2014, but was delayed due to a very harsh winter in the region.
Volumes have grown incrementally from 39,743 MMBtu/day in January 2013 to 159,470 MMBtu/day for YE 2013, a 3x increase. For 2014, recent February volumes averaged 171,600 MMBtu/day, and guidance projects 2014 YE midpoint volumes of ~325,000 MMBtu/day, roughly doubling over the 2014 time frame. This exciting growth is expected to continue for quite some time, as Eureka Hunter is expected to surpass the 1 BCF/day mark by year end 2017 and could reach 1.2 BCF/day by 2019. Through this long-term time frame, this system will rely less on MHR's production and more on other E&P's. You could say sources of volume become more diversified as time goes on.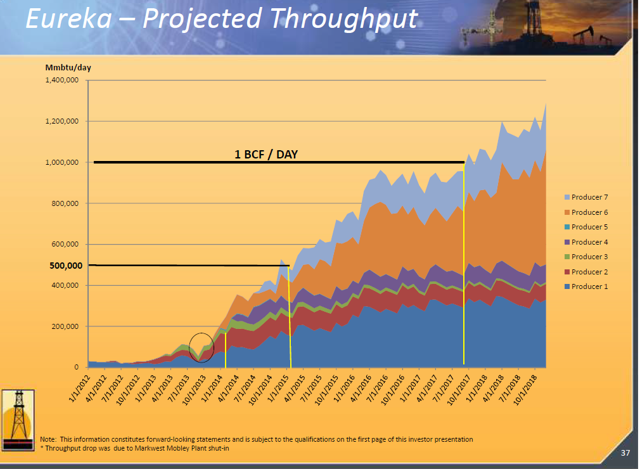 In addition to pipelines, Eureka Hunter owns TransTex Hunter, LLC, which was originally founded in 2006 and acquired in April of 2012. This is a network of smaller-sized treating plants for natural gas production, in which 38 units are currently in place for 19 different customers. The majority are located in Texas, in which 90% of revenue is generated from 24-36 month lease agreements. The majority of plants stay in place beyond the original term.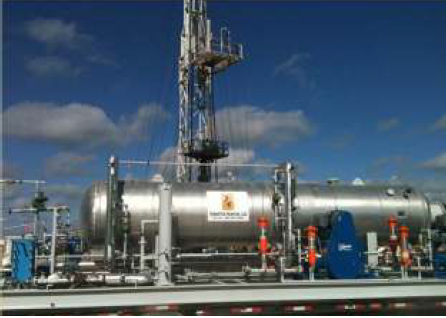 So what does a flourishing pipeline system and a niche TransTex business mean to the bottom line for MHR?
As per Slide 53 of MHR's recent presentation, the Eureka system is worth between $750 M and $1 B, therefore MHR's 60% equity ownership is worth between $420 M on the low end and $570 M on the high end. But how does MHR derive these valuations?
As per a recent March SEC filing, it appears MHR could be fine tuning Eureka for a spinoff in the future, as this reports seems to tune the ownership proportions between MHR and Arclight, since some of the original agreement terms were altered. One interesting paragraph says that if an IPO conversion takes place, up to 25% of the GP interests may be set aside for management equity incentives. This filing also provides audited financials, something Sandridge Energy (NYSE:SD) wish it already had for its $1 B MLP spinoff of a midstream water disposal well network.
As per this filing, for FY 2013 Eureka had $34 M in revenues and $24.2 M in gross profits, a gross profit margin of 71% for FY 2013. Most importantly, EBITDA for 2013 was $17.1 M.

For an MLP spinoff, we could normally slap a 10-15x multiple with no problem. For example, Enterprise Products Partners (NYSE:EPD), a well established larger MLP with slower growth, yet moves lots of NGLs like Eureka, trades in this range consistently. However, Eureka Hunter is growing volumes 100% per year. I might add, Eureka is located in a prime shale area, connecting producers to much desired processing plants and interstate pipe. Therefore, I believe Eureka could see a 20x-30x multiple TTM EBITDA numbers multiple quite easily. Obviously, at a 100% CAGR from now to 2019 as volume predictions indicate, an even higher multiple is conceivable, especially if we assume the shale deposit's development accelerates and/or becomes more populated with producers therefore keeping pricing high. For arguments sake, let's try 30x $17.1M 2013 EBITDA = $513 M. Comparing this to management's $750 M-$1 B used in the presentation, we can see management has placed a 43x low end - 58x high end TTM EBITDA multiple on Eureka.
Summary
Eureka midstream has fantastic assets in what could be the country's most prolific shale play, and it seems growth and infrastructure in the area is still in its infancy.
Because of a 100% CAGR over the next 4-5 years, MHR may be best off holding onto these assets before spinning them off to unlock shareholder value. I think getting a respectable multiple considering the phenomenal growth rate could be difficult, as the MLP market may shun the EBITDA multiples the company rightfully deserves.
MHR shareholders will probably be best off riding the growth a bit longer than spinning off Eureka at a later time, rather than selling off these assets now and attempting to get pristine multiples.
I believe if the acreage surrounding the Eureka network develops further, more producers will sign with the system for long-term commitments and could raise growth prospects even higher than they are now. Despite light-speed growth rates into the future, management's 43x low end/58x high end TTM EBITDA multiple is fairly valuing Eureka at the current time, but it still it could be hard to spin off the assets as these high prices.
Disclosure: I have no positions in any stocks mentioned, but may initiate a long position in SD over the next 72 hours. I wrote this article myself, and it expresses my own opinions. I am not receiving compensation for it (other than from Seeking Alpha). I have no business relationship with any company whose stock is mentioned in this article.
Additional disclosure: I have owned equity and/or option positions in (MHR) and (EPD) over the past year. I may initiate new positions at any time. I may have indirect exposure to (D) through holdings in (NYSEARCA:XLU)