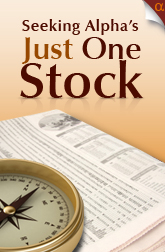 Several times a week, Seeking Alpha's Jason Aycock asks money managers about their single highest-conviction position - what they would own (or short) if they could choose just one stock or ETF.
---
[Editor's note: Apple reports earnings after the close today; analyst consensus expects EPS of $3.10 on $14.74B in revenues. (preview)]
After working at UBS Wealth Management and Wachovia Securities, Michael Grizzard founded Elemental Capital Management, an RIA based in Richmond, Va., that manages money for individual and institutional clients.
If you could only hold one stock position in your portfolio (long or short), what would it be?
I would own Apple Inc. (NASDAQ:AAPL).
Apple is one of the most innovative and forward-thinking companies on the planet. It is benefiting from a variety of product successes and it is in great shape financially.
How does that choice reflect your investment approach?
At Elemental Capital Management, LLC, I seek to identify companies that possess significant competitive advantages and/or are clear market dominators. In Apple's case, their iTunes franchise is probably the most obvious example of market dominance. No one else comes close to the market share or usability that Apple possesses.
The company also benefits from owning a piece of the consumer's mind; similar to McDonald's (NYSE:MCD), Coca-Cola (NYSE:KO), etc. (Elemental owns McDonald's, Coca-Cola, and Apple in client accounts. Michael Grizzard owns Apple in his personal account). When you think of portable music or smartphones, you probably picture iTunes and the iPhone.
So it's safe to say that a wide competitive moat is your most important consideration?
Yes, absolutely.
Over the years, I've had the privilege of working with some incredibly smart and very talented investors. If there was one thing they all told me, it was that there's no point in owning shares of the second-best company in any given industry. A lot of investors try to mimic Warren Buffett in this regard. But I think we underestimate how difficult it is to, one, identify a company with a wide competitive moat and, two, stick with that company even when the stock is out of favor.
I'll be the first to admit that, sometimes, it can be very difficult to pull the microscope back and think about the bigger picture. Most investors can't help but get swept up in the "herd" mentality and they lose sight of the long-term fundamentals. Hopefully, when that happens, I can take advantage of the opportunity and buy more shares.
Can you talk a bit about the sector? How much is your selection based on Apple's industry, as opposed to a pure bottom-up pick?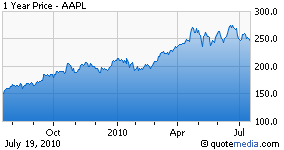 The technology sector is benefiting from a variety of tailwinds right now, such as emerging market growth, a PC upgrade cycle, smartphone adaptation - and some of the largest companies, like Apple, Google (NASDAQ:GOOG), and Cisco (NASDAQ:CSCO), all of which Elemental owns for clients, are loaded with cash on their balance sheets.
At Elemental, we try to identify long-term investment themes and then choose the market dominators in the sectors and industries that should benefit the most. All three of these companies should benefit from these trends in one way or another. But Apple, in our view, is clearly the most dominant.
How is Apple positioned with regard to competitors?
Apple really doesn't have any competitors to their iTunes/iPod products. A lot of companies have tried to play in that space and they've all been driven to the sidelines. The smartphone market is probably going to come down to two competitors, Apple and Google.
Google's open source operating system is gaining market share, but the iPhone is still a leader. Most important, Apple is greater than the sum of its parts. If you think about it, iTunes was really a "Trojan Horse" that drove consumers to purchase Mac computers. I think the iPhone/iTunes/Mac platform is unique. No one else has been able to come up with a combination of products that work as harmoniously together.
While revenues from the Macintosh have been shrinking as an overall piece of the Apple pie (estimated 26% of revenues this quarter, compared with 38% a couple of years ago), they're still growing and are on pace to surpass last year's $13.9B. While Apple has competitors on a few different fronts, is it still able to compete effectively with DELL and HPQ by using iPod/iPhone to drive sales of the Macintosh system?
Good question. Indeed, last quarter (ended March 27), Mac products accounted for 28% of Apple's total revenues, but as you pointed out, sales were still up 45% from the previous year. So while the Macintosh division may be declining as a portion of total sales, this is a function of Apple's success in growing the overall business. In other words, the Mac slice of the pie might be getting smaller, but the whole pie is getting bigger.
As of the end of the second quarter, Apple's share of the U.S. PC market is around 8.8%, up from 8.6% in Q2 2009, reflecting an annual increase of approximately 15%, according to IDC (IDC Worldwide Quarterly PC Tracker, July 14). Macs are still taking share, and clearly, as I mentioned, Mac sales are still growing strongly. So yes, I do believe iPod/iPhone sales will continue to drive Mac sales and help Apple win market share, but to some degree, this has already become a self-fulfilling prophecy.
Apple's dominance with the iTunes/iPod franchise has driven Mac growth in recent years, and the success of these businesses, along with the iPhone and now the iPad, has allowed Apple to expand its retail presence, both in terms of opening its own stores and the relatively recent sales initiatives at Best Buy (NYSE:BBY) stores. As consumers become better acquainted with the Apple brand and operating system, all of Apple's products should continue to benefit. Hence the larger "pie."
Do you think the iPad will cannibalize some of Apple's PC revenues, especially as we go into back-to-school season?
No, not to a significant degree or anytime soon. I think the iPad is a new category altogether and I don't foresee a large percentage of students opting to purchase an iPad instead of a laptop or a desktop. For now, I think people buying iPads are kind of like the early adopters of cell phones, most of whom kept their landlines for many years before wireless phones became ubiquitous.
Down the road, iPads and netbooks may replace other Macs and PCs, but that will require a much greater build-out of both the wireless infrastructure and the cloud computing infrastructure, which could take several years.
How does Apple's valuation compare to its competitors?
Apple also appeals to me on a fundamental valuation basis. As of today, Apple shares are trading for roughly 18 times fiscal 2010 (September 2010) earnings and 15 times 2011 (September 2011) earnings. The company is expected to grow earnings by almost 17% per year for the next five years, which would give Apple a PEG ratio of around 1.1.
It's quite possible, in my view, that earnings get revised up in the coming quarters. Apple has a habit of being conservative in their guidance and the company has beat estimates by 30% or more in each of the past four quarters.
I would also add that Apple has zero debt on its balance sheet, and more than $25 per share in cash.
Does your view differ from the consensus sentiment on Apple?
I think most sell-side analysts are yet again underestimating Apple. In my opinion, Apple should trade with a P/E of 25 times this year's earnings, which would give you a stock price of about $344 per share. That's a 37% increase from where shares are trading today.
As you mentioned, many expect Apple to lowball estimates and then mark big beats - but yesterday, Stifel Nicolaus' Doug Reid (who still has a $340 target himself) says that gross margins could miss at 38.8%, vs. 39.5%. Apple says iPads (at least) are being priced aggressively; do you think component shortages could be a red flag for margins across the product lines going forward?
Great question.
Component shortages and margins are always a concern. You could also add to the list the recent wage increases at a number of Apple's Chinese suppliers (Foxconn, Hon Hai, etc.). I can't make a comment on a number that doesn't exist yet, though. So let's wait and see what Apple reports. I will say that Apple has $40 billion in cash and zero debt on its balance sheet. That kind of financial strength should give the company lots of bargaining power.
Does Apple management play a role in your selection?
A lot of investors have talked about Steve Jobs' health and how it might affect the stock price should anything happen to him. Personally, I think this is overblown. My research and industry contacts tell me that Jobs has cultivated a unique culture at Apple, and COO Tim Cook, who ran the company when Jobs was out for medical leave, is a seasoned and widely respected operator. They also have a brilliant marketing team in place.
Perhaps most important, the company has really become so entrenched with consumers that it would take several serious missteps and a change in branding to lose their lead on their competitors. I would also add that McDonald's has managed to do pretty well since its founder, Ray Kroc, passed away in 1984.
What catalysts, near-term or long-term, could move AAPL stock significantly?
Near term, I think we could see shares under pressure as a result of the recent headlines about Apple's iPhone 4. Reports suggest that the phone is having some reception and antenna problems, but this is not that uncommon for the first iteration of a new device and I'm confident Apple will have it rectified soon. The next catalyst I see is when Apple reports earnings for the fiscal third quarter [today, after the close]. That should give investors further insight into the consumer's health and the strong demand for all of Apple's products. I think Apple will report stronger earnings than many expect.
What's your take on Friday's iPhone press conference? Is "Antennagate" much ado about nothing, or something the company should've taken more seriously, such as with a recall? Are you satisfied?
I think the antenna issue is a nonevent and a total recall was certainly unwarranted. Ask any iPhone 4 owner if they are bothered by the antenna issue and you will likely hear, "yeah, but…" In other words, most consumers are very happy with the product and they have faith that Apple will get it right. I think providing customers with a case should assuage any fleeting dissatisfaction with the device.
What could go wrong with your pick?
If the broader economy doesn't pick up and unemployment stays elevated for a significant period of time, it could have adverse consequences for Apple. Consumers need money and they need jobs to make money. If the economy suffers from a "double-dip," then Apple's growth (along with everyone else's) could be slower than I anticipate.
Apple could also be the target of regulators as its dominance grows, just like Microsoft and Google before it. I don't anticipate this will derail my thesis in any way. However, it may add some pressure to the stock via headline risk.
Thanks, Michael, for sharing your ideas with us.
Disclosure: Michael Grizzard and Elemental Capital are long AAPL.
Read more Just One Stock articles »
If you are a fund manager and interested in doing an interview with us on just one stock or ETF position you'd hold, please email Rebecca Barnett.