Over the past six months, numerous Seeking Alpha articles have discussed the companies poised to benefit from the emerging trend of natural gas transportation, including Westport Innovations (NASDAQ:WPRT), Hexagon Composites (OTC:HXGCF), Quantum Fuel Systems (NASDAQ:QTWW), Power Solutions International (NASDAQ:PSIX), Clean Energy Fuels (NASDAQ:CLNE) and Fuel Systems Solutions (NASDAQ:FSYS). While each of these stocks has controversial aspects to their long thesis and will experience varying orders of magnitude of benefit, it is hard to deny that the market adoption of natural gas based transportation is gaining speed. I won't re-hash all the points here, but:
Natural gas continues to be significantly less expensive than diesel
Numerous regional or return-to-base fleet applications involving light-to-medium duty vehicles such as buses, delivery vans, and refuse trucks have switched to natural gas, with penetration rates reaching 60% or more of new vehicles in some applications
Launch of the Cummins Westport ISX12 G engine in 2013 marks the inflection point for the Class 8 trucking market
Research organizations now forecast that natural gas could fuel 15-35% of Class 8 units by 2020
The Market Has Voted - CNG is the Winner, For Now at Least
While these broad trends are clear, much debate has centered around the ultimate mix between Compressed Natural Gas (CNG) and Liquefied Natural Gas "LNG". In short, all natural gas engines burn the fuel in a gaseous state, but the truck type, route characteristics, refueling station density and price at the pump will dictate whether the fuel will be stored in the form of CNG or LNG. I have summarized some of the pros and cons below.
CNG Pros & LNG Cons
According to the Alternative Fuels Data Center 691 public access CNG refueling stations are available as of April 19, 2014. Only 54 public access LNG stations are available on the same date.
According to various reports approx. 8 - 10 new CNG stations are being built for every new LNG station.
CNG is approx. $0.75/DGE cheaper than LNG.
CNG does not evaporate if not used and can stay in fuel tanks for an unlimited amount of time. LNG evaporates after 5+ days if not used.
CNG does not require personal protective equipment when refueling. LNG refueling does.
Maintenance of heavy duty CNG vehicles can be carried out at any facility that is trained to handle natural gas trucks. LNG trucks can only be serviced at facilities that have got additional equipment and certification.
CNG Cons & LNG Pros
CNG fuel tank packages usually weigh more than comparable LNG packages and are also slightly more expensive assuming equal range requirements.
LNG is denser than CNG, which also means greater range can be achieved before refueling.
CNG fuel tank capacity cannot be fully utilized, so effectively 10-15% of the design capacity is unavailable under normal operating circumstances. Close to 100% percent of LNG tank capacity is available.
For these reasons, nearly all return-to-base route applications use CNG. What remains less certain, and is still a controversial point in the market place and amongst investors, is the eventual mix of CNG and LNG longer-term in the Class 8 or heavy duty truck market.
I have spoken extensively with industry players throughout the natural gas vehicle value chain. What remains clear from my conversations, particularly those with fuel systems companies that configure and equip vehicles, is that 85% or more of heavy duty trucks to date have been spec'd for CNG, and most participants believe this high percentage of mix will remain intact. In short, the material cost advantage of CNG at the pump, the ability of CNG fueled trucks to achieve ranges up to 750 miles, and avoidance of the infrastructure issues that plague LNG have been the deciding factors.
Love's, the truck stop company, has produced a very useful assessment of the issue and their justification for using CNG. However, debating this point is not the central purpose of this article and I have written several other articles that explore this topic in great depth. The main point is that the market for CNG based fuel systems is poised for enormous growth.
Huge CNG Tank Opportunity Driving Monster Stock Price Gains
CNG fuel tanks easily make up 50% of the cost of CNG fuel systems. There are four types of CNG tanks:
Type I: 100% metal cylinder
Type II: Metal cylinder reinforced with composite wrap around the middle of the tank
Type III: Usually aluminum tank reinforced with composite wrap around the entire tank
Type IV: Gas tight plastic liner with a composite wrap around the entire tank
Type I tanks are the heaviest with type IV tanks as the lightest (typically 70% lighter than type I tanks). For Class 7 & 8 applications type I and type II tanks are usually left out of the picture due to weight. Type III tanks can only be manufactured cost effectively with diameters between 16-21 inches. As a result, and with a few exceptions, type III tanks are currently used for light-to-medium duty trucks or vehicles with local or return-to-base route characteristics such as refuse trucks. Luxfer Group (NYSE:LXFR) and Worthington-SCI (NYSE:WOR) are the two leading suppliers of type III tanks.
Due to their lighter weight and lower cost, type IV tanks are used for heavy duty Class 8 trucks, but also dominate the refuse and transit bus market. Investors have focused much more attention on this market due to (1) the higher overall fuel system selling price given the larger fuel capacities of the trucks targeted, and (2) the huge anticipated growth of natural gas fueled Class 8 trucks. Based on an estimate I have put together using multiple data sources, the type IV tank market is likely to grow from about $120 million in 2013 to more than $1 billion in 2020.

The North American type IV market is currently dominated by Hexagon Composites and Quantum Technologies. The CNG tank market is booming and fuel system companies are currently severely supply constrained. Due to the tight market conditions it seems reasonable to expect that average selling price per tank, currently in the $4,000 to $4,500 range, will hold firm.
In fact Hexagon's CFO recently commented that the company expects tank margins to hold steady, or improve, even as production capacity expands significantly. As a result, tank customers are highly desirous of additional suppliers to help the industry meet demand. Thus, the CNG tank market is unlikely to be a zero sum game.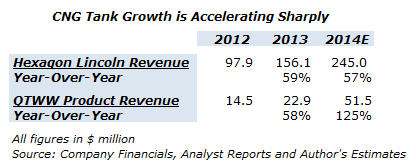 Both companies are expanding annual production capacity. Hexagon Lincoln is currently expanding capacity in two phases, with the first phase completed in 1Q 2014 and the second phase scheduled for completion in 1Q 2015. Hexagon's production capacity is expected to be approx. 200,000 type IV tanks per annum from 2Q 2015 onwards. QTWW is expanding from approx. 12,000 type IV tanks today to approx. 20,000 tanks per annum by 4Q 2014.
Not surprisingly, the stock prices of these two companies have responded in kind, making the 27% gain in the technology heavy NASDAQ Composite over the past year look rather pedestrian.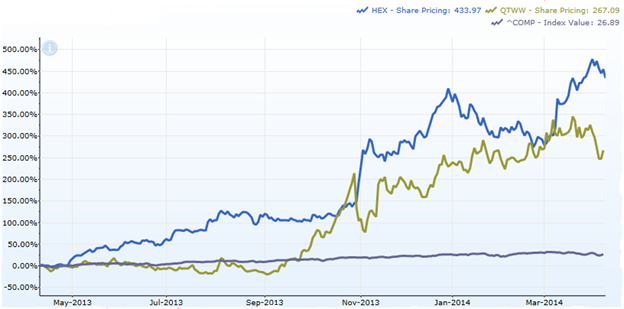 Given such stellar stock price performance, it can be worthwhile surveying the industry landscape to find a company that is an exciting, yet largely undiscovered, play on this exciting secular theme.
Luxfer Group is Entering the Type IV CNG Tank Market
Founded in 1897, LXFR is a relatively little known UK-based company that only listed in the U.S. in 2012. The company generated $481 million in revenue in 2013 and has two distinct business units, specialty materials and gas tanks, each of which accounts for about half of revenues. The specialty materials business supplies high performance magnesium powders and alloys and zirconium compounds used in a range of aerospace and automotive applications. While these are admittedly niche markets, LXFR has established itself as a leading supplier of these materials.
What is really exciting about LXFR is its gas tank business. LXFR has long been a leading supplier of aluminum high-pressure gas cylinders. One of their most profitable businesses is supplying self-contained breathing apparatus (SCBA) tanks for firefighters, but they also sell into a range of medical and other markets.
The company entered the natural gas transportation market in 2007, and its type III CNG tank business is currently contributing approx. $50 million in revenue per annum and is split evenly between vehicular and storage applications. As discussed, type III tanks are largely used in light/medium duty vehicles or for refuse trucks or buses running local routes. LXFR has been successful in penetrating this market by offering tanks differentiated by their boss design, material liner, and proprietary wrapping patterns, which taken together result in lighter weight versus the competition. For example, LXFR won a major contract to supply CNG tanks for buses in Dallas.
The company believes it has approximately 60-65% share of the type III market and that its competitors have invested little in product development in recent years. While some fuel system companies such as Trilogy have experimented with type III tanks in larger capacity back-of-cab configurations for heavy duty vehicles, the larger the tank (and thus the more metal used), the greater the price advantage of type IV CNG tanks.
Consequently, LXFR currently sells type III tanks into the regional / return-to-base vehicle market, as these applications require less aggregate storage capacity. In addition, LXFR is planning to introduce new 18-21 inch diameter type III tanks, a size that few suppliers can produce cost effectively. This will further improve their positioning in the type III CNG tank market as well as allow them to compete for heavy duty truck applications requiring higher capacities.
LXFR has been targeting the type IV market for several years. By developing proprietary wrapping patterns and experimenting with different denser polymers, LXFR is confident it can offer a type IV tank that offers competitive relative storage efficiency. LXFR acquired Dynetek Industries in 2012 to complement its type III efforts, but interestingly ended up discovering that the Dynetek team had developed a unique boss design, another element it needed for its own type IV tanks.
Market intelligence indicates that LXFR has recently received approval from the Department of Transportation for a type IV tank design that will scale up to 26 inches in diameter. While LXFR does not plan to formally introduce their first type IV product to the market until the ACT Expo in May, the company is rumored to already have received commercial orders.
More recently, LXFR announced the acquisition of Vexxel Composites, a small private company that has significant type IV tank expertise and has developed the type IV tank that 3M (NYSE:MMM) brought to the market using their proprietary polymer. Although 3M's entry into the type IV market was much ballyhooed and was viewed as a serious competitive threat to incumbents Hexagon and QTWW, it seems that this product has only experienced modest commercial traction due to the high cost of the resin wrap developed by 3M and quality issues when design changes were made to offset the higher costs. Vexxel is still contracted to manufacture these tanks for 3M, but LXFR largely views the acquisition of Vexxel as an opportunity to materially expand its type IV tank capacity and gain significant type IV tank and composite expertise. Specifically, LXFR believes its Riverside facility can produce 2,000 type IV tanks per annum and that by acquiring Vexxel it can add another 4,000 tanks per annum of capacity. At $4,000 - $4.500 per tank, this equates to about $24 - $27 million of revenue capacity.
While LXFR is just now entering this market, it is clearly considered a credible supplier given its already substantial footprint in the type III tank market. Given industry wide capacity constraints, it seems reasonable to assume that LXFR should be able to secure a meaningful amount of revenue from its type IV business.
LXFR Tank Opportunity Yields Approx. 50% Upside
I forecast that the type III and type IV CNG tank market will grow to $630 million in 2016, approximately 85% of which will be type IV tanks. Assuming LXFR can capture 10% of the type IV market and maintain an approx. 65% share of the type III market, the company should generate over $115 million in tank revenues in 2016. Applying an average 2.7x forward EV / revenue multiple based on where Hexagon and Quantum are currently trading yields an enterprise value for the CNG tank business of about $279 million when discounting it back two years.
Adjusting LXFR's current valuation for the small portion of revenues derived from vehicle tanks in 2013 and adding the implied value of the CNG tank opportunity yields a target stock price of more than almost $29, representing approx. 50% upside from today's levels. This ignores potential upside from the light/medium duty truck opportunity, and thus may prove to be conservative.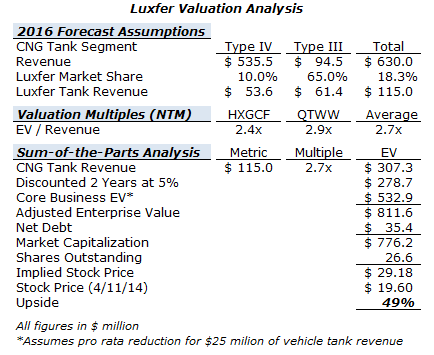 Moreover, investors should have confidence in LXFR's ability to execute on the CNG tank opportunity. While not playing in the sexiest markets, LXFR management has clearly demonstrated a thoughtful and financially disciplined approach to managing the business.
Summary
The CNG tank market in North America is booming and type IV CNG tanks have become the preferred option, with Hexagon Composites and Quantum Fuel Systems as the number one and two suppliers in this market.
LXFR has a conservative balance sheet, a history of generating free cash flow, has consistently generated after-tax returns on invested capital above 20%, and pays a 9.5 cent quarterly dividend per ADS.
The company has also spent the last couple of years prudently positioning itself in the type IV CNG tank market and LXFR shareholders are poised to reap significant benefit as the company launches itself as the likely "number three" company in an industry niche that is expected to grow exponential for many years to come.
Disclosure: I am long HXGCF. I wrote this article myself, and it expresses my own opinions. I am not receiving compensation for it (other than from Seeking Alpha). I have no business relationship with any company whose stock is mentioned in this article.
Editor's Note: This article discusses one or more securities that do not trade on a major U.S. exchange. Please be aware of the risks associated with these stocks.