Facebook Inc. (NASDAQ:FB), a global leader in social media, will report its first-quarter earnings results on Wednesday, April 23, 2014, after the close of the markets.
Following the results, a conference call will take place to discuss the financial results at 5:00 p.m. ET / 2:00 p.m. PT. The live webcast, financial tables and slide presentation can be accessed through Facebook's investor relations website at investor.fb.com.
After beating analyst expectations on both the top and bottom lines the last three quarters, will Facebook be able to beat expectations once again? Let's take a look at the numbers that Wall Street expects.
Wall Street Expects:
Revenue: $2.36B
EPS: $0.24
2014 Q2 Guidance: $2.68B
So how has the Company performed with its earnings reports? The table below shows FB's top line numbers over the past five quarters.
| | | | | | |
| --- | --- | --- | --- | --- | --- |
| FB Revenue History | January 2013 Q4 | May 2013 Q1 | July 2013 Q2 | October 2013 Q3 | January 2014 Q1 |
| Revenue Estimates: | $1.53B | $1.44B | $1.6B | $1.91B | $2.33B |
| Actual Revenue: | $1.6B | $1.46B | $1.8B | $2.02B | $2.59B |
| Difference: | +$70M | +$20M | +$200M | +$110M | +$260M |
| Average: |   |   |   |   | $132M |
Six months ago, I wrote about Facebook (Q3) and showed investors why Facebook was likely to beat estimates by $80M. Facebook ended up beating by $110M based on analyst estimates and $30M past mine. Three months later (Q4), FB blew past Wall Street's estimates and topped my expectations again. While nobody can predict what exactly will happen on earnings day, studying the tendencies gives investors a better idea of what most likely will take place. Management has shown that it can deliver and looks poised to deliver another earnings beat. Based on recent history and what FB has shown, I expect the Company to beat the top line with revenues between $2.38B-$2.40B.
While it's nice to see the top line beat expectations, the other half of the story investors need to watch is what is taking place on the bottom line. A company can earn billions of dollars in revenues, but if it cannot find a way to turn profitable, then what is the point?
Luckily for investors, FB has been able to turn profitable, thanks in part to its strong focus in the mobile department. While companies are struggling to keep up with the mobile front, FB has excelled. This is one of the reasons why FB has beaten expectations four out of the last five quarters.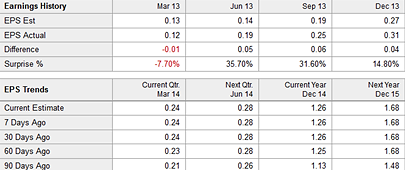 - Source
So will the streak be able to continue? Because of the acquisitions that FB has made this year, it is tough to say. My gut feeling is that FB will come in line with estimates.
Analyst Upgrades
Before FB even reports earnings on Wednesday, Analysts are already expecting big results. I mean, why else would analysts be upgrading shares prior to the release. Yesterday, Credit Suisse's Stephen Ju raised his rating on FB and put shares on an Outperform rating. Ju also raised his price target to $87 from $65, citing higher rate of growth in revenue per user following an analysis of how the company may monetize recently introduced products.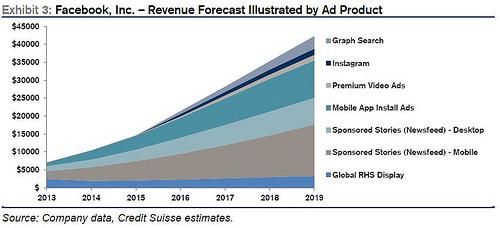 Source: Barron's and Credit Suisse
Ju also went on to talk about how each new FB product launch (sponsored stories, etc.), contributed meaningful results and that he sees FB's future launches (Instagram video ads, Graph Search for advertisers) doing the same thing.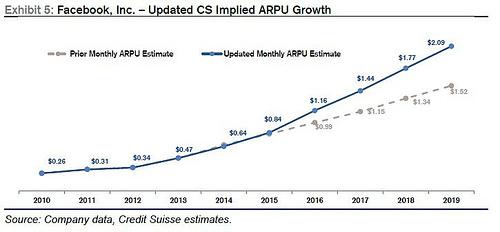 Source: Barron's and Credit Suisse
So how does Ju come up with his $87 price target? Ju's 2015 estimates have revenues coming in at $15.5B, with an EPS of $1.67. For 2016, he believes revenues will come in around $22.6B, with an EPS of $2.77. While you shouldn't bet the farm on analysts' projections and models, seeing what FB has done should reassure investors that the Company has a bright future ahead.
Conclusion
It is no secret that stocks were slammed pretty hard during the mini correction that the market went through. Stocks such as Facebook, Tesla, Netflix, among other momentum and growth stocks, took most of the impact. Facebook dropped more than 20% in March alone.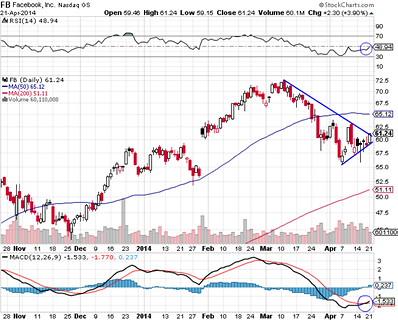 I am no technical professional by any means, but it looks like FB is on the verge of another breakout. Unfortunately for longs, earnings are just around the corner, which could kill momentum if results are not up to expectations. On the other hand, if FB beats estimates again, shares will likely push towards the 52-week high.
So the million-dollar question becomes, should investors sell or hold their shares through earnings? Well, it really all depends on your strategy and outlook of course (short vs. long-term holders). Long term, I believe FB is a winner and offers investors great returns over the years. So if you are in it for the long term, I would avoid all of the noise that is out there and capitalize on the opportunity if shares were to fall into the low $50s again.
As always, I'm providing you with my track record and other particular stocks that I recommend. The link provided will show you all of my picks, how they have fared, and where I think they will be going in the near future. I think you will find my track record to be very impressive and useful.
Disclaimer: Investors are always reminded that before making any investment, you should do your own proper diligence on any stock mentioned in this article. Have a great day, and as always, I look forward to hearing your thoughts or questions that you might have.
Disclosure: I have no positions in any stocks mentioned, but may initiate a long position in FB over the next 72 hours. I wrote this article myself, and it expresses my own opinions. I am not receiving compensation for it (other than from Seeking Alpha). I have no business relationship with any company whose stock is mentioned in this article.