Focus of discussion
Investors may have a variety of reasons for putting capital at risk. They may be seeking additional income outside of employment; accumulating capital against known, scheduled expenses (like college costs for offspring); building financial reserves against unknown hazards; preparing for a comfortable retirement; or even as a means of excitement and amusement.
We focus in this article on wealth-building by capital appreciation in equity investments. Special attention is given to the efficient use (and investment) of time in the process. Our reasons for these concerns are outlined in this previous article.
Income investors and pure defensive capital-protecting investors will likely find a more productive and comforting expenditure of their time and attention elsewhere.
What's Important in Wealth-Building
The four key issues are the same as they have always been: 1) Selection, 2) Timing, 3) Risk, and 4) Reward. We offer for consideration an integrated approach to dealing with all of these in a flexible, adaptable framework that can be easily understood and tailored to individual preferences. But many folks find it runs counter to what is traditionally held to be "acceptable, conservative, proper, and conventional" ways to manage one's investment capital. Further helpful discussion of these issues can be found here.
The criteria we use to search for best equity investment candidate selections from the over 5000 possible alternatives now are:
Current calculable price range forecast - reduces list to 2500+
At least 20 prior forecasts with same upside to downside as now - reduces list to 1762
At least 3 years of daily forecast history available -reduces list to 1314
Upside price prospect to top of forecast at least +8% - reduces list to 874
Prior forecasts subject to Time-Efficient Strategy profits = upside forecast - a list of 71
Prior forecasts under T-E discipline winners at least 7 of every 8 - a list of 30
The list of today's best-bet 30 equities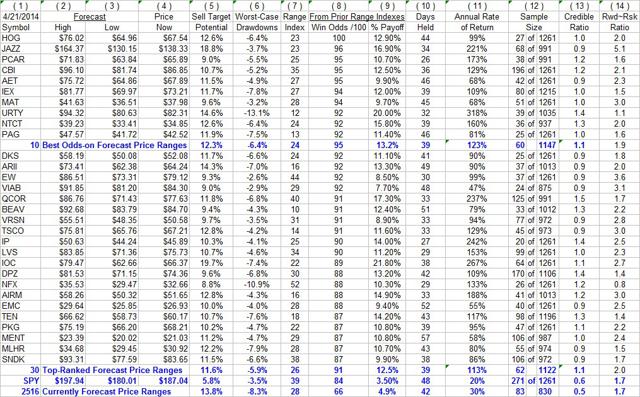 Columns in the above table show the following:
Date of the analysis, Ticker Symbols of the stocks and ETFs
Upper end of the Forecast price range derived from market-maker [MM] hedging
Forecast lower end price
Market quote at end of trading on analysis date
Percent change from (4) to (2)
Average of most severe price drawdowns from (4), in sample experiences of (12a)
Metric of price range between (4) and (3) as a % of (2) - (3)
Percentage of (12a) experiences ending profitably under Time-Efficient Strategy
Average size of net gains among all (12a) experiences
Average holding period of (12a) experiences under Time-Efficient Strategy
Annualized Rate of gain from (9) and (10)
Ratio of (9) divided by (5). A forecast credibility test
Ratio of (5) divided by (6). The reward to risk ratio.
Please invest the time necessary to understand what each of the columns mean. Then test your understanding against this statement: Harley-Davidson (NYSE:HOG) stock in the next 3-6 months might sell as high as $76 or as low as $65, according to the way market professionals demand to be paid for taking the risk that the stock could range that far up or down. In the past five years there have been only 27 days when HOG has been seen to have the kind of upside to downside of today's Range Index of 23. When subjected to a time-efficient strategy discipline limiting any holding to a maximum of 3 months (63 market days), and requirement of a closeout sale on the first instance of reaching the high price forecast, the average number of days the 27 positions were held were 44 market days. It turns out all 27 of them ended profitably, and the annual rate of profit from the nearly +13% gains achieved on average was +99%. The current forecast upside target was encouragingly exceeded by the average gains achieved in prior like forecasts. The prospect of upside gain was at least twice the typical worst price experience of the 27 priors. No guarantee that a buy here must be profitable, but the historic experiences are quite reassuring.
Now these statements may have more meaning for you.
Jazz Pharmaceuticals (NASDAQ:JAZZ) offers a nearly +19% gain potential, at a historic risk of only one fifth of that payoff, and scarcely more than might be encountered in an investment in a market-proxy investment in ETF SPY, which has experienced annual returns only one tenth as large as JAZZ. No contest between the two.
Paccar, Inc. (NASDAQ:PCAR) has seen 38 prior day's forecasts in the past 4 years come up winners in 19 out of every 20 times. The present Range Index indicates 3 times as much upside as down, although past experience has not been quite that good. The performance leverage for PCAR has been in the relatively short holding periods involved in advancing from the low prices involved now and in prior like instances. Average holding periods of only a market day longer than 5 weeks create an annual rate of return well into 3 digits, likely to be a major boost to any portfolio average when accomplished.
Chicago Bridge and Iron (NYSE:CBI), an infrastructure demand play, has repeatedly been seen to provide 2 for 1 proportions of upside to downside price prospects, not a terribly unusual set of experiences. What is unusual is to bring home profits in 95 out of every 100 prior similar forecasts. Profits larger in size than are currently being forecast. Doing that in only 7-week average holdings produces annual rates of return making -5% drawdown prospects quite tolerable for many investors.
Aetna, Inc. (NYSE:AET) is being read by many, apparently, as clever enough to benefit from Obamacare to present nearly 3 times as much price upside as downside. When it has done that in the past, 42 days in 5 years, its Win Odds have been impressive, like many already mentioned. A longer gestation period for holdings brings its annual rate of gains back to only 3 ½ times that of the market-proxy ETF. That's hardly discouraging. Its prospective payoff is better than twice the drawdown potential.
Conclusion
Just because these specific experiences have presented themselves in the past, there is no guarantee they will be repeated currently. They could easily be worse - or even better. But in comparison to the larger population of 2500+ alternatives, or the easy market-proxy ETF the full list of 30 offer pretty attractive investment buy opportunities.
Disclosure: I have no positions in any stocks mentioned, and no plans to initiate any positions within the next 72 hours. I wrote this article myself, and it expresses my own opinions. I am not receiving compensation for it (other than from Seeking Alpha). I have no business relationship with any company whose stock is mentioned in this article.