All eyes were on Netflix (NASDAQ:NFLX) to end the day yesterday - the highly-watched momentum stock was in the earnings spotlight, as investors tried to figure out whether or not yesterday was going to be the day that Netflix's valuation was roped in.
But, for the time being, it looks like Mr. Market continues to think that Netflix's aggressive growth multiple is warranted.
Netflix has had a rather unceremonious last couple of months, pulling back almost 30% in the span of just under two months. Now, it looks like Netflix could restore some confidence back to Mr. Market.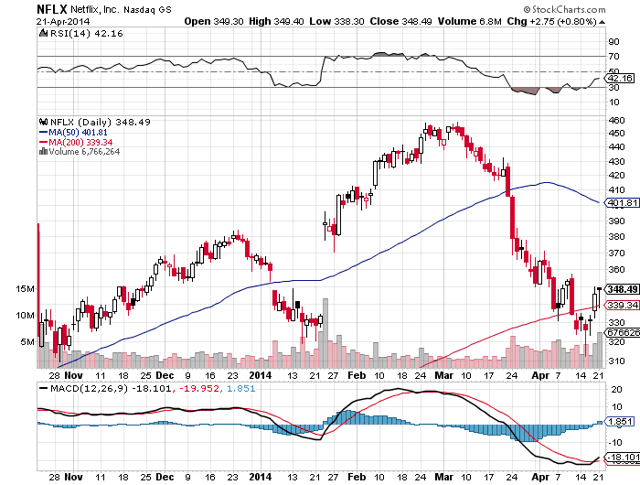 The company released its 1Q earnings results yesterday and beat expectations on the major numbers. They reported EPS of $0.86/share, compared to analyst estimates of $0.83. Additionally, they met expectations on the top line with $1.27 billion. These numbers compare to $0.05/share on $1 billion in revenue reported the same quarter one year ago.
The main metric people were looking at? Subscribers. The company gained 2.25 million domestic subscribers (including me!) in the first quarter, which basically met the 2.25 million that the company had forecasted. Internationally, the company exceeded expectations of 1.6 million by picking up 1.75 million subscribers.
In addition, the company also offered some dovish guidance. Seeking Alpha reported and expanded on some of the details:
Netflix expects Q2 EPS of $1.12, above a $1 consensus. The company plans to raise prices by $1-$2/month (depending on the country) later in Q2 for new members. Existing members will maintain their current prices "for a generous time period."
2.25M U.S. streaming subs were added in Q1, in line with guidance. 1.75M international subs were added, beating a forecast of 1.6M. 200K DVD subs were lost, lowering the total base to 6.7M.
Netflix ended Q1 with 35.67M U.S. streaming subs, and 12.68M international subs. It expects to add 520K and 940K U.S. and international subs in Q2, respectively.
The company declares its international ops are "on a path to achieve profitability this year."
Q1 free cash flow was $8M vs. $5M in Q4 and -$42M a year ago. Streaming content obligations are at $7.1B vs. $7.3B at the end of Q4 and $5.7B a year ago.
The company said on its call that they're continuing to expect international growth to eventually trump domestic growth.
Also, the oft-touted question of whether or not prices would be raised - which CEO Reed Hastings strategically has been dodging on calls and interviews alike for the last few quarters was finally addressed. New customers are likely to be charged an extra buck or two a month for the streaming service. Even though the company might see some negative effect from the coming World Cup, it's confident in its programming and thinks that it shouldn't have an issue raising its prices. After all, most people that are ditching cable like Comcast (NASDAQ:CMCSA) or Time Warner (TWC) are cutting a $40-$60 bill out monthly. I know this, because I'm actually considering ditching cable in favor of just having Netflix. My friends have done it, and they've extended a cultish-like invitation for me to do the same. We'll have to see how it goes.
Additionally, the implementation of Netflix's new original series has proven to be a success. It's hit show, "Orange is the New Black" coupled with "House of Cards" have proven to be magnets - keeping people dedicated to Netflix and subscribed to the service.
Heading into the calls, I was expecting a bullish move, but wanted to hedge. I had read about short interest in the company falling off significantly leading into the call.
In my last article on Netflix, "Netflix Will Move Hard After Earnings: Here's How I'd Trade It", I once again advocated one of my favorite strategies going into earnings for some high-flying momentum stocks. We identified a $330 long straddle as a position that would take advantage of earnings volatility and perhaps offer a hedge to those looking a little uneasy heading into the event.
A $330 long straddle is going to costs us $41.75 - roughly a 15% move in one direction or the other. Normally, this might give me a little pause, but with NFLX's recent plunge, I still contend that there's more volatility on the way for the stock. Additionally, this straddle gives us all of next week to play out as well, in case the stock trends in a direction over the course of a couple of days post-earnings.

This trade is going to put our breakevens at $371.75 or $288.25. Any move in excess of these numbers is going to be profit. For the long term, my outlook on Netflix remains positive, but I hold no other position aside from reserving the right to open this straddle before earnings.
Since that article was penned about 6 days ago, Netflix had already moved $15 to the upside, where it then took off again after hours yesterday. It's now poised to open the day in slightly better than breakeven territory. The trade is a small winner to open up the day today and futures are pointing up to open the days as of 5:00AM CST.
Those with nerves can dump their options as soon as CBOE opens this morning. Those feeling adventurous can hold through the end of the week and see if Netflix's run will have any momentum to it.
I predict we see Netflix at $400 before the start of next week. I think a lot of the 25%+ sell off we saw in the stock over the last few months will be seen as overdoing it a bit, and the stock should claw back some of its gains in the face of its positive earnings news. After all, it's called a momentum stock because it moves with momentum. Today should be the start of an uptrend for the company.
Me? I'll be holding through today's trading, at the least.
Shares opened this morning pre-market at $373.
Best of luck to all investors.
Disclosure: I am long NFLX. I wrote this article myself, and it expresses my own opinions. I am not receiving compensation for it (other than from Seeking Alpha). I have no business relationship with any company whose stock is mentioned in this article.
Additional disclosure: I hold NFLX calls and puts.