BDCs have fallen an average of 7.5% since S&P announced on February 24, 2014 that it would remove BDCs from its indices and was followed by Russell on March 3, 2014. This article will summarize the short and longer term risk exposure to BDCs associated the Russell reconstitution and is a follow up to the following articles:
Here are the details and dates listed on the Russell website regarding the reconstitution: "June is the month that the preliminary reconstitution portfolio is communicated to the marketplace. Beginning on Friday, June 13, preliminary lists are communicated to the marketplace and updates are provided on Friday, June 20 and 27. The newly reconstituted indexes take effect after the close on Friday, June 27."
Russell gave the SEC until May 15 to remove the Acquired Fund Fees ("AFF") reporting requirements for BDCs and this will impact companies with lower trading volumes due to fears of downward pricing pressure. The following table shows the amount of direct institutional ownership related to the Russell indices along with average trading volumes. FS Investment Corp (NYSE:FSIC) is a newly public BDC with no direct exposure to the Russell and both American Capital (NASDAQ:ACAS) and Ares Capital (NASDAQ:ARCC) have less shares as a percentage of total due to being in the Russell 1000 with only 3% of shares compared to the others in the Russell 2000 with 8% exposure.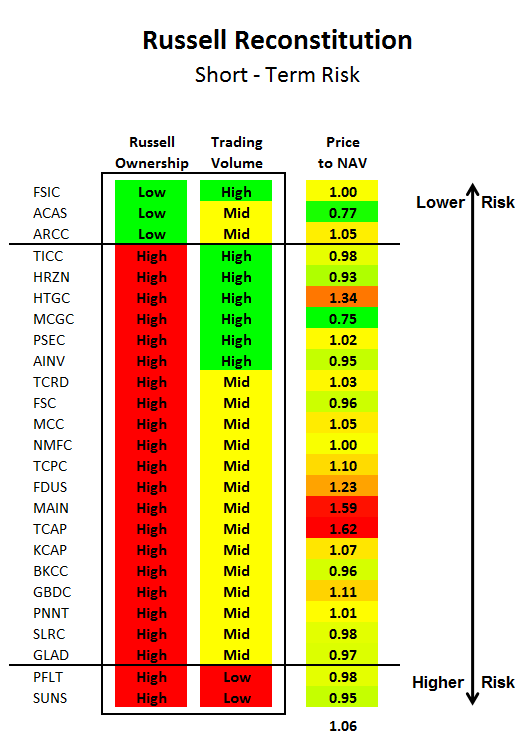 Larger BDCs such as ARCC, ACAS, Apollo Investment (NASDAQ:AINV), Fifth Street Finance (NYSE:FSC), TICC Capital (NASDAQ:TICC) and Prospect Capital (NASDAQ:PSEC) will not be impacted as much due to higher trading volumes. I also believe that higher priced BDCs will see short term price declines that are larger than the average.
BDC management fees and other costs become "acquired fund fees" for a fund owning BDC shares and fund managers are required to report these expenses as part of a funds expense ratio even though these expenses are not actually being borne by the fund. The following table shows BDC expenses as a percentage of 'available income' as discussed in Part 3. Available income is total interest and fee income less interest expense from borrowings. I believe that lower cost BDCs will have less institutional turnover related to the Russell reconstitution.
As discussed in Part 2, if BDCs are removed from the Russell indices it could lead to declines in other institutional ownership. The following table indicates the total amount of ownership along with recently updated direction and average trading volumes. BDCs with lower amounts of exposure and/or increasing ownership levels as well as having higher trading volumes and lower fees will most likely rebound quicker than the others. These BDCs would include FSIC, PSEC, TICC, Main Street Capital (NYSE:MAIN), Triangle Capital (NYSE:TCAP), KCAP Financial (NASDAQ:KCAP) and New Mountain Finance (NYSE:NMFC). I would add Hercules Technology Growth Capital (NASDAQ:HTGC) to the list of longer term lower risk BDCs due to its lower cost structure but it currently has over 50% of its current ownership made up of institutions that are currently selling more shares than they are buying.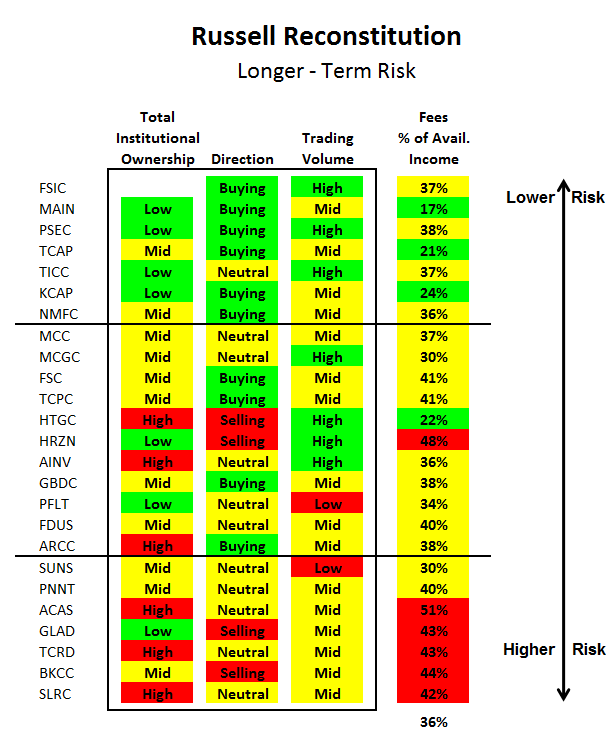 I did not include Full Circle Capital (FULL) in this analysis because it is a microcap that institutions do not usually invest.
The following table combines the results from the previous two and I have separated into groups with the first two being potential Buy/Hold BDCs.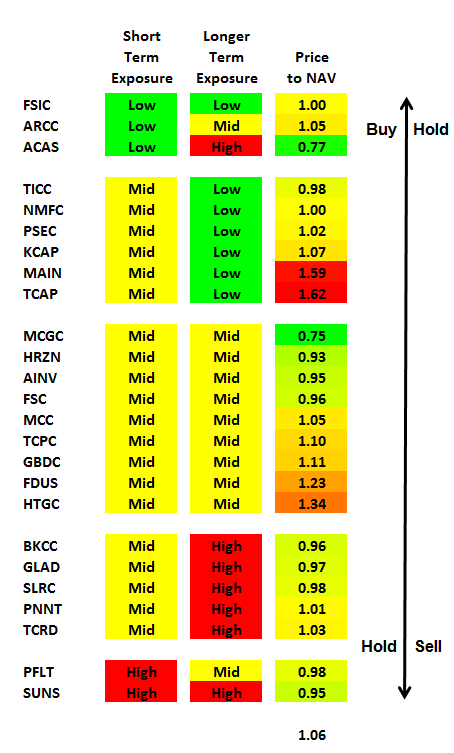 MCG Capital (NASDAQ:MCGC) has clearly been having another round of issues with management and is priced accordingly. Over the next few weeks I would suggest that investors only buy BDCs that are closer to the top of this table and as they dip closer to new 52 week lows that I will discuss in Part 5 of this series. I should point out that Solar Senior Capital (NASDAQ:SUNS), PennantPark Floating Rate Capital (NASDAQ:PFLT) and Golub Capital BDC (NASDAQ:GBDC) are all considered to be 'safer' BDCs due to having the lowest yielding portfolios and 90% or higher amounts of senior secured debt. In my opinion this should have little to do with this series of articles but some investors might see these companies as safer during a volatile market. Investors should only use this information as a starting point for due diligence. See the following for more information:
Disclosure: I am long HTGC, MAIN, TCPC, FSC, FSIC, ARCC, TCRD, PSEC, NMFC. I wrote this article myself, and it expresses my own opinions. I am not receiving compensation for it (other than from Seeking Alpha). I have no business relationship with any company whose stock is mentioned in this article.
Editor's Note: This article covers one or more stocks trading at less than $1 per share and/or with less than a $100 million market cap. Please be aware of the risks associated with these stocks.