Being a General Motors (NYSE:GM) investor comes with its conflicting feelings, I'm not going to lie to you - especially as a guy that prides himself on holding stock in the companies that I use and would recommend on a daily basis.
Take, for one, this morning's headline which was one of the first things I saw when logging onto Seeking Alpha to check the news:
General Motors has filed a motion in a bankruptcy court that would enforce a ban on the company being sued for claims related to incidents prior to its exit from bankruptcy in 2009.
GM's move comes as it faces dozens of lawsuits over crashes linked to the defect in ignition switches in certain models. Plaintiffs argue that GM fraudulently hid its knowledge of the defect, so it can't be protected from liability.
First thoughts on that? Yuck.
How can I be in a position with a company that was so blatantly negligent in the past?
Simply put, with emotion removed, it's a buying situation for General Motors based on overseas sales and fundamentals. I had to turn emotion off, similar to the way I had done with investing in some banks in the past, and think about what way to position myself for a profitable outcome from trading General Motors.
It's an ugly situation when a company is doing what it can do to defend itself, even if it's seemingly insulting to some of the victims and those who tragically lost their lives as a result of the company's negligence. It's an unfortunate situation, but it's one that many companies eventually wind up having to deal with, whether it's on this scale, or something as simple as with workman's comp claims.
If you haven't seen the movie "Thank You for Smoking" yet, now might be the time.
And, I'm in no way suggesting that GM is doing anything to skirt the rules or to not go about this situation the right way. After all, the company seems to continue putting into place a plan for those who are affected by the recall, as evidenced by this recall chart available from my local GM dealer: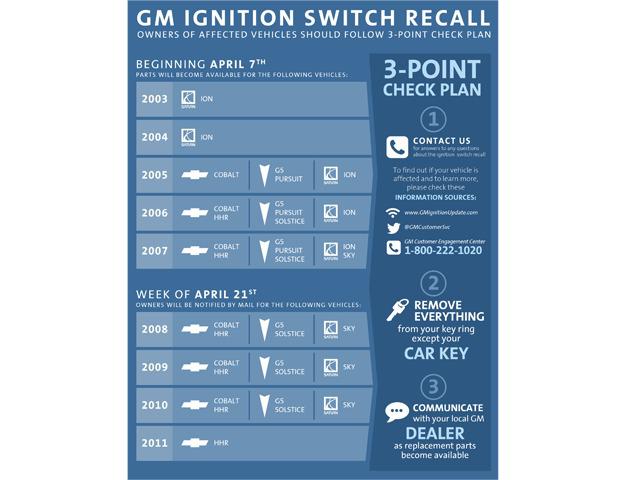 And I'll hand it to CEO Mary Barra - I'm not quite sure, from watching her testimony and speeches at events since the recall was announced, that she had any idea and/or anything to do with this botched recall from the get go. It is definitely baptism by fire for her, as she's certainly been the one to inherit this mess. So far, she's carrying herself well.
Here's GM's running total of its recalls. It's a sad, sad state of affairs to look at.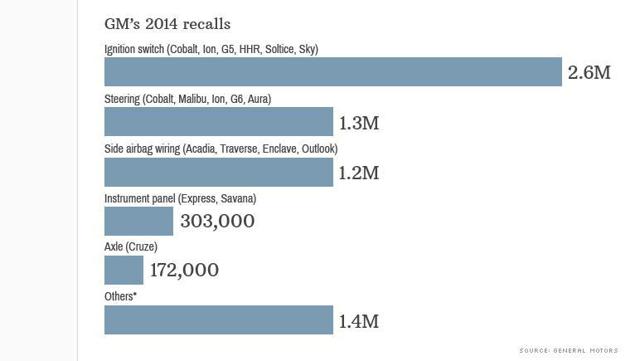 But again, I think so far Barra has done as good of a job as any seasoned CEO would be doing in the same situation. No matter who is at the helm of this company, it was destined to be ugly.
My thesis on General Motors, as I stated yesterday, was that the company remains undervalued as long as it can continue to sell and is going to continue to find success in the European and Asian auto markets:
General Motors seems to know where its bread can be buttered - the Chinese auto market. And, as a shareholder, I think it's where the company should be focusing. Ford's investments in China have paid off big time.

As long as the beast remains hungry in China, GM should be able to use the country's sales as a crutch to rest on while the rest of this recall issue continues to play out. People are going to be looking for something to cling to, and China might just be it.

I contend that as long as the underlying sales beast isn't affected materially going forward from the recall, that General Motors does have a chance of eventually pulling itself from this muck and returning to where it once was.
If sales continue, things will be all good and well, correct?
Kind of.
For now, again, I believe the GM trade to be one of whether or not you think the company is going to hold up in the long term on the back end of this recall. I do tend to think that the company is going to be just fine, and have bought in accordingly and am holding GM options accordingly.
What I don't believe is that my position in any way takes advantage of or celebrates the incredibly unfortunate outcome of the negligence at GM, I do believe it's one that takes advantage of an attractively priced company. It's a bit of a thin line that I'm walking in my head, justifying this trade.
Whether GM finds immunity from future lawsuits from its bankruptcy clause or not remains to be seen. If it does, the investor in me will like it, the humanitarian won't. Conversely, if GM finds itself subject to lawsuits, the humanitarian in me will like it, the investor probably won't.
One thing is for sure, the recall is likely to affect profitability for the company heading through 2014 - the question remains to be seen as to how much. More information on this will be forthcoming in GM's coming earnings report.
General Motors has a damn thin line they need to walk right now.
If they execute correctly, it'll be lucrative for General Motors shareholders and the company will do well. If they botch this, things could get even uglier before they get worse. The thin line they have to walk is one between doing the right thing and saving what's left of their image through PR with the public, balanced with what is fiscally responsible for the company and its shareholders.
Thoughts are with the families affected, and wishing best of luck to General Motors in doing the right thing, while protecting shareholders.
Disclosure: I am long GM, F. I wrote this article myself, and it expresses my own opinions. I am not receiving compensation for it (other than from Seeking Alpha). I have no business relationship with any company whose stock is mentioned in this article.