At the beginning of the year, I offered Cliffs Natural Resources (NYSE:CLF) as a stock that, despite its pitiful 2013 performance, might be positioned to turn around in 2014. But so far, 2014 has been more of the same, as the stock has dropped another 20%. The company continues to be adversely impacted by economic contraction, the slowing demand for steel products in China and a slide in iron ore prices.
Investors have clearly been less than optimistic about Cliffs' prospects. Depending upon the investor's perspective, you could make a clear case for why you'd want to stay away from Cliffs stock (or short it, as many investors have - the short interest as a percentage of float currently stands at 34%, which places it in the top 20 among NYSE stocks) or take a chance on the stock, betting that it's a deep value play or turnaround story.
To decide which side of the fence is a better investment, let's take a look at the good, the bad and the ugly of Cliffs Natural Resources.
Good - Focus on cost management
Since Cliffs can't alter the economic landscape or affect the price of iron ore, it's putting its focus on the things it can control, which today is expense management.
The company has shelved its chromite project for the time being (which is a bit of a shame, since if it could solve the issue of access to the region, I believe the project could be quite beneficial), plans on reducing future capital expenditures as much as 50%, made a 75% dividend cut and concluded a secondary stock offering in order to maintain capital and remain flexible. While the secondary share offering and dividend cut were certainly painful for investors, the decisions allowed Cliffs to become better capitalized and use the funds to continue to pay down debt.
The bottom line here is that the company is doing what it can to navigate the current economic environment, and when conditions move back in Cliffs' favor, the company should be poised to benefit.
Bad - Delisting from Euronext Paris and removal from the S&P 500
To be fair, the delisting from Euronext Paris was voluntary and was made in order to save itself from the cost of having to be listed on two exchanges, the move nonetheless may result in a flood of shares on the open market. Investors that own shares on Euronext have until April 16 to decide whether or not to tender their shares (the actual sale is scheduled to take place on April 25). Therefore, we could see some additional downward price pressure taking place in the second half of this month.
The removal from the S&P 500 obviously carries a similar effect, as all index funds will need to liquidate Cliffs shares in order to mirror the new index. Most of the pain of those sales has likely already taken place, but it's a further consequence of the company's tumble.
Ugly - The Chinese economy & falling iron ore prices
To be fair, Cliffs isn't solely dependent on the Chinese economy, as it maintains a fairly diverse operation, but China could ultimately prove to be its downfall.
China has experienced slowing momentum in economic growth, the country's recent export numbers showed a huge drop compared to the year-ago period (although how exactly those numbers are to be interpreted as in some doubt) and the value of the Yuan has been declining - all factors that are working against Cliffs in China. As the economy in China slows, demand for Cliffs' products also slows.
China's economic issues also happen to be occurring at the same time that iron ore prices have dropped around 10% in the last couple of months. Consider the chart below (source: Indexmundi).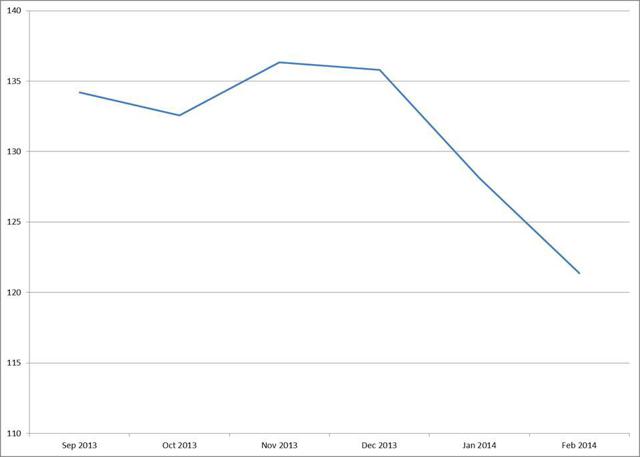 Ore prices looked to be steadying, but 2014 has just shown steadying decline. Cliffs really needs iron ore prices somewhere in the $130 range or above if it hopes to have a foundation for growth. If prices remain soft, it's going to be difficult for Cliffs to meaningfully grow revenue.
Good/Bad? - The battle with Casablanca Capital
How the battle with activist investor Casablanca Capital ends up playing out remains to be seen. The hedge fund, in a recent letter, called on Cliffs management to spin off its international operations, while reorganizing its domestic business into a master limited partnership. Casablanca also suggested further cost-saving measures, complete control over a revamped board of directors and a doubling of the current dividend.
Cliffs has already delayed its annual shareholder meeting as it deals with the fallout. In the near term, this is an unneeded distraction for Cliffs. The two parties probably agree on certain capex cuts, like either limiting operations at Bloom Lake or divesting itself of the asset altogether, and almost certainly disagree on doubling the dividend.
If Casablanca succeeds, the changes it's proposing have the potential of unlocking some long-term value for shareholders. On the other hand, if Casablanca does succeed, there are going to be some radical changes to the company's operating plan and leadership at the highest levels.
Near-term pain? Almost certainly. Long-term gain? Maybe, maybe not. It's very much a wild card at this point.
Conclusion
As mentioned at the top, if you believe that Cliffs' current cost management program and new management team can ride out the current malaise and come out better on the other side, then you might find now to be the time to dip your toes into the water while things are presumably near the bottom. If you think that Casablanca might win the battle and its optimistic forecast comes true, you might find now to be an enticing time to get in.
But, unquestionably, there are hurdles to overcome. If iron ore prices remain low, it's going to be difficult for Cliffs to pull itself back up. If Cliffs can't manage to see a return on investment from some of its Canadian assets or from its chromite project, that's a significant capital expenditure that conceivably may never see a benefit.
Cliffs now needs to reshape its balance sheet to limit costs, focus on profitable ventures and make sure it has the management team in place to be able to do just that.
Disclosure: I have no positions in any stocks mentioned, and no plans to initiate any positions within the next 72 hours. I wrote this article myself, and it expresses my own opinions. I am not receiving compensation for it (other than from Seeking Alpha). I have no business relationship with any company whose stock is mentioned in this article.