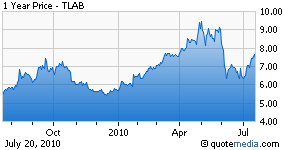 The overall trend in recent estimate revision is rather flat for Tellabs Inc. (NASDAQ:TLAB). We believe Tellabs' next-generation advanced IP-access (growth) products will continue to receive market traction. Massive demand for high-speed mobile data and video services resulted in rapid growth for wireless backhaul and optical transport products.

However, some analysts have raised doubt about the company's ability to maintain contracts with one of its key customers. Tellabs will declare its second quarter 2010 financial results on July 27, before the opening bell.

Agreement of Analysts

None of 12 analysts covering the stock made any change to their earnings per share (EPS) estimate for the second quarter in the past 30 days. For fiscal 2010, 1 out of the total 13 analysts covering the stock reduced the EPS estimate in the last 30 days but none provided any upwardly revised estimate.

However, the current Zacks Consensus EPS estimate of 12 cents for the second quarter is indicating a whopping gain of 54.17% year over year. Similarly, the current Zacks Consensus EPS estimate of 44 cents for fiscal 2010 is indicating a significant gain of 64.10% year over year.

We believe the positive sentiments among analysts come mainly from the U.S. President's endorsement of a wireless spectrum hike plan proposed by FCC. Tellabs will be highly benefited by the wireless broadband thrust of the U.S. government. FCC's National Broadband Plan is mainly aiming to provide affordable wireless broadband services in the untapped rural markets.

Recently, Tellabs' 7100 OTS and 7100 Nano OTS received RUS (Rural Utilities Service) acceptance certificates to provide high-bandwidth services. Tellabs1000 and 1100 Multi-service Access Series and the Tellabs 8800 Multi-service Router have already gained RUS certifications.

On the other hand, some industry sources predicted that Tellabs may lose a contract from its most important customer AT&T (NYSE:T). If the rumor proves true, the contract loss will have serious consequences on Tellabs' overall financials. Historically, AT&T generated 20%–21% of Tallabs' total revenue and accounted for nearly 40% of the company's sales of the broadband-data networking products.

Magnitude of Estimate Revisions

As a result of equally strong presence of positive and negative factors, the consensus opinion among the analysts also remains flat. In accordance with this flat consensus, the analyst estimates for Tellabs and the Zacks Consensus EPS Estimate for the second quarter remains the same during the last 30 days and reduced by 1 cent for fiscal 2010 during the same time period.

Reaffirm Neutral Recommendation

We continue to believe that Tellabs is in a position to benefit over time, as large carriers started implementing next-generation high-speed networks that require advanced IP access and data transport system. Tellabs has decided to substantially focus on the growth areas of mobile backhaul solutions, optical networking solutions, and business services solutions. Currently, Tellabs is a Zacks #3 Rank (Hold) stock.