Starbucks (NASDAQ:SBUX) began with humble beginnings in 1971, but under the stewardship of astute CEO Howard Schultz, the coffee chain has become a global powerhouse in its field. In this article, I will take a high-level look at the last 20 years of its business to review how it has expanded over the years, and how certain key shifts in strategy have been crucial to its success.
Although I don't currently have a position in the stock, I have been a Starbucks shareholder in the past and have followed the company for many years. I would like to take this opportunity to look at how various segments of the business contribute to Starbucks as a whole, and I welcome comments below on this topic from other potential investors and current shareholders.
Starbucks Goes Global
The push for international expansion gained momentum in the 1990s and has remained a key element of the Starbucks growth strategy ever since, as can be seen in the following chart:

Source: Starbucks Store Count Data
Note that pre-2009 store count data shows international (INT'L) stores grouped into one data group. Recently, the Starbucks Investor Relations department has provided a more detailed breakdown of store count data for China and Asia-Pacific (CAP), as well as Europe, Middle-East and Africa (EMEA).
Rapid growth in store count became subdued during the 2008 global financial crisis, and overall store growth actually declined slightly for the first time in 2009, as management sought to close underperforming stores with subdued sales. Store growth didn't re-accelerate in any meaningful way for a further two years until both FY2012 and FY2013 showed a shift back to positive expansion as consumers felt more confident making discretionary purchases of Starbucks products, stoking demand for new stores.
Hyper Store Expansion Rate Slowing
Following the hyper store expansion rates of the 1990s and the early 2000s, the overall total global store growth rate has slowed significantly, especially since the 2008 financial crisis. Recently, however, there has been an increase in the rate of growth, as can be seen in the following chart which shows the China and Asia-Pacific region accounting for the highest store growth rate, now almost matching U.S. store growth in absolute terms (680 U.S. stores added vs. 588 China and Asia-Pacific stores added in FY2013):

Source: Starbucks Store Count Data
Note that U.S. store data from FY2009 has been revised by Starbucks' Investor Relations department to exclude Seattle's Best Coffee, Evolution Fresh and Tazo Retail, which -- effective beginning in Q2 FY2013 -- are reported within Other (shown in first chart titled "Store Count").
Starbucks Enters Grocery Aisle
A press release published almost a decade ago in July 2004 by Kraft Foods announced a renewed partnership agreement to distribute Starbucks-branded products in grocery stores:
Kraft Foods Global, Inc. (KFT) and Starbucks Coffee Company today announced an expansion of their supply, licensing and distribution agreement. The new agreement includes six additional Starbucks coffees in ground and whole bean, three new distribution channels, and the national distribution of Seattle's Best Coffee and Torrefazione Italia brands.

... Kraft and Starbucks first came together in 1998 with a distribution agreement under which Starbucks coffee was expanded nationally in grocery stores, helping to establish and drive the specialty coffee category in grocery, mass merchandise and club stores.
Revenue contribution from this segment within Starbucks, known internally as Channel Development (CHA'L), has now overtaken the revenue produced by the entire EMEA region store footprint ($1.42 billion Channel Development revenue vs. $1.16 billion EMEA revenue in FY2013):

Source: Starbucks Annual Reports
Note that this division, previously known as the "Consumer Packaged Goods" segment within Starbucks financial reports and conference calls, was renamed as "Channel Development" in FY2012.
China and Asia-Pacific Stores Outnumber EMEA, but Produce Less Revenue
While U.S. stores made up 88% of the total in FY1994, this has dropped to 68% in FY2013, as the China and Asia-Pacific region has become the second-largest market by store count for Starbucks, as seen in the following chart:

Source: Starbucks Store Count Data
Store growth in the EMEA region remains relatively weak, as European countries such as Portugal, Ireland, Italy, Greece, and Spain have suffered from elevated levels of unemployment. In the U.K., there exist a number of entrenched competitors vying for business, such as Costa Coffee and Cafe Nero.
In February 2012, Michelle Gas, the president of Starbucks EMEA announced the Starbucks Renaissance plan that aimed to revive the business in the area, as it suffered from a fall in consumer sentiment due to the multi-year European debt crisis -- which led to depressed levels of consumer spending. In the region, underperforming stores were closed and slowly replaced with more efficient store locations. That resulted in modest growth overall in the region.
Global expansion is a core element of business strategy for Starbucks. Currency volatility could have more significant impact on future reported earnings and revenue. There has been no significant retrenchment of this strategy during the global financial crisis.
Also of note is the fact that the EMEA region produces more revenue than the CAP region, even though there are less stores in EMEA ($917 million CAP revenue from 3419 store vs. $1.16 billion EMEA revenue from 1876 stores in FY2013).

Source: Starbucks Annual Reports
Kraft Dispute Erases 2013 Income
By FY2012, Starbucks' net income had grown to a record $1.38 billion. This figure sank to $8.3 million the following year in FY2013, impacted by a one-time $2.7bn Kraft settlement related to their recent ongoing dispute. The dividend was not negatively affected by the settlement: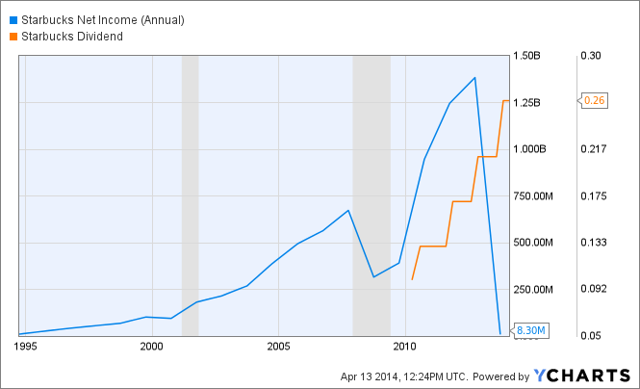 SBUX Net Income (Annual) data by YCharts
Note: U.S. recessions shown in grey.
A press release published in November 2013 by Starbucks Investor Relations responded to the litigation outcome:
We are pleased the arbitration has ended; however, we strongly disagree with the arbitrator's conclusion and that Kraft is entitled to $2.23 billion in damages plus $527 million in prejudgment interest and attorneys' fees. We believe Kraft did not deliver on its responsibilities to our brand under the agreement, the performance of the business suffered as a result, and that we had a right to terminate the agreement without payment to Kraft. While we disagree Kraft is entitled to damages, the amount awarded reflects the value of our at-home coffee business and the continued global growth opportunity that lies ahead for Starbucks. We have adequate liquidity both in the form of cash on hand and available borrowing capacity to fund the payment, which will be booked as a charge to our fiscal 2013 operating expenses.
However, looking at the bigger picture, the near fifty-fold growth in global store count from 425 in FY1994 to 19,767 in FY2013 has also been mirrored by a roughly fifty-fold growth in market capitalization of Starbucks, from approximately $1 billion to over $50 billion in the same period: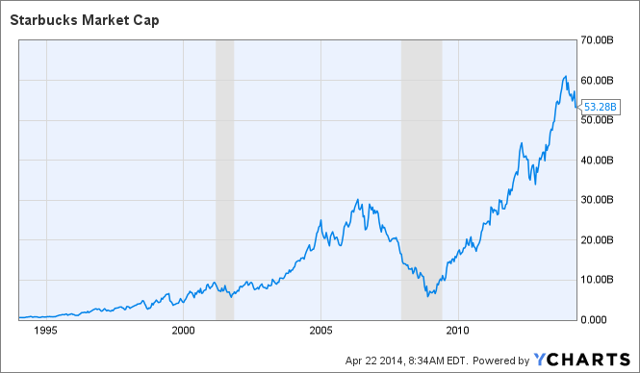 SBUX Market Cap data by YCharts
Note: U.S. recessions shown in grey.
Conclusion
After the hyper-growth of the 1990s and early 2000s, Starbucks' total store growth has slowed significantly in the last decade, stagnating for three years due to global financial crisis as consumers lost the confidence to spend on discretionary purchases. Modest growth has returned in recent years, fueled mainly by the China and Asia-Pacific region and the domestic U.S. market. The EMEA region remains the weakest region, as measured by new store opening growth rates.
In a bid to compensate for slowing store expansion rates, Starbucks management has successfully entered the grocery aisle of major supermarkets across the world via its Channel Development segment partnership with Kraft Foods. A decision to terminate this partnership resulted in a $2.7 billion settlement in favor of Kraft Foods. Under the leadership of CEO Howard Schultz, Starbucks has proven to be a fast-growing and highly successful company in its field. Its strong brand and consumer loyalty has managed to offset competitive threats from rival coffee chains, and it has now gained a solid foothold in the grocery aisle of leading supermarkets and convenience stores.
As is the case with many growth stocks, there are seldom opportunities to purchase them at low valuations. For patient contrarian investors, Starbucks is a business to watch over the coming years, and its stock is one to buy during the depths of a recession, assuming there are no serious doubts about its financial strength at the time. For swing traders, this stock can generally be bought after market corrections, although timing usually requires both luck and a crystal ball. Overall, Starbucks stock can form a long-term buy-and-hold position within any diversified portfolio.
Disclosure: I have no positions in any stocks mentioned, and no plans to initiate any positions within the next 72 hours. I wrote this article myself, and it expresses my own opinions. I am not receiving compensation for it (other than from Seeking Alpha). I have no business relationship with any company whose stock is mentioned in this article.