While the oil services firms had every excuse to turn in a weak first quarter, the initial results were very solid. Baker Hughes (NYSE:BHI) solidly beat analyst expectations and Schlumberger (NYSE:SLB) squeaked out a small beat.
Schlumberger is a global leader in the oilfield services sector with revenue approaching $50 billion and a market cap in excess of $130 billion. The company generated first quarter results that saw revenue surge 21% year-over-year and earnings jump a solid 23%. Diluted earnings per share hit $1.21 versus only $0.97 in the prior year quarter.
The polar vortex winter was suppose to hamper operations, but the numbers and especially strong margins are more suggestive of an industry rebound. All of the stocks are approaching multi-year highs with Halliburton (NYSE:HAL) already surging to an all-time high. Are the stocks about to peak or is the market signaling a major break out?
Strong North America Results
With domestic natural gas inventories plunging to decade lows and WTI crude prices staying above $100, it isn't much of a surprise that oil service operations are starting to thrive. The real surprise is that during a typical sequentially weak first quarter North America operations held up even despite the bitter cold weather. In fact, North America was the only region that saw a sequential increase.
Table - Geographic Regions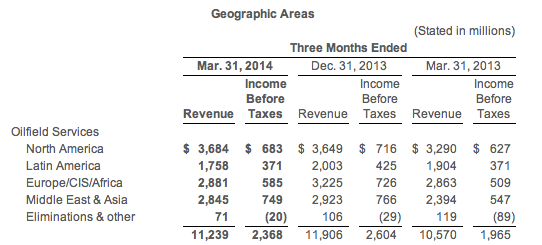 As well, Baker Hughes saw a sequential increase in North America first quarter results. The company even saw a strong increase in profits from higher operating margins. Baker Hughes produced even better results with net income surging 29% on only 10% year-over year revenue growth. The North America segment delivered a 200 basis point improvement despite the weather-related disruptions. The international operating profits jumped 6% even with a 5% sequential decline in revenue.
Approaching All-Time Highs
Despite all the focus in the market regarding the valuation of biotechnology and social media stocks, the oil services group is trading around all-time highs. Halliburton has already exceeded the previous high from 2011. Schlumberger and Baker Hughes haven't exceeded the levels from back prior to the financial crisis and appear set to cruise through those previous levels.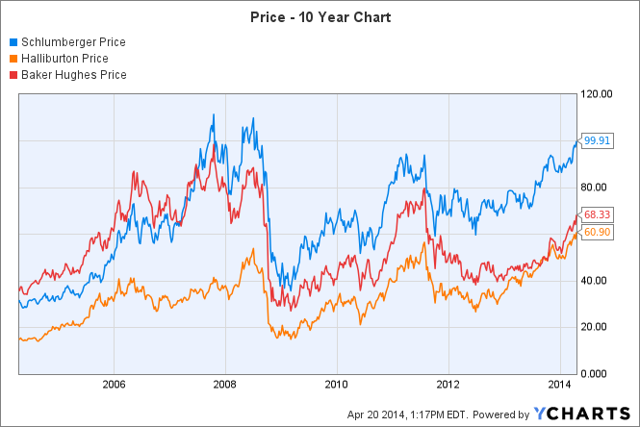 Reasonable Valuations
With the potential for surging oilfield services demand due to low natural gas inventories, the stocks trade at very reasonable valuations. Schlumberger trades at only 13x forward earnings estimates providing plenty of room for multiple expansion along with the earnings growth.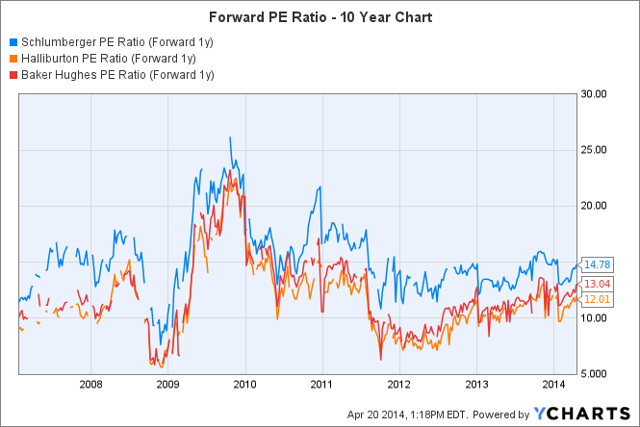 SLB PE Ratio (Forward 1y) data by YCharts
Conclusion
The strong sector dynamics and the relatively attractive valuations suggest the oilfield services stocks have plenty of room left to rally. The solid results from Schlumberger bode well for a sector rally and the stock continuing on to an all-time high.
Disclosure: I am long HAL. I wrote this article myself, and it expresses my own opinions. I am not receiving compensation for it (other than from Seeking Alpha). I have no business relationship with any company whose stock is mentioned in this article.
Additional disclosure: The information contained herein is for informational purposes only. Nothing in this article should be taken as a solicitation to purchase or sell securities. Before buying or selling any stock you should do your own research and reach your own conclusion or consult a financial advisor. Investing includes risks, including loss of principal.