Introduction
In 2014, LiveDeal (NASDAQ:LIVE) has promoted through email and radio ads as a leading daily-deal and restaurant-coupon company. However, our finding suggests the opposite. Over the past five years, LIVE has been unable to grow revenues and become a profitable business and has shown no sign of a turnaround. The company's publicly traded peers are trading at or near six-month lows, and we believe LIVE soon will follow. Given that the company has only $511,000 in cash and recently filed an S-3 for a potential offering of up to $50 million, we believe this $73-million market-cap company is likely to lose more than half its value over the coming days. Consequently, we assign a SELL rating on the stock with a $2 price target.
Background
LiveDeal Inc. provides local customer-acquisition services for small businesses. LiveDeal, through its two primary, wholly owned subsidiaries (Velocity Marketing Concepts Inc. and Local Marketing Experts Inc.), offers an affordable way for businesses to extend their marketing reach to local, relevant customers via the Internet, with a focus on marketing solutions for mobile devices. On Sept. 19, 2013, LiveDeal announced the launch of LiveDeal.com, which is a unique, real-time "deal engine" connecting merchants with consumers.
LiveDeal.com is not a leading daily-deal and restaurant-coupon company
LiveDeal claims to be a leading daily-deal and restaurant-coupon company. While performing a Google search of both of these topics, I was able to click through more than 15 pages of results without finding LiveDeal.com. A firm that claims to be one of the leading companies in its industry should be easily located by performing a basic Google search of that industry.
When compared to its peers by Alexa.com's ranking system, LiveDeal.com performs poorly. LiveDeal.com ranks 84,086th in the U.S. when the rankings are calculated using a combination of daily visitors and page views (PV) over the past month. In comparison, competitors like Groupon Inc. (NASDAQ:GRPN), Coupons.com Inc. (NASDAQ:COUP), RetailMeNot Inc. (NASDAQ:SALE) and Yelp Inc. (NYSE:YELP) all rank in the top 200. Not only is LiveDeal.com infrequently visited, but its metrics for view engagement rank lowest among the 11 competitors which have virtually the same business model. LiveDeal.com has more than a 68-percent bounce rate for visitors to its website, which means 68 percent of visitors view only one page on the site before leaving. This is far off the overall industry mark of 47 percent. Another metric displaying LiveDeal.com's poor performance is the time each visitor spends on the website whenever a potential customer actually does visit. Those potential customers spend about 1 minute, 45 seconds on LiveDeal.com, about half the industry average of 3:14. Based on these metrics, LiveDeal appears to be an unpopular company in the increasingly cramped daily-deals market.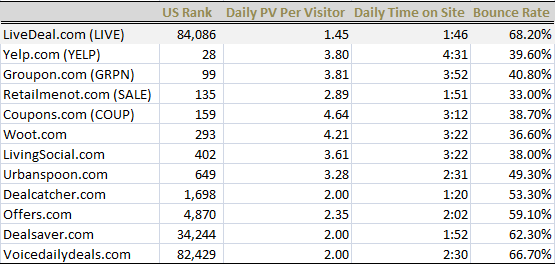 Over the past five years, LIVE has been unable to grow revenues and sustain a profitable business
LiveDeal shows, both financially and fundamentally, that it cannot become a profitable business. The company's revenues have decreased over the past five years, and earnings per share show no sign of going positive. In the past five years, with the company in a cost-cutting mode, revenues have decreased steadily, and retooling EPS also has decreased and remains in the red. LiveDeal is a failing company struggling to stay afloat. In a saturated market, it shows no signs of being successful.

A peer-group comparison shows LIVE is significantly overvalued
LIVE is significantly overvalued in comparison to other restaurant coupon and marketing companies. LIVE has the highest P/S with the lowest growth, making it a less attractive investment opportunity than its peers.

By averaging the P/S ratios of LIVE peers, we conclude LIVE should be valued at $2 per share, which is down more than 60 percent from current levels.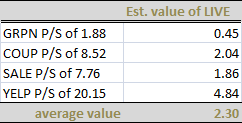 LIVE should soon fall to around its six-month low
With GRPN, COUP and YELP all around six-month lows, we believe LIVE soon will follow once investors realize how much the company is overvalued compared to its peers. Here are the six-month charts of LIVE and its peers.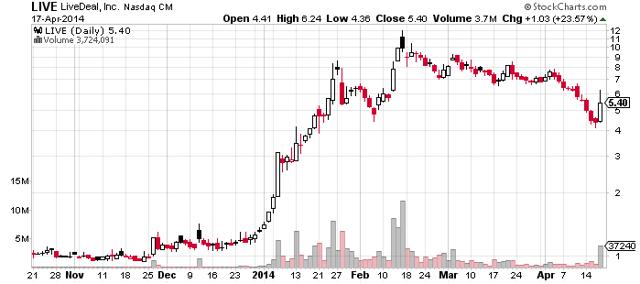 Click to enlarge
We believe the reason LIVE value has increased so much at the start of 2014 is an email- and radio-ad stock promotion. You can find more details on that campaign in a Seeking Alpha article by Christopher Drose, which was published on Jan. 28, 2014.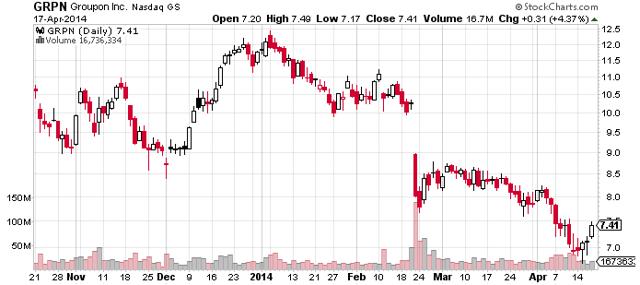 Click to enlarge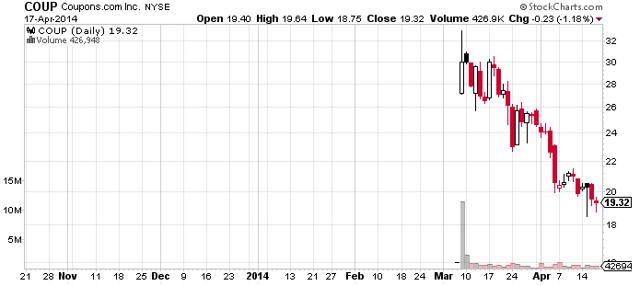 Click to enlarge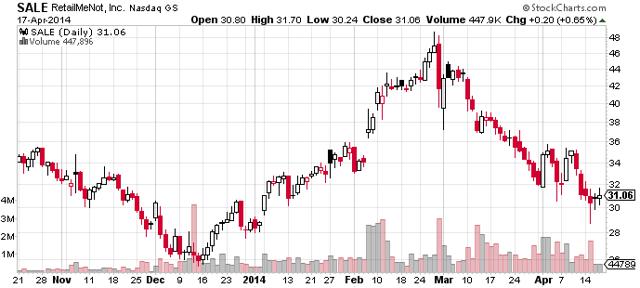 Click to enlarge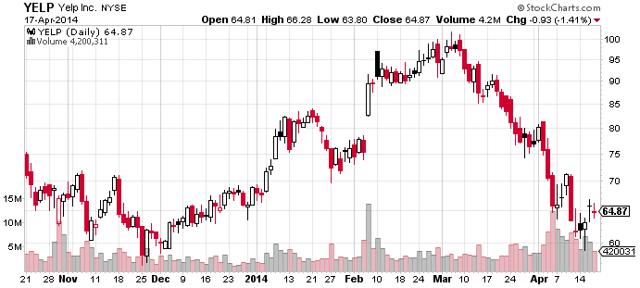 Click to enlarge
LIVE needs cash
As reported on LIVE most recent balance sheets, the company has only $511,000 in available cash. In order to sustain its operations and increase its cash reserves, the company filed a Form S-3 on April 4. Stated in that S-3 is the following:
"This prospectus is part of a registration statement that we filed with the Securities and Exchange Commission (the 'SEC') using a 'shelf' registration process. Under this shelf registration process, we may offer from time to time securities having a maximum aggregate offering price of $50,000,000."
The fact LiveDeal's cash reserves are low suggests we should see an offering of stock, debt or warrants that could equal up to $50 million in the near future. Considering LiveDeal's market capitalization is only $73 million, this capital-raise potentially could cause heavy downward pressure on the company's stock.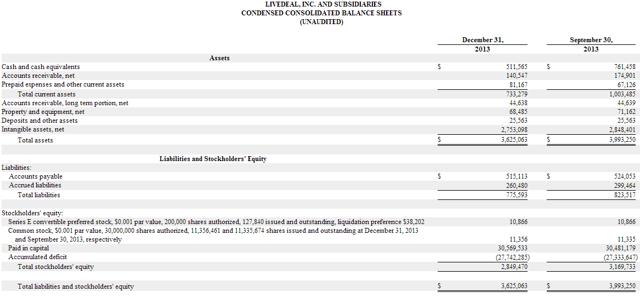 Click to enlarge
Other Concerns
Conclusion
Given this company's poor website ranking, declining revenues and limited cash, along with a potential stock offering, investors are likely to get burned and should sell LIVE before it's too late. We hereby assign a SELL rating on the stock, with a price target of $2.
Disclosure: I am short LIVE. I wrote this article myself, and it expresses my own opinions. I am not receiving compensation for it. I have no business relationship with any company whose stock is mentioned in this article.
Editor's Note: This article covers one or more stocks trading at less than $1 per share and/or with less than a $100 million market cap. Please be aware of the risks associated with these stocks.