Microsoft (NASDAQ:MSFT) Q3 earnings will be interesting. In Q2 Microsoft reported results in the middle of the range I had forecast with Devices and Consumer Hardware lagging but all other segments in line. I had expected better results from the rejuvenated Surface line of tablets and while the device sales improved they remained well below my expectations.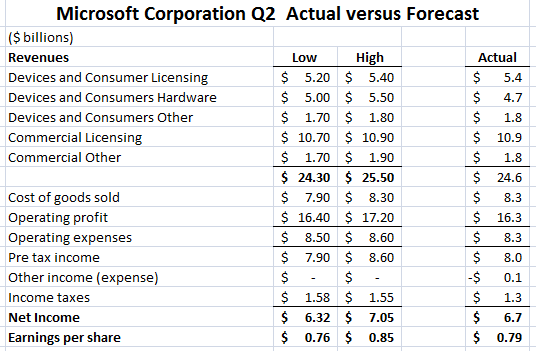 Source: Microsoft earnings release, Blair estimates
Microsoft is a big ship to turn and it is turning slowly toward growth in sales and earnings with Q2 revenues the best in ten quarters.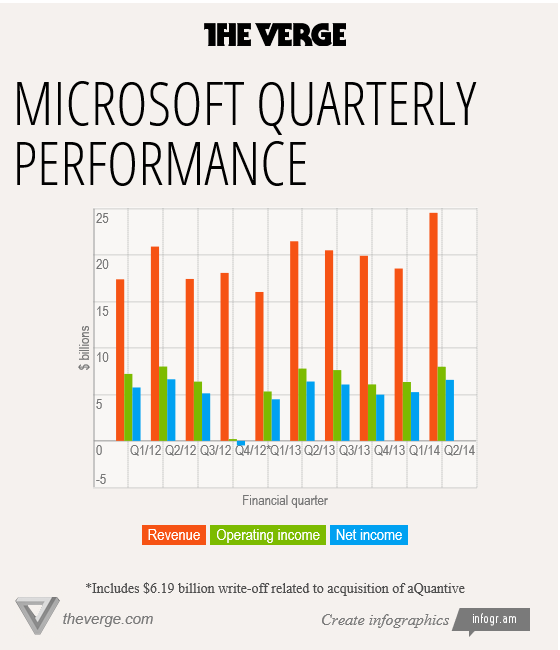 Source: The Verge
Going into Q3 Microsoft has some important tailwinds. Office 365 subscriptions continue to climb having passed 3.5 million users by January and now likely nearing 5 million subscribers. Azure and Dynamics are growing at a brisk clip. PC markets are showing some stability. And, the end of support for Windows XP is likely to spur an upgrade cycle for Windows OS.

Source: Microsoft.com
Guidance will be as important as results. The bold move to make Office for the iPad saw 12 million downloads in one week. Many of those downloads will turn into Office subscriptions giving a bump up to the next few quarters.
Windows phone while small is also making progress. The deal with Nokia is expected close this week and Microsoft will take the Nokia handset division under its wing. That division's innovative launch of the Nokia X series of smartphones running Android OS but with a Windows interface and ties to the Windows ecosystem reportedly received a warm welcome in Asian markets and bodes well for future contribution to sales and earnings.
Most analysts are expecting flat sales for Microsoft's Q3 and an earnings decline from the same period last year, as reported by Yahoo Finance.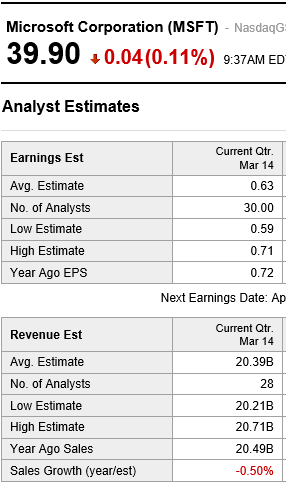 I am a bit more optimistic and see revenues of $21 billion with net income of $0.71 per share. If it is that close to last year, many CEOs would find a way to report a beat without violating any accounting rules. I'm just saying.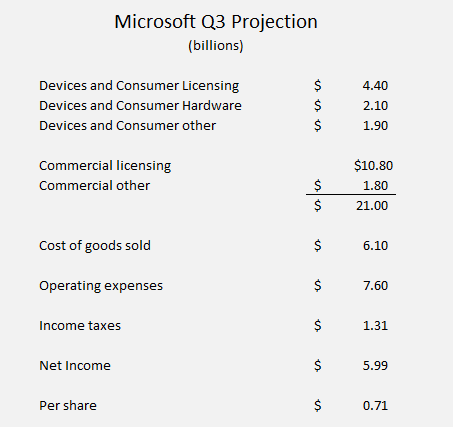 The real story will be just how well new CEO Satya Nadella can express his vision for the company. From what I have seen so far he is a strong, articulate and sensible leader capable of taking Microsoft forward without any baggage from past inertia.
I have no current position in MSFT but could add at any time.
Disclosure: I have no positions in any stocks mentioned, but may initiate a long position in MSFT over the next 72 hours. I wrote this article myself, and it expresses my own opinions. I am not receiving compensation for it (other than from Seeking Alpha). I have no business relationship with any company whose stock is mentioned in this article.