Prospect Capital (NASDAQ:PSEC) might just be an alternative for income hungry investors who usually go bargain hunting in the Master Limited Partnership or Real Estate Investment Trust space. Prospect Capital is also an interesting income vehicle for investors who accentuate high current income over capital gains. Business Development Companies, or BDCs, like Prospect Capital basically invest in all layers of the capital structure and allow investors to invest in middle market companies. As such, BDCs are similar to private equity or venture capital investment vehicles. Private equity structures, however, are often only accessible to high net worth individuals who are also willing to put up with long lock-up periods (typically seven years or more).
Benefits of investing in BDCs
Advantages of investing in BDCs include access to potentially lucrative investments in private companies, high current cash flow in the form of monthly cash distributions and a high degree of liquidity (compared to investments in private equity funds). Being able to invest in middle market companies makes sense for those investors who seek that particular exposure but find private equity funds to be out of reach. In addition, shares of Prospect Capital exhibit a relatively low degree of volatility (see below).
As BDCs are structured similarly to Real Estate Investment Trusts which are required to pay out most of their earnings, investors will likely receive the majority of their total return in the form of monthly cash distributions.
PSEC as an alternative to favorite income investments in the energy and real estate sector
Prospect Capital's high dividend yield certainly is appealing to investors who desire recurring income. Prospect Capital, therefore, might be an interesting alternative for investors who usually don't venture out of the energy and real estate sectors too much. Both sectors offer quite a decent amount of large-cap, high-yield income investments of solid quality and respectable remuneration records, for instance: Kinder Morgan Energy Partners (NYSE:KMP), BreitBurn Energy Partners (BBEP), Atlas Pipeline Partners (NYSE:APL), Realty Income (NYSE:O) or American Realty Capital Partners (ARCP). Adding a financing company to the mix of energy and real estate related investment structures also provides crucial diversification benefits.
Stock performance and volatility
Over the last two years Prospect Capital has rarely traded below $10 and above $12. In the last twelve months, Prospect Capital's share price has been largely trading in a narrow trading range of $10.00-11.60 which makes the company suitable for investors with a low risk tolerance (with regard to the volatility of the stock). As mentioned above, the majority of total returns are likely to come from monthly cash distributions as opposed to capital gains.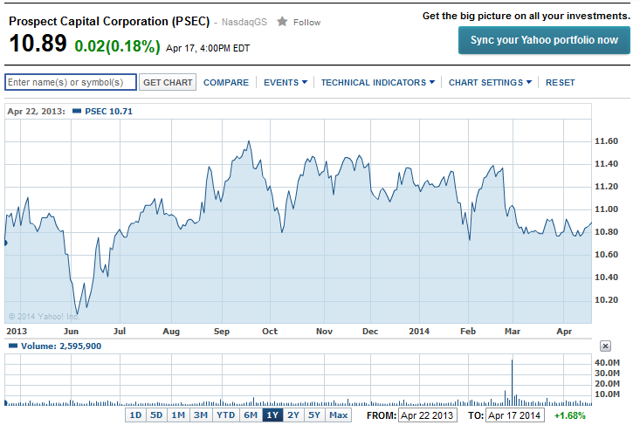 Click to enlarge
(Source: Yahoo Finance)
Background
Prospect Capital has a widely diversified investment portfolio with 130 investment counterparties and exposure to 32 industries. The company has embarked on an extraordinary growth spree over the last six years as evidenced by the explosive increases in equity, portfolio size and net investment income (see chart below). Portfolio size growth and net investment income are crucial drivers of distribution growth (see further below).
Click to enlarge
Distributions highly attractive
A good indicator of future performance is past performance. Past performance is no guarantee, but it is a good indicator indeed. Prospect Capital not only has an above-average dividend yield but has also demonstrated that it can deliver continuous and rising distributions to shareholders.
For investors who have a preference for monthly distributions: Realty Income has branded itself as the "Monthly Dividend Company" because of its unconventional monthly distribution schedule. I have repeatedly argued that monthly dividends are superior to quarterly dividends as a higher-frequency payment schedule opens up more reinvestment opportunities for investors. Realty Income has a current dividend yield of 5.23% and a respectable portfolio- and distribution growth record as well. Prospect Capital, on the other hand, offers investors with a preference for monthly distributions a current yield of 12.36% - more than double of what Realty Income pays on a monthly basis.
Moreover, Prospect Capital's remuneration record is impressive as well: The company has paid investors $1.32 per share in 2013, $1.23 per share in 2012 and $1.22 per share in 2011 and I expect Prospect Capital to deliver equally strong cash flow returns in 2014 and beyond.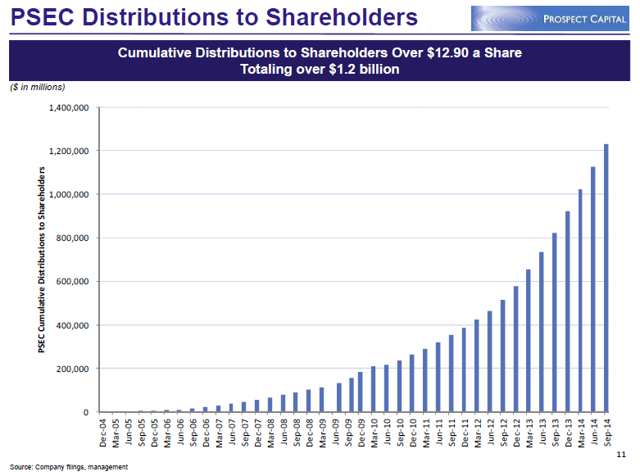 Click to enlarge
Conclusion
I think Prospect Capital is an interesting income alternative for investors who usually accentuate the energy and real estate sector in their portfolios. Prospect Capital's cash flow yield is at the higher end of the yield spectrum and even surpasses the yield of companies that are favorites among income investors, for instance Annaly Capital Management (NYSE:NLY) or Linn Energy (LINE). Annaly offers investors a current yield of 10.67% and Linn Energy 9.99% (at the time of this writing). In addition, investors also benefit from better diversification and gain access to potentially lucrative investments in middle market companies. Long-term buy.
Disclosure: I am long KMP, APL, BBEP, LINE, ARCP, O. I wrote this article myself, and it expresses my own opinions. I am not receiving compensation for it (other than from Seeking Alpha). I have no business relationship with any company whose stock is mentioned in this article.