Overview
Most dividend growth investors are quite familiar with Darden Restaurants, Inc. (NYSE:DRI). The operator of Red Lobster, Olive Garden, LongHorn Steakhouse and other specialty restaurants has provided an impressive streak of dividend growth over the last decade. Darden has provided investors with a compounded annual dividend growth rate of nearly 39% over that period, while yielding an attractive 4.5% at the current payout rate. This combination of an above average yield and strong dividend growth has made it a staple in many portfolios, and is the reason why I selected it as part of my own portfolio last February.
However, the company has failed to maintain an earnings growth rate to match the dividend growth and has come to a point where the payout ratio is at dangerous levels. As I mentioned in my portfolio update last week, I am considering a sale of my Darden shares. With this article I'd like to share my thoughts as I did some research on the company.
A Look Back
Darden began growing its dividend in earnest in 2005 as it quintupled the semi-annual payment in the second half of that year from $0.04 to $0.20 per share. That fiscal year payout of $0.40, on earnings of $2.42, resulted in a payout of ratio of just 16.5%. From this point forward, dividend growth exceeded earnings growth as the payout ratio rose steadily to 49% of the 2012 earnings of $4.06 per share. This increase in the payout ratio is depicted on the F.A.S.T. Graph below, as you can see pink dividend payout ratio line move up closer to the blue earnings line over the period.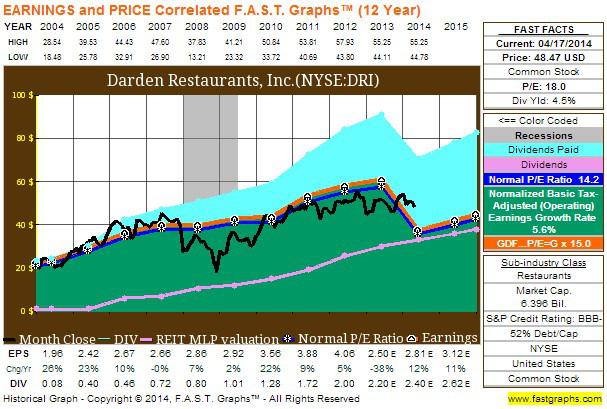 With the recent drop in earnings, to an estimated $2.50 per share for fiscal 2013, the payout ratio of the current dividend of $2.20 is up to an uncomfortably high 88%.
Turbulent Times
Darden has been facing mounting pressure from activist investors who are frustrated by company performance and are looking for ways to unlock value in the company. Some options being explored include a spinoff of the Red Lobster business, whose growth has been lagging other portions of the company, or a spinoff of the company's portfolio of real estate holdings into a Real Estate Investment Trust ("REIT"), to unlock value from the balance sheet.
In addition to dealing with unhappy investors, Darden was also hit with news that Moody's and Standard & Poor's have placed Darden's credit rating on review for downgrade, citing a revised earnings outlook and concerns about the divestiture of the Red Lobster business.
With the company currently sitting at a BBB- rating, Darden can ill-afford to pile on more debt and lose its investment grade status.
Management's Strategic Plan
On March 3, Darden management brought forth a "Strategic Action Plan to Enhance Shareholder Value", in which they outlined the performance of the business and options that were being considered to address these concerns. While management pretty much wrote off any possibility of the spinoff of assets into a REIT, I would like to highlight a few slides from this presentation relating to the dividend policy and where it is headed.
The first comment I would like to highlight is found on slide #14:

Here management declares a capital plan of decreased capital spending and a targeted dividend payout ratio of 70-75% of earnings. With limited new store openings, the company will be relying on increasing same-store sales for any boost to earnings, a task that has been difficult to achieve in the current business environment.
With the current payout ratio at 88%, it would take a 17% growth in earnings just to reach the top end of the target rate.
Slide #42 of the presentation reiterated the desire for a reduced payout ratio and discussed the use of excess proceeds after debt reduction for share buybacks.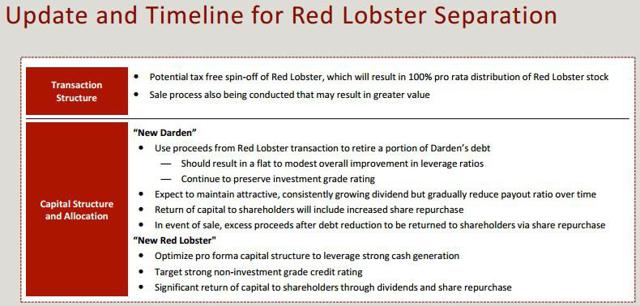 Click to enlarge
Note also that the "New Red Lobster" spinoff will likely take a large portion of debt with it and is not expected to retain an investment grade credit rating.
The final slide I would like to highlight is on page 46:

Here management has stated that maintaining the dividend is a priority, which is a positive at this time. It also highlights the investment grade credit rating, of which the company is only one step away from losing.
Conclusion
It appears to me that the double digit increases to the dividend for shareholders of Darden Restaurants are likely in the past and won't be seen again anytime soon. While management has stated their intent to preserve the dividend, they've also stated a target for a 70-75% payout ratio from earnings. This target will require a 17-26% increase in earnings per share at the current payout rate.
With the company already highly levered with $2.7B in debt and its investment grade credit rating at risk by the rating agencies, the company may have some tough choices to make should these new initiatives not prove effective in raising earnings.
While I think the current dividend is safe, I am not confident that there will be any meaningful increase as anticipated with the next payout. I feel that any growth to the dividend will be muted until the potential spin-off of Red Lobster is complete and the performance of Olive Garden and the other remaining brands improves.
With a current yield of 4.5%, I believe the company still represents a good hold for income seeking investors. However, as a 35 year old still working to build my capital, I am looking for more growth in my portfolio. For this reason I chose to sell my shares in Darden Restaurants this afternoon and used the proceeds to initiate a position in General Electric (NYSE:GE).
Disclosure: I am long GE. I wrote this article myself, and it expresses my own opinions. I am not receiving compensation for it (other than from Seeking Alpha). I have no business relationship with any company whose stock is mentioned in this article.
Disclaimer: I am a Civil Engineer by trade and am not a professional investment adviser or financial analyst. This article is not an endorsement for the stocks mentioned. Please perform your own due diligence before you decide to trade any securities or other products.