In September 2012, I boldly initiated coverage of AudioCodes (NASDAQ:AUDC) with "AudioCodes: A Call Option on Microsoft Lync/Skype Intentions". The stock was trading at $1.50 per share and no one cared to see the potential in Microsoft (NASDAQ:MSFT) Lync or in AudioCodes with its deep rooted avenues in VoIP. That article was a big winner for anyone that bought into my thesis. Congratulations if you did your research and bought the shares.
Today, Microsoft Lync is in its initial growth phase with respect to voice (IM and presence have been dominant) and it has been recently reported that some companies that have begun deploying Lync want to use it as a PBX replacement. This news is huge for AudioCodes as it's the event that many voice players have been awaiting. This alone could make AudioCodes a $20 stock. Needham reported that only 5 million of the 40 million Lync licenses have been voice, so if Lync does become the PBX of choice to the other 35 million then AudioCodes' results will be tremendous starting in Q2 or Q3 this year.
I believe AudioCodes is a must own here. It has stealthily positioned itself to be the mobile voice engine and the software management system behind Hot Spot 2.0. Cable companies (MSOs) are hell bent on competing against the wireless carriers and the Over the Top (OTT) companies as they're consolidating to roll out a complete national wireless network made up of Wi-Fi hot spots.
Hot spot 2.0 is a Wi-Fi enabled network that will allow you to join Wi-Fi hot spots without entering a password and will pass you from one hot spot to another seamlessly. It will create a network out of random Wi-Fi hot spots and new updated protocols will allow you secure automated access. It is mirroring what happens with cell phone calls as you're passed from cell tower to cell tower securely, without any disruption to your call. With Hot Spot 2.0 you will be able to make OTT calls on your cell phone even when you're on the go.
Liberty Media (NASDAQ:LMCA) and Comcast (NASDAQ:CMCSA) are two companies that come to mind in this Hot Spot 2.0 build out. AudioCodes has already worked with Liberty Media with its past mobile solutions, but it's AudioCodes' new mobile initiative, Mobility Plus Business Edition (BE) that it has been stealthily building for the likes of Liberty Media, Comcast and the enterprise market that makes me believe AudioCodes is a call option on mobile Hot Spot 2.0. This should bring shares north of $20 per share and potentially much higher in the next 1-2 years.
A call option is the right to buy a specific equity at a certain price at a future/specific date. Eighty percent of call buyers lose money as they bet that an equity will reach a certain price in a certain period of time. More often than not, time is not on a call buyer's side. The great part of buying AudioCodes is that you're not buying a call option; you're buying the stock outright with no time limit at a call option price. AudioCodes is priced at what I believe to be ridiculous levels. Every sector has its day and I believe AudioCodes will have its chance to shine when cable companies push Hot Spot 2.0 out to the enterprise in the near future.
AudioCodes sits in a position of strength in the $20-$30 billion Unified Communications (UC) market. Over the past 1.5 years AudioCodes has constructed a strategy with its One Voice for Microsoft Lync where it has become the go to player for Microsoft Lync, enabling Microsoft to have a competing market strategy against Cisco Systems (NASDAQ:CSCO) and others in the massive UC market. AudioCodes seems to be using that same playbook in the mobile Over The Top space as it unveiled its Mobility Plus BE at the Mobile World Congress at the same time as Facebook (NASDAQ:FB) announced its acquisition of WhatsApp (WhatsApp simultaneously announced its intentions to enter voice). The service providers were already being impacted by OTT players prior to this news and AudioCodes had already been preparing for well over a year to align itself with the service providers wanting to enter wireless via OTT and Hot Spot 2.0. The market dynamics in the OTT space is forcing service providers to enter at all costs and it seems to me that AudioCodes is strongly positioned with at least one power house in Liberty Global (NASDAQ:LBTYA) along with other respectable names in Vonage (NYSE:VG), Telefonica (NYSE:VIV) and Bezeq (BEZQIF).
AudioCodes is not new to mobile and OTT. I estimate that it generates approximately $3 million in one-time licensing fees from the above customers. I also estimate that the fees on the consumer are and will be much smaller than for the revamped Mobility Plus BE cloud based offering designed for the enterprise user. My back of the napkin work suggests that AudioCodes could have 700k - 1.5 million subs per year on the one time licensing fees of ~$1 per sub. I believe that if AudioCodes can get the same traction from the above customers on the new platform for its enterprise users then the fee could be $3-$5 per sub per month as the platform carries more features, quality of service and security. This small assumption is immensely profitable to AudioCodes the way I calculate it.
Let's assume $3 per subscriber on only 500,000 subscribers by Q1 2015:
500,000 subscribers x $3 per subscriber = $1,500,000 x 3 months per quarter = $4,500,000
(recurring fees are associated with 85-95% gross margins):
$4,500,000 x 80% (below the industry average)= $3,600,000
Incremental EPS:
$3,600,000/44,000,000 shares = $0.08 per quarter or $0.32 in annual EPS. That would be over double the $0.30 estimate analysts have for 2015.
Liberty Media (90-95 million Europe), Comcast (40-45 million), Telefonica (1-5 million) and Bezeq (1-2 million) have over 130 million subscribers. I don't believe that AudioCodes will be the voice engine and the software management system to all 130 million subscribers, but I'm investing in AudioCodes because they have 24 years of VoIP experience and they come from Israel, a hot bed for engineering OTT voice platforms (Viber and Fring were both sold in the past 6 months), and I do not believe that it'll come up with anything less than 1 million subscribers. I personally believe its list of customers only trialed its new cloud based platform and I believe post the WhatsApp deal it's game on and time to start a roll out of some sort. The push must be on by its customers and potential new customers as Facebook has changed the rules overnight.
I believe that Facebook with its acquisition of WhatsApp is in need of an AudioCodes voice engine. The company will at the very least have to consider the expertise of AudioCodes when it launches its Voice OTT application. I realize this is pure speculation but it's very clear to me that AudioCodes is that good to be considered. What if Facebook chooses AudioCodes for basic voice deployment? I believe AudioCodes could get $0.10 - $0.20 per sub with probably more than 200 million subscribers the first year. This is not even thought of by any investors but it could be an option for Facebook. It must be questioned.
Needham mentions AudioCodes' OTT business as a potential future positive. When Needham initiated coverage last week it highlighted the OTT ambitions of AudioCodes but did not breathe any life into the possibilities of this being of high leverage to the model. I'm not surprised Needham didn't put emphasis on it, as it would rather have its clients 'VWAP' into the shares on this obscure prospect so that when it hits they don't have to pay way up. This gives credence to my one year highlighting of AudioCodes' OTT strategy. When analysts mention it in bold print you're paying up for it. I view this as another dot being connected in my mobile thesis. I also note that when I published my first article on AudioCodes, Needham was very much involved on the conference calls but did not initiate coverage until $6.77 per share after a pullback from $9.12 per share. I believe mobile represents the same miscue by the analysts.
Valuation/Fundamentals/Risk Reward:
When I initiated coverage of AudioCodes back in September 2012, it had borrowed $15 million to buy back 10% of its shares and it had legacy headwinds in its business. Today, the company has paid back the $15 million it had borrowed and the legacy headwinds are now stabilized at only 10-15% vs 30-35% of total revenues. The 4 million shares were bought back at $2.75 per share and AudioCodes just did a secondary offering of those 4 million shares at $8 per share cementing the company's solid balance sheet and strong mindset in a very strong market.
It's with those positives that I see AudioCodes fiscally and mentally fit to be a call option on mobile Hot Spot 2.0. In fact, it's not out of the question to see AudioCodes have a higher percentage move than it had from the $1.50 to $7.00 level we trade at today if mobile can hit 2-3 million mobile subscribers from its Service provider clients by 4th qtr 2015.
The 800lb gorilla in the space, Microsoft, is beating its competition with Lync deployments in North America and it's seriously being called upon as enterprises' PBX and IP-PBX replacement where 1.5 years ago that was not even a consideration, but only a dream. All this bodes well for the underpinning of AudioCodes' business model. Couple this with the $90 million in cash (1/3 market capitalization) vs the $40 million it held 1.5 years ago and the company sits in a great risk/reward scenario.
AudioCodes' chief competitor Sonus Networks (NASDAQ:SONS), recently repurchased 21 million shares of stock in the open market at 2.25 times revenues less its cash. Today AudioCodes trades at 1.35 times its revenues less its cash which is approximately 40% cheaper. A similar valuation would put AudioCodes' share price at $9.75. AudioCodes is estimated to earn $0.20 in 2014 vs the $0.05 for Sonus Networks. My point being, the downside on the shares based on valuation of its direct peer is very attractive here.
I believe AudioCodes is a takeover candidate, but probably not overnight anymore. There are too many good things going on to sell. That said, when an acquiring company looks at AudioCodes it'll look at what expenses it can cut out and what the true EPS is on the company. I believe AudioCodes at today's revenue levels is earning $0.80 - $1.00 per share post acquisition (acquirer implementing cost reductions). Again, this brings you to a $9.75 - $11.00 per share stock.
Chart: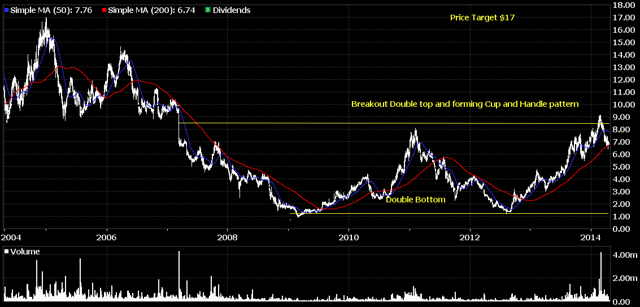 Charts tend to retrace its previous runs. The UC sector is incredibly large, at all-time highs and the OTT space makes its potentially very lucrative to players like AudioCodes. As you see in the long-term chart AudioCodes hit $16.88 on December 31, 2004 and $25 - $45 per share (discounting the $72 dollar highs in 2000) prior to 2004.
Daily chart: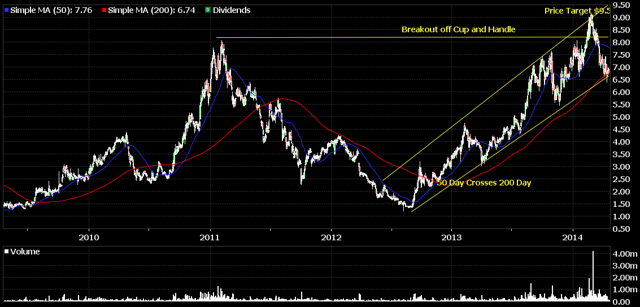 AudioCodes is holding the 200 day moving average and is trading at 1.35 times revenues at this level. This is the first time it has hit the 200 day moving in 1.5 years and I put a poorly placed secondary on this occurrence and I believe that buying the shares at or above the 200 day could get you a $10 - $12 stock in the next 90 - 120 days, as in the past the shares have rallied 80-90% off the 200 day moving average.
In summary, AudioCodes is a stellar investment on Microsoft Lync acceptance and the potential for it to be a PBX replacement, its solid footing with the secular growth in companies flocking to update their UC needs and the set up for much needed institutional ownership. The one area all enterprises are going to address is their mobile needs, as employees are more on the go than ever before and their mobile strategy must be high quality, secure and less costly than today. Many of these service providers mentioned above own the customer in one capacity or another, so the opportunity for them is real and the AudioCodes VoIP experience, product offering and tenure at these service providers makes its a true option in their mobile plans. The valuation is right, the fundamentals are right, the opportunity is right and the option to buy AudioCodes as a call option on mobile hot spot 2.0 is right. I previously brought you "A Call Option on Microsoft Lync." If you didn't buy, shame on me. Now I bring you a call option on mobile; if you don't buy, it may be shame on you.
Disclosure: I am long AUDC. I wrote this article myself, and it expresses my own opinions. I am not receiving compensation for it. I have no business relationship with any company whose stock is mentioned in this article.